Supporting TOL: Caseworker Core

True or False? Caseworkers who take Caseworker Core should return to the job with the skills necessary to do child welfare casework.

False. Caseworker Core provides caseworkers with the foundational knowledge and understanding necessary to do the work. Participants are given the opportunity to practice some skills in the workshops, but most of their skill development will actually happen on the job. You, as supervisors, have an important role in this development. In order to support this, you must know what workers learned in Caseworker Core, and be able to help them transfer that learning to the job.

Caseworker Core is regularly updated to reflect best practice in child welfare and practice has changed quite a bit over the last couple of decades. It is quite possible that you don't know exactly what is taught in Core. This is not a criticism. Let's be honest, how can you keep up with all those changes while still doing everything you are required to do?

To support supervisors, the OCWTP has created transfer of learning checklists for each Caseworker Core module. These checklists provide a brief overview of the Core module, give a few details about how you can prepare your worker before training, and then give a series of questions you can use to guide discussion, practice and follow-up activities. Using the information obtained during the discussion, you can identify where additional learning is needed and plan activities to help your workers develop their skills.

The checklists can be accessed at the links below:

We'd love to hear about your experience using these checklists. Please share your story with Stacey Saunders-Adams at ssaunders-adams@ihs-trainet.com.

Making sure home visits are effective

The Children's Bureau, U.S. Department of Health and Human Services believes that one of the most important ways to promote positive outcomes for children and their families is to ensure the quality and frequency of caseworker visits.

The OCWTP is prepared to help you make sure staff conduct effective home visits. Although you are accountable for the work of your unit, it is impossible to observe and know what happens in every visit. There are, however, strategies that can be used to ensure home visits are occurring as mandated, and that caseworkers make effective use of these visits. The OCWTP has two resources to support supervisors in this area - coaches who work directly with you and your staff and a Supervisory Companion Guide to guide the coaching process.

Supervisor Coaching

The OCWTP coaches are prepared to help you coach staff in skills for conducting effective home visits. They are trained to come to your unit , develop a coaching plan to meet specific skill development needs, and to either coach you as you work with staff, or coach collaboratively with you as you work with staff. To schedule a coach or to learn more about this opportunity, contact your RTC. Click here if you need contact information.

Supervisory Companion Guide

This guide provides an overview of an online course for caseworkers to enhance skills in effective use of home visits. It includes recommendations for ways supervisors can help coach these skills and support their staff as they use these skills with the children and families with whom they work.

Components and resources of this course can be used in a number of ways. Supervisors can:

Use course components with individual staff or whole unit
Identify specific areas that staff need to strengthen (such as documentation) and focus on specific skills
Plan to have staff complete the entire program and use unit meetings to process content and share results of the field application assignments

For each learning session, the Supervisory Companion Guide includes:

Key learning points
Indicators that staff may have learning needs
Suggestions for how you can support staff during or after they have taken the course
Ways to customize the learning session to meet the needs of your staff

Click here to view the guide. The guide provides links that allow you to view the online course. You can also contact your RTC if interested in scheduling the course in your region.

To receive this newsletter quarterly, click here:

Other Ways the OCWTP is Working for You...

In November 2010, the OCWTP formed a new work group to focus on supervisor issues and how the OCWTP training system can help address those issues. The OCWTP is committed to finding ways to support supervisors as well as providing the kinds of training that will be the most beneficial to them.

The work team is examining the role of supervisors: their needs, training topics that would be helpful to them, and the types of support they require. It is also looking at what resources supervisors currently have available to them, considering the strengths of those resources, and looking at where there may be deficiencies.

Members of the work team include:

Darlene Baad, Summit

Jeffrey Schafer, Cuyahoga

Vincent Ciola, Logan

Jeff Rulon, Highland

Rhonda Hinkle, Muskingum

Natalie Trachsel, Lorain

Robin Freedman, Summit

Valerie Carpico, Fairfield

Dana Dravenstott, Lorain

Josie Olsvig, Montgomery

Rodney Traxler, Wyandot

Barbara Cline, Athens

Sheila Gavin, Montgomery

Tricia Kelley, Butler

Toni Kokaliares, Franklin

Kristen Lopez, Summit

Brian Wear, East Central Ohio Regional Training Center

Ben Hannah, Southwest Ohio Regional Training Center

Tom Swindel, Northwest Ohio Regional Training Center

Chris Cross, North Central Ohio Regional Training Center

Dale Hotaling, Western Ohio Regional Training Center

Alison Rodgers, Central Ohio Regional Training Center

Mary Kay Hawkins, IHS

Lois Tyler, IHS

Stacey Saunders-Adams, IHS

Sandy Parker, IHS

Laura Hughes, IHS

If you're interested in participating on this work team, please contact Sandy Parker at the Institute for Human Services (614-251-6000). sparker@ihs-trainet.com

Did You Know?
A new web page just for you!
The Supervisor Station is a new web page on the OCWTP website designed for Supervisors. This webpage provides visitors with a variety of OCWTP supervisor resources all in one place. You can access supervisor training schedules, back issues of the newsletter, and a variety of other resources with just one click (or two). Visit www.ocwtp.com and click on Supervisor Station under the section for trainees or go there directly by entering http://www.ocwtp.net/Supervisors.html in your web browser. We can't wait to hear what you think!
Managing Difficult Staff? We want to hear from you!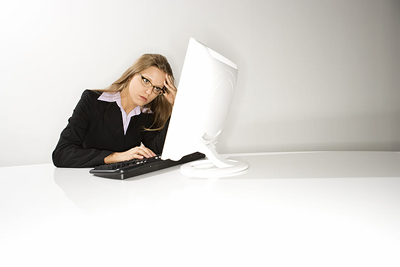 If you've ever felt exasperated, frustrated, exhausted, or overwhelmed by the challenges of managing difficult staff, you're not alone. Any supervisor will tell you it's one of the toughest things about the job. Difficult staff, whether they consistently miss important time frames, display obvious disinterest and a lack of motivation to do the job, paint a dark cloud over the entire unit with their constant negativity, undermine you with other staff, or are unable to do the job effectively in spite of your efforts to train, coach, and support them, are extremely demanding. Difficult staff generally require a significant chunk of your time. These time commitments include: meeting with these staff and administrators, developing corrective action plans, conducting performance reviews, following disciplinary policies and procedures, and of course, completing the documentation that comes with each of these steps.
And what happens with the rest of your staff while you're busy dealing with the difficult ones? Are they getting enough of your time and direction? Are they required to pick up the slack caused by the difficult staff's issues? Are they becoming resentful of you? Are they becoming resentful of the difficult staff?
Let's make this point clear, difficult staff saps the energy and morale of you and their co-workers. If not managed effectively, they also increase agency liability.
In the November meeting of the Supervisor Work Team, this topic was discussed at length. Supervisors shared their own experiences with difficult staff, and other supervisors shared their suggestions on ways to work with these employees. The entire Work Team found the discussion quite helpful, which led us to the idea of opening the discussion with all of you.
In future issues of The Forum, we would like to have a section that focuses on managing difficult staff. We invite you to email us with the problems you've experienced, your questions, and/or the ideas you've used to try to manage difficult staff. We will publish these problems and questions (anonymously of course) and suggestions, with the hope that your colleagues will relate to your experience and offer their comments. Just email Sandy Parker, sparker@ihs-trainet.com or Stacey Saunders-Adams, ssaunders-adams@ihs-trainet.com with your problems, questions, or suggestions.
Happy New Year from the OCWTP!