If you have been an active member of HARC for at least one year, HARC would be proud to offer you a follow-up session with our Speech-Language Pathologists. These sessions are ongoing at HARC throughout the year.
The purpose of the session is two-fold: 1) to give HARC the opportunity to touch base with caregivers, and participants about the participant's language process to date, and 2) to discuss the current or future needs that HARC may be able to assist you with.
The sessions typically last 2-3 hours and include an interview, testing, and discussion.
We will be contacting you soon after your HARC anniversary date.
Thank you for participating in these valuable sessions!
Next Caregiver Meeting
Speakers from Rice University scheduled

Researchers from Rice University will speak on the research they are doing with patients with aphasia at the next meeting on Tuesday,

June 19

, at 10 a.m. The presenter will be Tatiana Schnur, Ph.D.
Aphasia Boot Camp reminder
Confirmation calls and letters will soon be going out
HARC's Aphasia Boot Camp, an intensive language therapy program, will last two weeks in July -- from

July 16-19

and

July 23-26

. Each day starts promptly at 10:00 a.m. and will last until 2 p.m. This year, we will be doing research, which includes some testing before and after the treatment days. Our initial week of pre-testing will be

July 9-12,

and each pre-testing

session will take about an hour and a half. Confirmation calls and letters to participants are planned for the end of June.

Also, please remember that HARC will be closed for programs all of July to accommodate the Boot Camp and planning sessions.
Participants, family, caregivers invited
It's not until October, but it's not too soon to make plans -- and reserve your place -- at HARC's all-free excursion to the barrier-free Camp For All! Save the dates:

October 26-28

, and RSVP to Veronica as soon as you can. There are plenty of activities to suit all tastes, and if you're simply seeking rest and relaxation, the 206-acre campsite can accommodate you, too! For more information, please see fliers about the Camp For All trip located on the table underneath the bulletin board at HARC.
Come out to play
Sign up for Astros game on June 20
We had so much fun at the Astros game at
Minute Maid park in May that we've decided to do it again! Please join us at the next game on

June 20 at 1 p.m.

Guests are welcome, so bring a baseball buddy, too. Tickets are free and a sign-up sheet is on the main community table at HARC. Please try to sign up by

Thursday, June 14,

so that we can get an accurate count to help us in planning for game day.
Volunteer training sessions
June 25 -- Group Dynamics training from 10 a.m. to noon.
June 28 -- Supported Conversation for Adults with Aphasia (SCA) from 9:30 a.m. to 12:30 p.m.
August 20 -- Group Facilitator training from 10 a.m. to noon.
Check out the new calendars
If you haven't noticed by now, HARC has made some new and exciting changes to the program schedule, and we're experimenting for the time being until the end of August to see what best fits and how well our participants enjoy and respond to the changes. We will have a new finalized fall program schedule after Labor Day.
New Participant Orientation
Our next New Participant Orientation is scheduled for

June 14

. New participants and caregivers are asked to bring any outstanding paperwork with them, as well as a few personal or family photographs of vacations or any other special event that they'd like to share during group programs. Also, just a reminder: The orientation is only for new participants.
Kudos to Clarence Kamba
He was nominated for Mayor's award
Facilities Coordinator and volunteer Clarence Kamba was recognized recently for his nomination for the 2010 Mayor's Volunteer Houston Awards. Clarence received a letter and certificate from Houston Mayor Anise Parker, as well as an autographed photo of the mayor. Clarence has been an invaluable and loyal volunteer for HARC since it opened its doors two years ago, and we were more than happy to nominate him for the award. Thank you, Clare!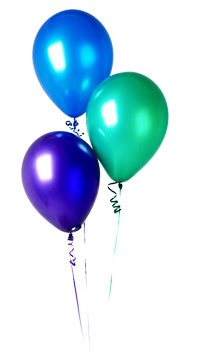 Let's celebrate this month's birthdays
Hugs and Happy Birthday wishes to all of the following HARC family members:
Marguerite Guinn ... June 9
Tom Niemczyk ... June 11
Louise Adamson ... June 14
Patty Wesolek ... June 16
Cheryl Adamson ... June 23
Bruno Wesolek ... June 28
If you know of an upcoming birthday and think there is a possibility we may not be aware of it, please add it to the birthday sheet found on the bulletin board.
Mark your calendars
Upcoming HARC closures
JULY -- Regular programs will not be in session almost all of July - from

July 2-27

-- because of Aphasia Boot Camp at HARC. If you are not taking part in Boot Camp, the last June program day before Camp is Thursday, June 28. Then, the next time we'll see you again for programs is Tuesday, July 31.
New Caregiver Meeting Dates
Caregivers will now meet on the

1st and 3rd Tuesdays of each month

. Updated Caregiver Calendars on the bulletin board reflect the change, and e-mails will be sent out at the end of May to each of you as a reminder.
Have something you want to share?
We'd love to highlight anything you'd want to share, whether it's a good book, a tasty recipe, a tip for a simple home activity -- or pretty much anything else you thing might be fun, useful or interesting! Send your ideas by the fourth Tuesday of the month to Veronica at veronica@harctx.org. Thank you!