The 17th Annual Public Conversation
Our e-subscribers are the FIRST to know! The 17th annual Public Conversation will feature international game-designer
Jane McGonigal
and futurist Jane McGonigal, Grammy-winning cellist and Hoosier David Darling, and stand-up comedian and Baptist minister Rev. Susan Sparks. Scheduled for November 11, 5:30 p.m. at The Toby IMA, Kevin Armstrong will moderate this provocative conversation on the role of play in our personal and community life.
May 23, 2012 at 7 p.m.
The Toby, Indianapolis Museum of Art
With the twenty-first century comes a new breed of struggling independent artist: the indie game designer. Refusing to toil for major developers, these innovators independently conceive, design, and program their distinctly personal games in the hope that they, too, may find success.
The characters: after years of work, designer Edmund McMillen and programmer Tommy Refenes work toward the release of their first major game for Xbox, Super Meat Boy. At a big video game expo, developer Phil Fish unveils his highly anticipated game, FEZ. And designer Jonathan Blow considers a new game after creating one of the highest-rated games of all time, Braid. Indie Game: The Movie won Best Editing Award at 2012 Sundance Film Festival.
Behind the Scenes: Bruce Hetrick
S&P Festival Steering Committee Member
Favorite fictional hero?
Voltaire's Pangloss (from "Candide"). You gotta love a one-eyed, one-eared optimist.
Best play space in Indianapolis?
Indoors: The IRT's plays make for a great play space. Outdoors: The Central Canal and White River State Park let me play with recreation, history, music, animal conservation and more - all in my backyard.
Favorite family game?
Scrabble/Words With Friends. When my sons were little, we played the former in person. Now that they're grown, we play the latter on iPhones.
This is Bruce's second year with the Spirit & Place Festival Steering Committee.
Just for Fun!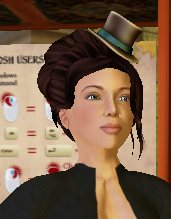 Second Life, a virtual 3D community, has one million members. Do you have an avatar?
Flaunt your creativity and upload a picture of your avatar on our Facebook wall or send us a twitpic to win a chance to be featured in our newsletter!
Resources

Check out the work done by the 2012 Public Conversationalists!
Make A Gift

Consider a gift in honor of a coach or mentor, a band director or art teacher, a childhood playmate, or anyone else who inspires you to live a play-filled life. Donate to Spirit & Place in their memory
here
.
Spirit & Place Festival Blog
When Work is Play
by Peggy Daniels Lee, PhD,
IUPUI Faculty
So what does a business professor know about Play? Quite a bit, actually. I'm a huge advocate of experiential learning. Taught the "normal" way, their eyes glaze over when I start to lecture. So my challenge has been finding ways to bring what can be a very dry subject alive. In 2007, I started using the 3D virtual world, Second Life,...
read more
.
Planet Indy Talk:
Zero-Waste is Sexy
On May 17th, join fashion designer Timo Rissanen and People for Urban Progress director Michael Bricker for a high-stakes conversation about designs that waste nothing. From apparel patterns that leave nothing on the cutting room floor or in the landfill, to repurposing colorful stadium seats to punctuate a cityscape, consider Indy's place at the crossroads of design decisions as smart as they are sustainable. Learn more
here
.
MAY 5-6
National Robotics League Championships
Sparks fly! Metal crunches! Make a date for carnage when you attend this action-packed event that will test students' ingenuity as they go head-to-head with their own mechanical creations in duels of robot combat. Learn more
here
.
MAY 16
Who's Laughing Now-
USO Comedy Fundraiser
Join Indy's best restaurants and music makers to be part of a live show and to get a taste of Indy. Learn more here.
MAY - OCTOBER
Brain Extravaganza
A public art display of 22 larger-than-life brain sculptures will be displayed around Bloomington from now until October to raise awareness about the brain and brain related disorders and injuries. Learn more
here
.