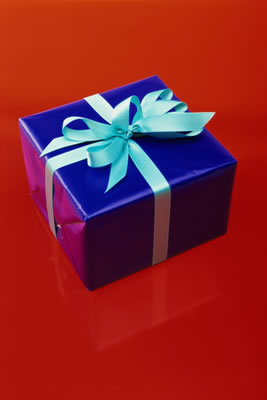 Within the next few weeks, most of us will undoubtedly wrap or unwrap some kind of gift. With t
his issue of
E-news
, we get a head start by doing some metaphorical wrapping and unwrapping. We'll read about Mennonite Home Communities of Ohio, now wrapping up a capital campaign. We'll unwrap steps to a successful feasibility study interview. We'll hear some advice from some of our largest gift-givers, major donors. And we'll offer advice of our own on ways the development office can wrap up the calendar year in a good way.
Sherilyn Ortman, editor
Transformation through teamwork
Throughout its history, Mennonite Home Communities of Ohio (MHCO) has demonstrated an ability to adapt to change, to anticipate elder's needs, and to implement innovative programs that enhance its mission.
Now, as the largest senior living provider in Allen County, this Bluffton continuing care retirement community is transforming its skilled nursing care with the Green House® model of care.
After a challenging campaign, a ground blessing for the first two Green House homes was held in October. CEO Laura Voth and Director of Resource Development Doug Luginbill recently reflected on getting to this point. Read more

Earth-moving equipment waits poised as a combine clears the future site of new skilled nursing care homes in Bluffton, OH.
Going inside a feasibility study interview
Weldon Fruth doesn't remember exactly how or why she was invited to participate in a recent feasibility study for Good Shepherd Home (Fostoria, OH). What she does remember is that the interviewer "let me sit in 'my' chair. As long as I can have my chair, it's fine!"
Completion of a feasibility study is typically an important first step in any anticipated fundraising campaign. It goes without saying that the success of such a study depends on the quality of the interviews conducted. AAI's method acknowledges the centrality of direct, personal interaction between consultant, client and constituent. Read more
In their own words: perspectives of major donors
At the 2011 Mennonite Foundation Development Conference, three donor couples shared perspectives of "dos and don'ts" of fundraising. Read them
AAI Associate Dan Hess has also written a recent profile of two donor couples. Read "Gifts handed down"
Ask the consultant
Q: We know that many of our donors will make their gifts between now and the end of the year. What are the most important activities for our development staff during this time?
A: For most organizations, the flow of charitable giving is the greatest in December; in fact, that month alone may exceed the total of the other 11 months combined! Among other factors, year-end tax planning clearly drives this reality.
AAI offers this list of key year-end priorities for the development office.
Advancement Associates, LLC
PO Box 339
Bellefontaine, Ohio 43311

Upcoming events
Mennonite Health Assembly
A gift that keeps on giving
Henri J.M. Nouwen's A Spirituality of Fundraising is a timeless and inspiring resource for persons involved in fundraising for church-related organizations. This Christmas, consider giving a copy to your board chair, campaign cabinet chair or development staff.
To learn more about this book (and a companion resource, A Spirituality of Caregiving) click here.
What do you have on your shelf that keeps you energized for your task? Share your answer on AAI's Facebook page.

Our team
Richard L. Gerig, MEd, Principal

Rebecca S. Drumm, CFRE, Associate

J. Daniel Hess, PhD, Associate
Sherilyn R. Ortman, BA, Associate

Michael D. Wiese, PhD, Associate