Essex Heritage & Featured Partner Events
November, 17, 10:00AM
A Dogtown Walk to
Whale's Jaw
NEW MEETING LOCATION
Goose Cove Reservoir Parking Area
Gloucester, MA 01930
Mark Carlotto leads us on a ~4 mile round trip walk of Dogtown to a distinctive destination: Whale's Jaw. This unusual rock feature is a glacial erratic placed over 10,000 years ago in the midst of this storied colonial Cape Ann settlement. Participation in this event is limited, please register in advance to attend.
Featured Partner Event


Sunday, November, 27
1:00-3:00 PM
Essex County Greenbelt Association Presents:
Ipswich Birding with
Jim Berry
Pingree School Gymnasium Parking lot
537 Highland Street
South Hamilton, MA
Essex Heritage members join Essex County Greenbelt Association for this event! Traverse trails formed by glaciers with local birding expert Jim Berry and discover feathered friends within the forested upland and red maple swamp. Registration required: please call 978-768-7241, ext. 10 or click
here
. For more information about this and other ECGA events, visit their
website
.
Saturday, November 12
10:00 AM - 11:00 AM
Andover Historical Society
Treasures in the Attic: Winter Sports with Alan French
97 Main Street
Andover, MA
Explore treasures from the Andover Historical Society attic during this special morning event. Find out
more
.
November 12, 2011
1st Annual Massachusetts Trails Conference
"Building Connections"
Doyle Center
Leominster, MA
The Massachusetts Recreational Trail Advisory Board in partnership with the Department of Conservation and Recreation and the Trustees of Reservations presents the 1st Annual Massachusetts Trails Conference. Find out more.

Sunday, November 13 11:00 AM
Essex County Trail Association
Donovan/Sagamore Hill Celebration & Online Raffle
Guided walk to celebrate the opening of the new Donovan/Sagamore Hill Trail, followed by a hot lunch under the tent at the top of the hill. Find out more.

Tuesday, November 15
7:00 PM
NOAA Fisheries Celebrates America Recycles Day
NOAA Fisheries
Regional Office
55 Great Republic Drive
Gloucester, MA 01930
This 45-minute multi-media presentation, covers the important environmental issue of marine plastic pollution addressing it through the various lenses of marine science, economics, politics, and our consumer culture. For more information contact Eric Hutchins at 978-281-9313.

Thursday, November 17
Groundwork Lawrence
Annual Glow Gala
Chester's at Bell Tower Square
60 Island Street
Lawrence, MA 01840
The 2011 Annual Glow Gala and Fundraising Event to celebrates another successful year of projects, partnerships, and programs. Tickets available now! Find out more.

November 18-20
Sleigh Bell Artisan Fair
Wenham Museum
132 Main Street
Wenham, MA 01984
Celebrate the season in a festive holiday atmosphere. Visit with old and new North Shore artisans offering one-of-a-kind gifts. Children marvel at the magical Snow Train to Bakersville, and enjoy a book signing with Matt Tavares, illustrator of Over the River and Through the Wood and much more. Find out more.

Saturday, November 19 - Saturday, December 3,
Methuen Festival of Trees
13 Branch Street
Methuen, MA 01844
A catalyst for historic preservation in Methuen and the Merrimack Valley, the Festival has donated more than $1,000,000 in funds to preserve our area's historic treasures. Find out more about events taking place during the festival.

Sunday, November 20 10:00 AM
Breakheart Turkey Trot
Christopher P. Dunne Visitor Center
177 Forest St
Saugus, MA
Check-in and registration at 9AM. Run this free 5K road race through the hilly, paved Breakheart course. Light refreshments and a turkey raffle. For more info, call 781-233-0834.

Thursday, November 24 10:00 AM-12:00 PM
Topsfield Historical Society
Annual Thanksgiving Open House
Find out more, call Anne Barrett 978-887-4024 or click here.

Friday, December 2 - Sunday, December 4
Christmas in Salem
Holiday House Tour
Historic Salem presents the 32nd annual Christmas is Salem! See the charming homes and stately public buildings that give the streets of this historic district their elegance. Find out more.

Friday, December 2
7:00 - 9:00 PM
Holiday Open House
Methuen Memorial
Music Hall
192 Broadway (Rte. 28)
Methuen, MA 01844
Free admission, seasonal music played on the "Great Organ," displays, refreshments. Find out more.

December 2 - 10
The 2011 Custom House Maritime Museum Silent Wreath Auction
Custom House Maritime Museum
25 Water Street
Newburyport, MA 01950
Auction features an impressive collection of one-of-a-kind hand crafted wreaths created by local artisans and businesses to benefit the Custom House Maritime Museum. Find out more.

December 3 - 17
5th Annual Gingerbread Contest
Wenham Museum
132 Main Street
Wenham, MA 01984
Bakers of all ages are invited to participate in this year's annual gingerbread contest. Celebrate the history of the North Shore with gingerbread renditions of the region's most iconic landmarks! Find out more here or call Mary McDonald at 978-468-2377 x119.

Saturday & Sunday, December 3 -4
Holiday Open House
Lowell's Boat Shop
459 Main Street
Amesbury, MA
Join Lowell's Boat Shop for food, drink, a visit from Santa, and plenty of items to cross off your holiday shopping list. Music and victuals, PJ's famous chowder, art exhibit and sale, silent auction, unique handcrafted gifts, Christmas wreaths and ornaments and for the kids. Find out more.
December 10
18th Annual Holiday House Tour
Newburyport, MA 01950
Tour features a selection of homes representing four centuries of Newburyport area history, culture and lifestyle. Each home elegantly decorated in finest holiday fashion; all wrapped in a day full of holiday magic and surprise! Find out
more
.
Essex Heritage Annual Appeal
Photo by Nancy Lang, Haverhill
.
2011 was another busy year for Essex Heritage, and we hope to continue our success and increase our impact in the coming year. Your support for our mission through the annual appeal enables us to partner with various organizations and visitor sites to preserve, promote and enhance the historic, cultural and natural resources of Essex County.
We are proud of our accomplishments! Some of our milestones this year include; progress along the Essex Coastal Scenic Byway, successful youth engagement programs with the National Park Service, and the celebration of the 10th Anniversary of Trails & Sails: Two Weekends of Walks and Water.
However, we cannot do it without your support. Our work is made possible by the generous support of organizations and individuals. Your commitment to support our annual appeal will make a positive impact in our community by allowing Essex Heritage to continue its important work. Please consider a donation. Thank you!
Membership Month Thank YOU!

Thank you for your support during our second annual membership month! We were so pleased by the enthusiastic commitments we received from new and renewing members.
Essex Heritage would like to extend special thanks to Merrimac Savings Bank and Northeast Health System for becoming Support Circle Members in October!
It is never too late to join! Your tax-deductible Essex Heritage Membership makes a great holiday gift and helps to support programs that enhance, preserve and promote the unique historic, cultural and natural resources found within the Essex National Heritage Area and provides opportunities to discover special places and experiences throughout the county making Trails & Sails last all year long. Become a member!
TRAILS & SAILS 10th Anniversary People's Choice & Passport Prize
Winners Announced...

THANK YOU to all event hosts, participants, volunteers and sponsors for making the 10th anniversary of TRAILS & SAILS: Two Weekend of Walks & Water such a success!

TRAILS & SAILS 2011: "People's Choice Awards"
Essex Heritage is grateful to the hundreds of organizations, event leaders and businesses that opened their doors and created experiences that continue to thrill and delight residents and visitors alike. Every year, Essex Heritage presents a "People's Choice Award" to TRAILS & SAILS event hosts based on participant feedback. Of the 190+ TRAILS & SAILS events offered this year, participants voted for the top ten events of 2011. See all ten events here!

Passport Prize Winners!
Essex Heritage is also grateful to the many organizations and individuals that generously contributed gifts for the TRAILS & SAILS 10th anniversary passport prizes. Many of you celebrated with us by using the Passport to TRAILS & SAILS, collecting stamps as you attended 10 or more events. Essex Heritage is pleased to announce the winners of the anniversary raffle. Drum roll please...

Rowley Common Tree Restoration Planned
For many the Rowley common represents a true cultural icon - the quintessential New England town common. With initial support from the town's Community Preservation Committee, the local garden club is advancing plans to restore the historic common's luster by planting new trees. Read more.

Harbor Walk to Boost Gloucester Economy
With construction slated to begin soon, Gloucester's 1.2 mile-long wood and asphalt pathway will utilize signs and granite posts to guide users along the harbor and throughout downtown. Read more.

Witch Trails Movie Shown Daily

at NPS Visitor Center
Follow the byway to Salem to see the new interpretive film "Salem Witch Hunt: Examine the Evidence." Shot locally and produced by Essex Heritage in partnership with the National Park Service, the new 35-minute film presents the most recent scholarly research of the causes, events and aftermath of the famous 1692 Salem Witch Trials. Find out more.

Welcome New Superintendent

Michael Quijano-West
Essex Heritage is pleased to welcome Michael Quijano-West, the new Superintendent of Salem Maritime and Saugus Iron Works National Historic Sites. Mr. Quijano-West has a distinguished career of public service and has a background in both law enforcement and natural resource management. He was most recently the Superintendent at the Springfield Armory, a position he held since 2004.
"Essex Heritage has a long history of working closely with both Salem and Saugus, and I look forward to strengthening this partnership even further as we find ways to pool our scarce resources to extend the educational and interpretive reach of the National Park Service throughout Essex County," said Mr. Quijano-West while attending the Essex Heritage Annual Fall Meeting at the Crane Estate in Ipswich, MA.
Essex Heritage looks forward to working with Mr. Quijano-West as we continue to increase our collaborative efforts with the National Park Service.
Friendship of Salem Haul Out Update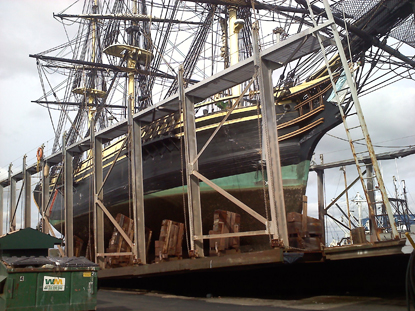 In a letter to the editor, in the November 2, 2011 edition of the Salem News, Michael Quijano-West, Superintendent of Salem Maritime and Saugus Iron Works National Historic Site, provided an update on our beloved ambassadorial vessel in response to inquiries from the public. "Many local residents and visitors to Salem Maritime National Historic Site are asking our park rangers and volunteers, "Where is the Friendship?" during the month of October.

We at Salem Maritime, the national park in Salem, understand that Friendship is an icon for the city and an anchor for visitation in the historic Derby Street area. Her absence during the busiest month of the year is a disappointment to us, as well. However, the U.S. Coast Guard inspections and maintenance currently under way in Fairhaven are vital to keeping the ship open and safe for the thousands of visitors she welcomes every year.

Friendship is receiving new hull paint, a comprehensive marine survey, new underwater hardware and an assortment of carpentry work while in Fairhaven. The paint and bonding agents used for this work become more difficult and expensive to use in cold winter temperatures." We look forward to her return to Salem! For the full letter, please click here. Get an update on Friendship's Haul Out and see images here or follow Salem Maritime on Facebook.

Partnership Grant Spotlight
Jerry Eide of Hill Town Restorations
Rare Gloucester Barn Stabilized
Though far removed from its primary downtown location, the Cape Ann Museum is preserving a rare surviving agrarian structure, the c.1740 barn adjacent to the 1710 White-Ellery House, an important First Period house. With the goal of stabilizing the massive timber frame, the multi-phase project was first tackled by teams of preservation carpentry students from the North Bennet Street School in Boston and more recently entrusted to the Hill Town Restorations of Wendell, Mass. Work to enclose the building is slated to conclude this fall.
Essex Heritage Executive Director,
Participates in Symposium
Annie Harris, Executive Director of Essex Heritage, participated in the 2011 Million Dollar Women Symposium hosted by the Salem State University Enterprise Center. On Wednesday, November 9, Ms. Harris participated in the panel discussion along with: Margo Casey of North Shore United Way; Tiziana Dearing of Boston Rising; Lynn Margherio of Cradles to Crayons; and Patricia Maguire Meservey of Salem State University.

The Symposium highlighted successful women who have founded or are leaders of local non-profits. The panelists shared the challenges they have gone through to achieve success. The morning began with a networking session for participants, followed by a question and answer session with the audience.

Annie talked about her longstanding interest in the region and her desire to focus on the "assets that are in the region and what we can do with them" which lead to the founding of the Essex National Heritage Commission.

Editorially Essex, by Tom Leonard
Many of you who read this article on a regular basis know that I have become an avid advocate for Spaulding Rehabilitation Hospital since they took such wonderful care of me and certainly impacted my recovery from a recent illness. Spaulding Rehabilitation Hospital has recently developed a new website on line, and about a month ago, they filmed a video related to my illness and subsequent recovery. The testimony that I provided in the video continues my strong endorsement of the hospital as a sensational, if not undervalued resource in this region.

The video provides a little insight into the medical experience and provides a preview of the book that I am writing called, Believe that I anticipate will be published before the end of this 2011. Watch Tom's video on the Spaulding website.

DCR's Historic Curatorship Program Seeks Proposals for Newburyport Property

The Department of Conservation and Recreation (DCR) is issuing a Request for Proposals for the rehabilitation, reuse, and maintenance of the Coachman's House Complex in Maudslay State Park in Newburyport, Massachusetts. Through DCR's Historic Curatorship Program, outside parties rehabilitate and maintain a historic property in return for credit toward a long-term lease.

"The Historic Curatorship Program demonstrates an innovative and entrepreneurial approach to preserving the history and culture of our park system," said DCR Commissioner Edward M. Lambert Jr., "By securing the long term preservation and maintenance of these historic resources, the partnership is a true win-win." To find out more about the DCR Curatorship Program and this property, click here.

Kudos to Eastern Bank!
Congratulations to Eastern Bank for being ranked the number 1 lender in Massachusetts by the U.S. Small Business Administration.
Eastern Bank has been a long-time supporter of Essex Heritage. This year, Eastern Bank was a lead sponsor of Trails & Sails, allowing Essex Heritage to offer nearly 200 events across the Heritage Area for FREE to residents and visitors. Thank you to Eastern Bank for all of your tremendous support!
For more information click here.
Thank YOU Corporate Members!