Photo Safari Season Has Arrived!
Experience inspiration... With a state-of-the-art digital camera in hand, capture unique and stunning Essex National Heritage Area landscapes and historic sites! For more information or to register click here or call (978) 740-0444.

Photo Safari: Nikon
Saturday, July 9
Brooksby Farm
7:00 AM - 12:00 PM
1:00 PM - 6:00 PM
Photo Safari: Canon
Saturday, July 30
8:00 AM - 12:00 PM
Phillips House & the Gardens of Salem
Thank YOU!
Four years ago Beverly Public Schools, in partnership with Salem State University, the Essex National Heritage Commission and the National Archives and Records Administration were awarded a federally funded Teaching American History Grant. Until recently, elementary educators in Essex County had an opportunity to work with Rebbecca Zimmerman in her role as Museum Educator for this grant. Last month Becky and the Connecting Essex LINCs team successfully completed all grant requirements. Serving over 140 elementary school teachers, the grant connected educators to primary source material making social studies lessons more relevant and exciting. The resulting lesson plans are available
online
. Essex Heritage would like to thank Becky for her hard work and wish her the best for all future endeavors. Cheers, Becky!
June is...
blueberry picking time in Essex County! Visit your local farm or find your farmers market. Visit Northeast Harvest.
June 4 - October 1
17th Century Saturdays
On the first Saturday of each month June thru October explore Essex County's architectural treasures! Discover what it was like to live in Essex County during America's first century. Essex County is home to an extraordinary collection of homes, buildings and artifacts from America's First Period (1625-1725) of European settlement.
Find out more
(pdf).
Friday, July 8 7:00-10:00pm
Stargazing
Halibut Point State Park
Gott Avenue
Rockport, MA 01966
No telescope necessary! Feel free to bring your own if you have one. The Gloucester Area Astronomy Club is sponsoring this evening of stargazing at the park. Appropriate for all ages. Bring insect repellent and a flashlight. No RSVP necessary! Find out
more
.
Jun 9 - July 17, 2011
Rockport Chamber
Music Festival
Shalin Liu
Performance Center37 Main StreetRockport, MA 01966
Join the Rockport Music Festival as it puts on its 30th season, featuring an exceptional roster of outstanding soloists and ensembles - all in the stunning acoustics of the Shalin Liu Performance Center. Find out
more
.

Wednesday, July 13Methuen Memorial Music Hall
Summer Concert Series
192 BroadwayMethuen, MA 01844
presentsAndrew Scanlon, Greenville, North Carolina works by Mendelssohn, Barber, Messiaen, Bairstow, Widor, Bach and Jongen. To find out more about this and other performances click
here
.

Thursday, July 145:30 PM
Moseley Woods Summer Concert Series featuring
Fiddlers Loft
Moseley Woods14 Spofford StreetNewburyport, MA 01950
Don't miss out on this large, lively, group of muscians playing traditional Irish, French, and American contra dance music. Maybe even kick off your shoes and dance! This event is free and open to the public.
Find out
more
.
Saturday, July 169:00 AM
Run for the Trails
Pingree Reservation, Pingree SchoolHamilton, MA
Greenbelt's Run for the Hills trail race is back for a fourth year! As always, we are excited to promote the use of our conserved land for the sport of trail running. This year, Run for the Hills 10K is part of the North Shore Trail Series! For more information click
here
.
Friday July 22, 8:00 PM
Music at Eden's Edge
30th Anniversary Gala Performance
Peabody Essex MuseumEast India Marine Hall161 Essex Street Salem, MA 01970
Celebrate 30 years of musical artistry and community outreach at this fundraiser. A black tie optional evening in the PEM's elegant East India Marine Hall. Find out
more
.

August 6 - 14
Salem Heritage Days
Salem Maritime National Historic SiteDerby WharfSalem, MA 01970
Celebrate the heritage of Salem! This perennial favorite features Mayor's Night Out, restaurant sampler, ice cream festival, pizza contest, Essex Street Fair, the Salem Maritime Festival, and a finale of fireworks and more! Find out
more
.

Summer 2011
Past Finders
Summer Program
Haverhill Historical Society/Buttonwoods Museum 240 Water StreetHaverhill, MA 01830
Session II: August 9-12
Archie & The Gang
Children learn about Archie Andrews and his connection to Havehill. Learn what Haverhill was like in the 1930s, when Archie's first illustrator, Bob Montana, attended Haverhill High School. View artifacts, learn how to draw cartoons & create stories from real life. Two great weeks this summer!
Email
or visit the website here to find out
more
.
TRAILS & SAILS Update

Mark your calendar for the 10th Annual weekend of Trails & Sails - September 16-18 & 23-25. Join us to celebrate the 10th anniversary with the TRAILS & SAILS "passport" - participants with passports validated at 10 sites are eligible to win an REI suitcase, backpack or fanny pack full of heritage goodies or a TD Bank filled beach basket! Plot your course to fun and adventure online at www.trailsandsails.org when the site goes "live" August 1, 2011!
Thanks to new and returning site hosts, over 100 TRAILS & SAILS events have been scheduled, but there is still time to sign up to host an event! Or, promote your site by contributing a fun item to the raffle - like free passes, a membership, a book, a logo'd hat, etc. All contributors will get a special icon listing in the on-line and printed guide.
Visit www.trailsandsails.org for more information.
Trails & Sails is generously sponsored by:
Good-bye & Thank You to Patty Trap
NPS Superintendent, Patty Trap
We bid a fond farewell to Patty Trap,
the superintendent of Salem Maritime and Saugus Iron Works National Historic Sites. Patty is leaving to become the deputy regional director for the National Park Service's (NPS) Midwest Region starting in mid-July.
Patty has been an inspiration to us all. She brought to this region new ideas, provided more services to our residents and greatly expanded the partnership between Essex Heritage and the NPS. She was dedicated to making maritime history come alive by sailing the Friendship of Salem to ports near and far providing our residents and visitors with a first-hand glimpse into maritime history.
Patty has also shown a tremendous commitment to the youth of our region by developing new, hands-on education opportunities at Salem and Saugus, and providing job corps training for our urban youth - giving them unique opportunities and experiences within the heritage area.
We wish her luck in her new adventure! Read more.
National Park System Action Plan for 2016

Advisory Board Planning Committee Update

On June 30, the NPS Advisory Board Planning Committee completed the first phase of its work. The committee submitted its preliminary recommendations to the full NPS Advisory Board. Once the Advisory Board approves these recommendations, the Planning Committee will delve into more specific and detailed recommendations. Essex Heritage Director, Annie Harris, who serves on the 15 member committee, reports that the National Heritage Area program is included in several sections of these recommendations. Director Harris is very pleased that the plan recognizes that the National Heritage Areas provide an excellent "model for effective community based resource conservation and stewardship in (both) urban and rural areas across the nation" and it proposes that the NHAs be further integrated into the National Park Service system.

NPS Director Jon Jarvis has specifically asked the Planning Committee for three early action items that he will announce this fall. Harris anticipates that the National Heritage Areas will be included as working examples of management practices and partnership tools that are important for the future of the Park Service.
THANK YOU to TD Bank: A Presenting Sponsor for TRAILS & SAILS

Essex Heritage is pleased to announce that TD Bank has returned as a Presenting Sponsor of TRAILS & SAILS 2011. "We are very grateful for TD Bank's commitment to the mission of the Essex National Heritage Commission," said Essex Heritage Executive Director, Annie C. Harris. "Their significant contribution to Trails & Sails demonstrates their strong support for our communities, this region and the residents of Essex County.
It is with their continued support that we are able to offer two weekends of free events showcasing our region's unique sites."
TD Bank's commitment to the community and involvement in our region is an example of true corporate citizenship.
This year there are over 150 events taking place over two weekends, September 16-18 & 23-25. For more information about fun, free Trails & Sails weekend events, click here.
Remembering Harriet Webster
The Essex National Heritage Area suffered a great loss on June 23, 2011 with the passing of Harriet Webster, Executive Director of the Gloucester Maritime Heritage Center. Her tireless work advanced the mission and reach of a local and culturally significant institution, impressing countless residents and visitors with a meaningful connection to Gloucester's historic relationship to the sea through educational exhibits, classroom discovery and programming that included extensive partnerships. We are grateful for her contributions and the opportunity to have worked with a community visionary. Her obituary can be read here.
Along the Essex Coastal Scenic Byway

The 85-mile coastal route from Lynn to Newburyport
The Byway and Cultural Districts
The byway communities of Lynn, Salem, Gloucester, and Newburyport are among those contemplating application to a state-wide cultural districts program. The new initiative is managed by the Massachusetts Cultural Council and shares the same economic and quality of life goals as the byway program. Read more.
Salem Enhances Byway Biking
The City of Salem recently began marking bike lanes and routes on portions of the city's byway alignment. Check it out.
Historic Maritime Business in Gloucester
Tucked away in the Rocky Neck portion of East Gloucester is a unique maritime service - the Gloucester Marine Railways, the oldest continuously operating marine railway in the country. Learn more here.
Salem Maritime Festival, August 2011!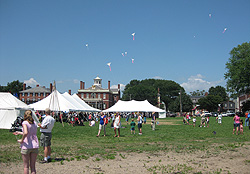 Throughout its 23-year history, the Salem Maritime Festival has been a unique celebration of Salem's four centuries of maritime heritage, engaging "Ships, Sawdust, Sailors & Song." At this year's Festival on Friday, August 5th and Saturday, August 6th, demonstrations of traditional crafts will once again be the highlight of our programming, as the National Park Service makes Derby Wharf come alive in a special tribute to Salem in its early seaport heyday with live music, re-enactments, visiting vessels, harbor cruises and a wide range of free, family activities. A full schedule of activities can be found on the Salem Maritime website.
Partnership Grant Spotlight
East Parish Meeting House Report Completed
Using a 2010 Essex Heritage Partnership Grant
Photo by Carl Russo, Eagle Tribune
The East Parish Meeting House
Society recently completed a historic structures report for the East Parish Meeting House in Haverhill. Written by consultant Peter Rudd of Elemental Designs, Inc., the report will help the society better assess and plan for the building's long term preservation.
Built in 1838 and worshipped in by the poet John Greenleaf Whittier, the small, quintessential former New England church structure is one of only seven original meeting houses remaining in Massachusetts. In 2010, faced with an uncertain future and in need of significant repair and restoration, the meeting house was named one of the most endangered historic resources in the state by Preservation Massachusetts, the statewide, nonprofit historic preservation organization.
Read more
(pdf).
The Baron Mayer Champagne Reception
Honoring Tom Leonard
Essex Heritage staff and Board President, Kevin Tierney honor Tom Leonard in Danvers.
On June 25, in an evening reception to kick off the annual Danvers Family Festival, Essex Heritage's own, Tom Leonard, was recognized with the Baron Mayer Award which recognizes Danvers' outstanding citizens. The tented event at Glen Magna Farms was overflowing with individuals who arrived to celebrate Tom and give thanks for his efforts to improve the quality of life in Danvers and the greater region. Tom is a well-deserving honoree and Essex Heritage would like to congratulate him on this prestigious recognition. Read more.
Have you ever wanted to sail aboard the Friendship of Salem? Join the National Park Service crew as they commandeer the Friendship.
Friendship of Salem, launched in 1998, is a full-size replica of the original ship built in Salem in 1797. The original Friendship made 15 voyages before being captured by the British during the war of 1812 and auctioned off. Essex Heritage, in partnership with the National Park Service, is thrilled to offer the historic opportunity to participate in the second only commercial-passenger sail aboard the Friendship of Salem on Saturday, September 3rd & Sunday, September 4th. Enjoy interpreted maritime history, learn about life at sea, and help sail the vessel under the supervision of 3 watch leaders as a volunteer crew-member. Visit Friendship Sails! here.
Editorially Essex by Tom Leonard

Sixth Congressional District Comes Together

In late June hundreds of elected officials, business people and residents of the region came together in Lynn to send a clear message that the Congressional District as presently constituted needs to remain untouched. Thanks to all who attended and made their positions known. Congratulations to Bill Luster of the North Shore Economic Alliance for his efforts in organizing the event, and a special thank you to former Congressmen Harrington and Torkildsen and the incumbent, John Tierney, for their leadership in this effort. Read more.