Essex Heritage Events
Sunday, January 23
2:00 - 4:00 PM
The Shipwrecks of Stellwagon Bank
Gloucester Maritime Heritage Center
23 Harbor Loop
Gloucester, MA 01930
Join maritime archaeologists Deborah Marx and Matthew Lawrence for this favorite event; a tour of the Stellwagen Bank National Marine Sanctuary's historic shipwrecks to uncover the mysteries and secrets hidden beneath the waves. The two-hour event will include a showing of the 45-minute Science Channel's Viewers Choice Award documentary "The Wreck of the Portland," followed by a presentation on Sanctuary maritime heritage projects and a tour of the Sanctuary's exhibit in the Gloucester Maritime Heritage Center.

Find out more...

Not a Member? Join here.

Saturday, January 8
10:00am - 4:00pm
Wenham Museum's 21st Model Railroad Railfain Meet & Hobby Show
132 Main Street
Wenham, MA 01984
Train and model railroad enthusiasts won't want to miss Wenham Museum's 21st Annual Model Railroad and Railfan Meet and Hobby Show featuring dealer tables filled with everything from equipment and memorabilia to toys, books, and photographs. The Depot Snack Bar serves lunch and snack items as well. Find out more.

Monday, January 24
10:00 am - 4:00 PM
NEMA Workshop Orphans in the Collections:
Unclaimed & Abandoned Property Workshop
Higgins Armory Worcester, MA
Join us to discuss unclaimed and abandoned property issues and how they affect the museum community. Several New England states have passed legislation to help museums deal with this challenging problem, but what does this legislation mean for institutions? What if your institution is in a state which does not have abandoned property laws? Our diverse panel looks at those issues and more. For program information and registration click here.
Saturday, February 126th Annual Merrimack River Eagle FestivalNewburyport, MA
Winter's on its way-and with it, the Bald Eagles return to the Merrimack Valley. To celebrate Mass Audubon at Joppa Flats and the Parker River National Wildlife Refuge are holding the 6th annual Merrimack River Eagle Festival. Come to the Eagle Festival for a full day of fun indoor and outdoor activities, and learn more about these magnificent birds and the habitat they share with us. Find out
more
.
Thursday, January 207:30 PMSalem Town Hall Lecture Series PresentsJudith Sargent Murray: "Forming a New Era in Female History"
Illustrated lecture and book signing with author and historian, Bonnie Hurd Smith. Using excerpts from Murray's essays and personal letters, Bonnie Hurd Smith presents an engaging biographical sketch of a leading figure in the story of progress for women in America whose voice and impact are finally being recognized thanks, in large part, to Smith's groundbreaking work. Find out
more
.
Tuesday, January 25MAPC Open House60 Temple PlaceBoston, MA 02111
Join us for MAPC's 2nd annual Open House from 4-7 PM! Come tour the MAPC offices and learn about our policy and planning initiatives in 2010. In addition to hearing about our diverse body of work, this will be a great opportunity to exchange ideas, network, and also enjoy friends and food! Find out
more
.
Read About the Region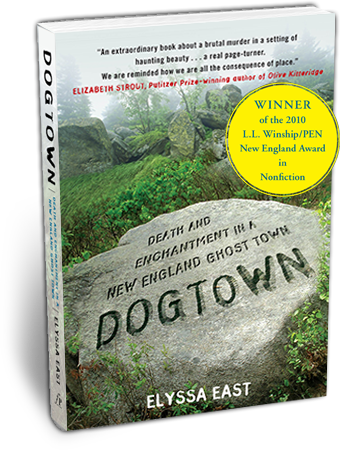 Elyssa East interlaces the story of a grisly murder with the strange, dark history of Dogtown's wilderness ghost town and explores the possibility that certain landscapes wield their own unique power. As an art student, she fell in love with the celebrated Modernist painter Marsden Hartley's stark and arresting Dogtown landscapes and learned that in the 1930s, Dogtown saved Hartley from a paralyzing depression. Years later, East set out to find the mysterious setting that had changed Hartley's life. She discovered a landscape steeped in intrigue and a community deeply ambivalent about the place: while many residents declare their passion for this profoundly affecting landscape, others avoid it out of a sense of foreboding. For information click here.

Sending Healing Thoughts to Essex Heritage's Own Tom Leonard
Last week, Essex Heritage founding President Tom Leonard fell seriously ill. His condition has begun to stabilize and he has made some improvement. Our thoughts and prayers are with Tom and his family as he works toward recovery. In the interim, Tom's popular blog will take a well-deserved break. We look forward to Tom and his blog's return soon.

Essex Heritage Annual Appeal

Please support Essex Heritage by making a tax-deductible contribution to our Annual Appeal today. Essex Heritage is not just about the built and natural environment; it is about you and where you live! Without support and commitment from friends like you important programs and initiatives like recreational trail building, the Essex Heritage Scenic Byway, the Partnership Grant Program, TRAILS & SAILS, opportunities to connect people to place would simply not be possible.

Your dedication to Essex Heritage inspires us everyday, and for that we are deeply grateful. Please donate to the Essex Heritage Annual Fund and support the spectacular and nationally significant place that we all call home! Thank you.
Essex National Heritage Area Photo Contest. Sponsored by Essex Heritage and Hunt's Photo and Video, the contest winners were announced this week and will be presented with their awards on January 20, 2011 at 5:30pm at the National Park Service Regional Visitor Center in Salem.

Winning images were selected by a panel of judges that included representatives from Essex Heritage, the National Park Service, and Hunt's Photo & Video. The Grand Prize Winner was Rod Parker, of Salem, for his photograph taken over the Labor Day Weekend at a Friendship Sails event, entitled. "Full Sails at Sea". See all contest winner here.

Along the Essex Heritage Scenic Byway

The 85-mile coastal route from Lynn to Newburyport
Byway Meetings Continue in 2011
Public meetings in Newbury, Manchester-by-the Sea, and Marblehead will be held in January to review the overall scenic byway program and solicit input regarding its benefits, opportunities, and management. During the evening meetings area residents can share their ideas with the byway project team. For more information click
here
.
Schooner Adventure Has New Berth
The Schooner Adventure has a new home on the byway in East Gloucester and that's just one of several exciting changes involving the National Historic Landmark vessel. Read more
here
.
Swampscott Hotel Fire Video
The now open Swampscott waterfront once featured a number of grand summer hotels. One of the most famous, the New Ocean House, which hosted the likes of John Kennedy, Helen Keller, Billy Graham, Sinclair Lewis, Harpo Marx, and Lucille Ball, burned to the ground during a spectacular fire on May 8, 1969.
Click here for the video
.
Essex Heritage Membership Update
This month Essex Heritage would like to extend special thanks to Georgetown Savings Bank who joined Essex Heritage as a Sustainer Circle member, Geller Microanalytical Laboratory, Inc. and Green Meadows Farm for their Benefactor Circle memberships and St. John's Preparatory School for becoming a member of the Supporter Circle.

It is never too late to join! Your Essex Heritage Membership makes a great holiday gift and helps to support programs that enhance, preserve and promote the unique historic, cultural and natural resources found within the Essex National Heritage Area, provides opportunities to discover special places and experiences throughout the county and is tax-deductible. Join today. To view all corporate members and opportunities for your business to join, visit our membership page.

Photo Excursion:
Eagle Fest Weekend!
The itinerary has firmed up for our first-ever Photo Excursion! Join Essex Heritage and the professionals at
New England Photo Workshops
for a Winter Photo Field Clinic just in time for Eagle Fest! Using the Parker River National Wildlife Refuge as our morning home-base, we will keep cameras at the ready for eagles and other striking specimens. This day-long workshop, with optional evening activities and over-night accommodations, will include expert classroom and field photographic instruction with critique sessions, visits to multiple stunning Essex National Heritage Area landscapes and unique historic sites in search of spectacular images. This is a terrific opportunity to capture competition photos...nature, people, travel and photojournalism subject categories will abound. Those staying overnight are encouraged to participate in the many free
Merrimack Valley Eagle Festival
activities in and around Newburyport on Saturday, February 12. Register or find out more about New England Photo Workshops
here
.
Newbury's Lower Green Garners Support

Members of Save the Lower Green from Boston.com

Originally part of Old Town, the Lower Green was cleared by the first settlers of Newbury in the 1630s and has remained virtually unchanged for the past 375 years. However, the threat of encroachment by an adjacent residential development project has mobilized a group of local citizens to form the "Save the Lower Green Committee." Working with the Essex County Greenbelt Association, the committee seeks to raise $500,000 to purchase a 4-acre parcel of pasture land that would serve as a permanent buffer zone. Indentified as a "priority heritage landscape" during the 2005 DCR/Essex Heritage Landscape Inventory, the Lower Green is located on the Essex Heritage Scenic Byway. This fall the nonprofit organization Preservation Massachusetts added the Lower Green to its annual list of Massachusetts' Most Endangered Historic Resources. If you are interested in supporting these efforts, more information and opportunities to give can be found online here.
Team Haverhill Receives Commonwealth Award!
The Massachusetts Cultural Council announced this week that Team Haverhill has been selected to receive a Commonwealth Award in the category of Creative Community. According to Council Director Anita Walker, the award is being given for Team Haverhill's extraordinary efforts to make Haverhill a better place to live, work, and visit. Presented every two years, the Commonwealth Awards shine a spotlight on the extraordinary contributions that arts and culture make to education, economic vitality, and the quality of life in Massachusetts. The Commonwealth Award Ceremony will take place February 9 at the State House in Boston. Find more information about the ceremony. Read Team Haverhill's announcement here.