| | |
| --- | --- |
| Issue 60 | October/November 2009 |

Greetings!


Home Swappers Newsletter

is published 6 times a year to provide information on home exchange vacations for current and recent members of

Home Base Holidays

and Newsletter subscribers.

Quick Links at the end of the newsletter: Member Login, Browse Home Exchange Listings, Membership Form plus further information.

Lois Sealey, Editor, Home Swappers
Regular Home Swaps... and the Dogs Come Too
Terry and I started exchanging our second home in Cheltenham in 1999 because we wanted to attend summer ballet seasons in London without leaving our elderly dog Rocky in kennels. Our desire for UK annual exchanges in the same place (London) and our need to have Rocky with us possibly made us slightly unusual exchangers. That first year we had a positive reply from a retired gentleman, Jack Collins in North London. Jack was a great character and by means of letters and a flying advance visit we really felt we got to know him. He was a great raconteur and regaled us with tales of all his travels around the world (especially the USA) but apparently, as a confirmed Londoner and Arsenal supporter, he'd never been north of Watford.
He readily agreed to us bringing Rocky and falling in with the dates of the two week Bolshoi Ballet season. We arranged to stay at Cheltenham and meet him off the London coach which stopped just down the road. Terry took the car down to help him with his luggage and imagine our surprise when he turned up with just a very small grip which could only have held a couple of shirts and change of underwear for a 2 week visit! Our car was crammed as if we were going to Siberia! 'I always travel light and buy anything I need' he said, adding that on one visit to America he was stopped by customs as they couldn't believe a holidaymaker could have so little luggage.

He soon settled down in Cheltenham into a regular routine of visits to town to admire the architecture, which he thought very 'classy' and also the local bookies, where I'm sure he became as familiar a face as in the ones he frequented in North London. He also enjoyed visiting the local pubs for evening meals and companionship and even chatting to the occasional lady! When we returned to Cheltenham I was mystified by the large collection of small blue biros and thought he must have spent a huge amount of time at Argos until I realised they were handed out at the bookies!
Meanwhile we were settling down in his North London flat which had a lovely garden for Rocky and walks nearby. We found the location of the nearest supermarket (5 minutes walk away, as was the railway station) and began to feel we were Londoners, not just tourists. This is one of the nicest aspects of house exchanging; the feeling of 'belonging' to an area, not just holidaymaking. Also, because we had a fixed location for the ballet season we were able to afford to attend many more performances than if we had been staying in a hotel or having to commute between London and Cheltenham or, even worse, our main home in Preston, Lancashire.
We continued to exchange with Jack every summer for two weeks until 2005 (7 years in total, first with Rocky and once with our next dog Alfie after Rocky sadly died) and his home became like our third home. He was a lovely person, very enthusiastic and had a great love of 'gadgets' which he didn't always understand, such as the very expensive vacuum cleaner which he wasn't sure how to work and I never dared use. He had a computer which Terry found very useful for his own work (he is an academic). On one visit Jack announced he had signed up for the internet but didn't really understand it. We tried to show him the basics, but with limited success. One year he was very excited by this website a friend had told him about where if you sit and stared at the computer screen your face would appear. He was keen to try it and we got the website up for him and he sat there looking at the screen. Slowly a picture began to emerge and he got very excited. However, when the picture was complete it was that of a monkey! We thought it was funny but he was rather put out about it.
Sadly 2005 was our last exchange with Jack as his health was failing. We thought he was 70 when he started exchanging with us but it turned out he was 80! He was so young looking and had such a great attitude to life he never seemed his age. It was a great privilege to know him and stay in his lovely garden flat for as long as we did. Since then we have exchanged in Derbyshire, Devon and Whitstable, always with our dog (or dogs as we now have two small collie crosses, Misty and Tasha, pictured with Terry). It is much better than putting them in kennels and is a good way of getting to know an area even better and ensure you have outdoor exercise. I can understand people being apprehensive about having unknown dogs in their property as well as people but the lady whose house we rent regularly in Rye says she thinks people who want to holiday with their dogs rather than put them in kennels must be caring, responsible people, so I suppose this is another way of looking at it! We (in common with most dog owners) supervise them carefully in house and garden and have never had a problem in 10 years of exchanging with them. The only problem has been finding properties willing to take dogs, especially in London (I deliberately don't contact anyone who says 'no pets').
Next year we have details of a four week visit by the Bolshoi Ballet to the Royal Opera House from July 19th to August 14th. I have taken leave from work for the middle two weeks (26th July to 8th August). So if you want a holiday in Cheltenham (or Preston) and the chance to have two lovely red collie crosses stay at your London home (with a university lecturer and librarian) please apply now! We don't expect anyone to exchange for two weeks at once. A week or even part of a week would be fine. -
Joan Hopton, HE3158
View Joan and Terry's Exchange Offer in Cheltenham, HE3158
Watch Members on Home Exchange this Summer
The last newsletter was sent out just before home exchange was featured on The One Show, a popular early evening show on BBC1. If you missed it, or don't live in the UK, use the link below to view the film on YouTube.

This was a very positive report from both sides of the exchange by first time exchangers (and also in the studio discussion that followed - apart from guest, comedian Ricky Gervais, who apparently doesn't even trust his own family to stay in his home!). Being the BBC, there were no nice plugs for Home Base Holidays or our partner site, Guardian home exchange but, with a large audience, more people will have been introduced to the home exchange concept.
Thanks again to
Home Base Holidays
member, Susan Cascio from Ocean Pines, Maryland who, along with her friend, Diane, were interviewed by Dom Littlewood while living in their 'Guardian members' London home.
View Susan's home
, five minutes from Ocean City on the Atlantic Ocean and a big tourist Mecca in the summer, HE20344.
Home Exchange Partners are Your Guests!
I noticed this sentence in a recent exchange offer and, although it's understandable that a first time home exchanger may be anxious to lay down some 'rules', it does seem rather off putting when included within the description where the primary purpose is to attract initial interest in an exchange offer. Most members wouldn't need to be told to replace items they had used while guests in an exchange home anyway but, if it is a concern, this is the type of detail that can be discussed directly with potential exchange partners when arranging an exchange.

'What a lovely home - it will be very appealing to people wanting to exchange in your area. Perhaps the only question mark I have on your house is why you would lock your main bedroom and en suite? We have exchanged nine times now and have never come across this. I can understand locking the filing cabinet with all personal papers - we do this. And maybe storing sentimental or precious objects - we did this on our first exchange and when we arrived on our exchange we immediately wished we hadn't because their house was beautiful with beautiful things everywhere. They trusted us and we felt as though we were not showing them the same courtesy. We have not done so since and never had any cause for concern because all the houses have been lovely. They have all been lovely people and we still keep in touch with them all. I am sure you have your house and contents insured in case of accident. What I say to people when they ask us how we can leave our home and lovely furniture (we have collected antiques and furniture from living around the world and have lots of mementoes from our travels) is that the people we are exchanging with are letting us live and use their homes and as long as you are comfortable with the people everything will be fine.

Talking of main bedroom, a house exchange we had in Las Vegas was amazing, white carpet throughout (nice basket by front door which had plastic shoe covers to put on one's outdoor shoes) and the main bedroom had a huge American Superking size bed, electric blanket inside the mattress and it had controls for sitting up, lying down, massaging the back - we were enthralled! To be able to read in bed at exactly the most comfortable position to suit you, each side had individual controls - wonderful.'
Home Swaps During Holidays and Special Events
Thinking of arranging a home swap over the Christmas/New Year's period? If planning a trip abroad, most members will want to buy air or train tickets as soon as possible. If you aren't already a member, join Home Base Holidays now to get your exchange offer into circulation and start contacting members right away.

Draw attention to the holiday period by choosing the dates Dec 2009 - Jan 2010, include Christmas/New Year's in the destination box along with countries/areas of interest or 'open' and/or at the beginning of your description (you can change your listing later to update it).
When browsing listings you can re-arrange search results in a number of ways, including by dates of exchange (the many listings with 'open dates' will be shown first) or restrict results using detailed search:
Reverse search - find members looking for an exchange to your country or city (note: a good way to start but results won't include all who are 'open to offers' on destination).
Keyword search - try variations on words or phrases that describe the holiday (or event) you are interested in.
Besides specific holidays, members often arrange exchanges to coincide with major international sporting events. Cathy (
Mission Bay, Auckland, HE12437
) reminded me that the next Rugby World Cup will take place in New Zealand in 2011. Her home will be available and very convenient (close to Eden Park where the final will be played as well as close to Auckland inner city).
Other upcoming sporting events include the Winter Olympics in Canada 2010, World Cup in South Africa 2010, Ryder Cup Wales 2010, and further ahead, the London Olympics 2012. It's never too soon to start looking for an exchange to attend a popular event (or to offer your home for exchange if you want to escape it!).
This article was inspired by a new member, Jo, who asked for advice on finding a Christmas exchange before listing her home recently:
Located in the centre of the historic Roman town of St Albans, our home provides easy access (20 minutes by train) to central London, Europe via Eurostar, and is 5 minutes by car from motorways to explore in other directions. We live within 10 minutes walk of Verulamium park and the cathedral (in photo) as well as shops, restaurants, pubs etc.
See Jo's full exchange offer, HE23325
. St Albans would be an ideal location for a Christmas break so, if you are already a member, log on and contact her soon if interested in her offer.
Competition Winner - Three Homes in Unusual Buildings!
The
August/September newsletter
featured samples of homes available for exchange in buildings not purpose built for housing. Readers were invited to send a list of three more such homes from current exchange offers on Home Base Holidays. One entry was then randomly selected to receive a copy of
The Guardian Green Travel Guide
.

Our winner is J. Brown (first name not given), a newsletter subscriber. Congratulations Mr/Ms Brown! Here are the three listings in his/her entry:
Monastery in East Sussex, England, HE23052
- The apartment is in a converted former monastery and situated in an Area of Outstanding Natural Beauty. It's a mile from the picturesque village of Burwash. There are excellent walks in beautiful countryside right on the doorstep and many National Trust castles and gardens are close by.
Stables in Cape Town, South Africa, HE23114
- A character home that was converted from the original stables in the area. It is a sunny North facing family home set in a park-like treed garden. The garden and pool (unfenced) leads off a beautiful covered veranda spanning the full length of the house. We are incredibly central to all Cape Town has to offer.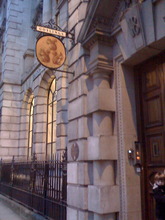 Bank in London, England, HE23089
- An apartment in a beautiful 19th century converted bank on London's famous Fleet Street. In the heart of the city, steps from St Pauls, Trafalgar Square, the Thames and Covent Garden, everything is walking distance, and the apartment is light, large for London (120 square metres) and extremely quiet.
Tempted by the Monastery, Stables and Bank? Browse More Current Exchange Offers
Further info
Newsletter Contributions: We are always pleased to hear from members and subscribers and to receive contributions for the newsletter and blog - short reports on your exchange experiences, tips you feel would be useful to those new to the idea of home swapping and any questions you have on home exchange. Please include 'home exchange' in the subject line when contacting us as messages with no subjects (or dubious sounding subject lines!) or unexpected attachments may end up in our spam folder and deleted unread.
Reading this on the Website?
Use the
newsletter subscribe link
to add your email address and receive the newsletter regularly. If already on the list but not receiving your copy by email, there can be a number of causes:
Incorrect email address - send us your name and correct address

Add our email address, homeexchange 'at' btinternet 'dot' com, to your address book or 'white list' of accepted messages

Check your spam/bulk folder before deleting - some 'real' messages can be put there by mistake
Be Alert: The Home Base Holidays private member area is for one-to-one exchange offers between members only, not for any other purpose. Please let us know if you receive any other type of message via your member area. Never respond to unsolicited messages from unknown sources.
Further Information:
Check the
archives
to read past issues of Home Swappers Newsletter. Also, don't forget to visit the
Travel the Home Exchange Way blog
for regular information and updates plus special exchange requests. To receive notices by email whenever a new post is added (generally no more than three a week), add your email address to the box above 'Get email updates' in the left hand column of
Travel the Home Exchange Way
. And you can now follow us on
Twitter
!
Copyright:
All Home Swappers content is copyright and cannot be used in any form without written permission from
Home Base Holidays
. However, please feel free to forward the newsletter (in full) to friends and colleagues who may be interested in home exchange (use the Forward Email link below the newsletter).

Home Base Holidays, London, UK 1985-2009: 24th year providing a home exchange service worldwide