Rubblebucket

NYC band: Everything & nothing all at once.

By Austen Diamond

"The purity of human expression and experience is not confined to guitars, to tubes, to turntables, to microchips," said Bruce Springsteen during the 2012 South by Southwest conference keynote speech. "There is no right way, no pure way, of doing. There is just doing."
Springsteen's discourse on the meaning of music was a moving, potent pocket guide through the history of rock & roll, and among some delightful tangents, he insisted that meaningful music comes from all aspects of culture and that its importance is multilayered... Read More
Municipal Waste
A tasty, career-spanning Fatal Feast
By Chris Parker


Municipal Waste frontman Tony Foresta exists in a sweet state of denial. The throwback thrash act is opening for fellow Richmond, Va., residents GWAR again. Only this time they're playing just before the sci-fi/horror metal icons take the stage, putting them at risk of being "GWAR'd" by the fans, who've been known to start chanting their favorite band's name in the middle of the preceding act's set.
"It's kind of weird that I'm not worried, because I should be. I remember when we were on that tour last time we were like, 'Thank god we're not... Read More


AU, Justin Townes Earle
Reviews: Both Lights, Nothing Gonna Change the


Way You Feel About Me Now
By City Weekly Staff
Twelve seconds. That's how much time it takes for multi-instrumentalist Luke Wyland to join drummer Dana Valatka on album opener "Epic" with a math-rock-induced, soaring guitar riff that would make Eddie Van Halen blush. The duo wastes no time capturing listeners on their third album by doing what they do best: namely, everything. Both Lights is the Portlandia crew's most triumphant effort to date: a mashup of freak-folk, art-pop à la Brian Eno, and colossal, indie jamboree.
The album takes a marked turn on the next track, "Get Alive," where Wyland plays keyboard, sampler, lap steel, banjo and melodica, in addition to letting his bass-y, Mark-Sandman-meets-Morrissey croon take center stage; and he is joined by a veritable cast of characters, including

... Read More

Thursday 4.5:
Fanfarlo
The Urban Lounge, 241 S. 500 East, 9 p.m., $15
Saturday 4.7: Band of Skulls, We Are Augustines
The Complex, 536 W. 100 South, 8 p.m., $18 in advance, $22 day of show
More Info
Saturday 4.7: Neon Trees, The Lower Lights
Mountain View High School, 665 W. Center St., Orem, 5 p.m., $20
More Info
Saturday 4.7:
Burnell Washburn CD Release
K
ilby Court, 741 S. Kilby Court (330 West), 7 p.m., $10; The Urban Lounge, 241 S. 500 East, 9 p.m., $8
More Info
Saturday 4.7: Explosions in the Sky
In the Venue, 219 S. 600 West, 7 p.m., $20 in advance, $22 day of show
More Info
Monday 4.9: Michel Camilo
Capitol Theatre, 50 W. 200 South, 7:30 p.m., $30
More Info
Wednesday 4.11: Cults

(above)
The Urban Lounge, 241 S. 500 East, 9 p.m., $12
More Info


The Hotel/Club Elevate
Diversify your bonds Friday nights
By Colin Wolf

GZA of the Wu-Tang Clan once said, "You need to diversify your bonds" ("Wu-Tang Financial"), and for those of you who like a taste of everything and don't mind getting a little sweaty in the process, then The Hotel/Club Elevate (155 W. 200 South) might be your thing. Every Friday, general manager Chad England hits you with a music trifecta: hip-hop sets in The Lobby, Latin Night in adjacent Elevate, and Hooked on House upstairs in The Opium Lounge. After diversifying, GZA was "makin' stacks and drinkin' 'gnac," which could come true for you, too; or, at least, the result is the ability to Danzon, shuffle and Dougie all in the same night. The multifloored party place also offers up cheap drinks, hookahs and, yes, go-go dancers...
Read More

Local Releases: Lousy Smarch Weather
Read More


Desert Rocks' initial lineup
announced

New Tunes Tuesday: Hipster Heaven
Read More


Fiona Apple's album cover is the craziest thing yet
Read More


Concert Review: The Ting Tings at Club Sound
Read More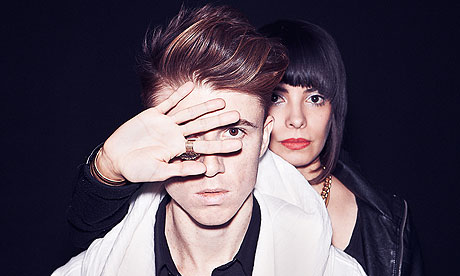 Enter to win a
School of Seven Bells
Prize Package!
ENTER HERE



An Epiphone Guitar & Joe Bonamassa Prize Package
ENTER HERE

The Woodshed

Print-at-home certificates 40% off
BUY NOW

FEATURED DEAL:
The Lumineers
The State Room, April 5th
Limited Supply, No Service Fees!
BUY NOW

The Garage
Too Slim & The Taildraggers