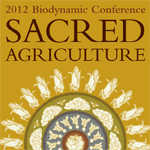 Join us on November 14-18, 2012, at the beautiful Monona Terrace Community and Convention Center in Madison, WI, for an extraordinary event - the 2012 North American Biodynamic Conference.
This biennial conference is the foremost event for biodynamic education, networking, and community building on the continent, bringing together hundreds of farmers, gardeners, educators, activists, and interested newcomers for five days of inspiring keynotes, informative workshops, networking, exhibits, film screenings, art, and organic and biodynamic foods.
This year's theme, Sacred Agriculture: Creating a New Relationship with the Earth, will focus on how we can build a sacred relationship to the earth through farming, gardening, and transformational work in our communities.
Early Bird Discount: Register by September 15 to receive 10% off. Members: Get an additional 10% off, for a total of 20% off. You can become a member when you register and receive the discount immediately.

Register now!
Know someone else who would like to get our quarterly updates?
Support the Biodynamic Association!
Resources
Webinar: Food, Farm & Nutrition Curriculum Connections:
Developing Educational Experiences that Meet Teacher Needs
Tuesday, September 11, 12-1 CDT
Join members of the Farm Based Education and Farm to School Communities across the country to discuss how to develop educational experiences on farms and in gardens that reflect classroom curricula goals. SPACE IS LIMITED: Reserve your webinar seat now!
Schoolyard to Market Curriculum from San Francisco Green Schoolyard Alliance
This step-by-step curriculum guide will direct students on how to
develop a planting plan, nurture crops in the school garden, and
harvest the crop and take it to market to sell. We intend for this
16-week program to be used sequentially but it can be used for
independent lessons as well.
TED Talk: How We Can Eat Our Landscapes

An inspiring TED talk about edible landscapes and how the community rallied around to promote and support the cause.
Thank you for subscribing to the quarterly FBEIBA newsletter!
Have something you'd like to share with others? Send it to me at fbeiba@biodynamics.com and we will include it in a future issue.


- Dana Burns, FBEIBA Coordinator
Re-connecting to the Earth: A Farm-Based Education Intensive
Farm-based educators at the 2011 retreat

Join us November 14, 2012 at Angelic Organics Learning Center for our 4th annual retreat, Re-connecting to the Earth: A Farm-Based Education Intensive.

Founded in 1999, Angelic Organics Learning Center of Caledonia, Illinois, has grown into a thriving organization with a $1M + annual budget, providing farm based education to more than 4000 children, youth and adults annually, in both urban and rural settings.

Here's a sneak preview of the agenda for the day:

8:30 Welcome - Dana Burns, FBEIBA coordinator; Tom Spaulding, Angelic Organics Learning Center

8:45-10:15 Tour of Angelic Organics Learning Center - Tom Spaulding and Deb Crockett, Angelic Organics Learning Center

10:30-12:00 Angelic Organics Learning Center: from Inception to Thriving Enterprise - Tom Spaulding, Angelic Organics Learning Center

12:15-1:15 Lunch

1:30-2:30 Work Project - Deb Crockett, Angelic Organics Learning Center

2:45-5:45 Gunther Hauk: Long term Waldorf gardening teacher, biodynamic practitioner and educator at college level, co-founder of the Pfeiffer Center and Spikenard Farm, Gunther Hauk will share his 30+ years of education experience with us.

6:00 End Intensive, Supper and entertainment with other conference participants

This is a pre-conference event for the North American Biodynamic Conference, which will take place November 14-18 in Madison, WI.


Focus on Culture: Nepal
Krishna Gurung of the Kevin Rohan Memorial Eco-Foundation (KRMEF) is creating a buzz around Nepal and around the world. Like the world's tallest peak a little over a hundred miles to the northeast, Krishna is a towering leader. Krishna's accomplishments lie in creating social change. The programs of the KRMEF include: an orphanage, a children's center, recycling, natural building, a biodynamic farm, a community center, health clinic with alternative medicine, alternative fuel for cooking, education and empowerment workshops, crafts and jewelry making and sales, and permaculture and biodynamic training for farmers.

There is ample information about the KRMEF and its amazing accomplishments in modern media, but what about Krishna himself? What sort of childhood formed this remarkable, capable and inspired man? What can we, as educators glean from this childhood? Is there something in it applicable to farm-based education?

As a child, Krishna was encouraged by his parents to develop creativity and responsibility. He worked hard: cleaning the kitchen, caring for animals, and tending the garden every day. During winter vacation in January and February he traveled about 7 kilometers to gather dry firewood from a forest. Krishna especially enjoyed making traditional Nepali ropes: damlo, for tying animals, and namlo, for carrying large loads in a bundle. The ropes are made out of long leaves of a local variety of cactus. The leaves are allowed to rot and the remaining fiber is then used to make ropes of many different sizes.

Read more and see photos of Nepali children on our website...

Summer 2012 FBEIBA Featured Education Center: Angelic Organics Learning Center
Angelic Organics Learning Center helps urban and rural people build local food systems. We offer opportunities to grow healthy food and a better quality of life, connect with farmers and the land, and learn agricultural and leadership skills. The Learning Center reaches more than 2,500 people each year through our programs at partner farms and urban growing sites in northern Illinois and southern Wisconsin.
History
The Learning Center was founded in 1998 as a 501(c)(3) nonprofit educational partner to Angelic Organics, the community supported agriculture farm featured in the award-winning documentary, The Real Dirt on Farmer John. Today, more than 1,800 families in northern Illinois and southern Wisconsin get their fresh produce from Angelic Organics, making it one of the largest CSA farms in the country. Since our founding the Learning Center has become a regional leader helping urban and rural people build local food systems. We transform Angelic Organics into a living classroom for thousands of kids, adults, and families each year. Graduates of our training programs now lead dozens of new local farms. And from urban gardens to farmers' markets, we're preparing leaders in Chicago and Rockford to make positive food system changes in their communities.
In 2011, 2300 people attended our on-farm programs. About half are from the Chicago area, and half from the area immediately near the farm. A bit more than half are youth. Of the groups that come to the farm, 30-40% are predominantly low income.
Our Approach
Build Partnerships: We believe that partnerships between farmers and area residents are the cornerstone of a healthy local food system. Since our founding in 1998, the Learning Center has linked diverse communities with sustainable farms and urban gardens.
Grow Good Food: We help people understand and adopt organic and Biodynamic farming practices.
Learn from Experience: We offer hands-on opportunities that engage the whole person and provide a deeper understanding of food, farming, and the environment.
Strengthen Community Leadership: We offer learning experiences and practical resources that prepare people to create positive change in their communities.
Advance Healthy Food as a Human Right: We are working for a world in which everyone has access to healthy food and a connection with farmers and the land. All of our programs reach communities with limited resources.
Read the full article on our website...
What Does Anthroposophy Have to Offer the
Farm-Based Education Movement?
Last year Kim Wass attended both the FBEA conference and the FBEIBA retreat. She jotted down her reflections in an attempt to make distinctions between FBEA and FBEA through Anthroposophy following back to back 2011 conferences:


The Farm-Based Education Association (FBEA) formed to connect children & adults to where their food comes from and to nature in order to encourage good stewardship of the earth for future generations and to help facilitate/influence the creation of a healthy and just food system.

Farm-Based Educators Inspired by Anthroposophy (FBEIBA) formed to build capacities vital to the healthy development of children enabling them to enter the adult world with the will forces and connection to nature necessary to heal the earth. Through these capacities, the next generation will be poised to meet the challenges we face in re-creating our food system from an industrial agriculture model to one that places healthy plant and animal life as the foundation of a healthy and just food system.

Central to this philosophy is the belief that children do not have to be indoors in a classroom setting to gain knowledge. Through meaningful and practical work outdoors in the plant, animal and mineral world, children are engaging all of their senses in a more holistic approach to learning that combined with classroom time makes for a richer and more balanced educational experience. To link farm based education programs to both commercial and education farm entities will serve not only the children engaged in learning and work, but also their parents, caregivers and classroom teachers who will interact with the farm in a way that will lead to increased CSA memberships and general support and recognition of the food farms provide, their importance to the health and enhanced quality of life for local communities and pride in their contribution through and exchange of work and learning in a farm setting.
Read the full article on our website...
Farm-Based Educators Inspired by Anthroposophy (FBEIBA)
www.biodynamics.com/farm-based-educators
FBEIBA is a project of the Biodynamic Farming & Gardening Association