Receive MFSA updates


| | |
| --- | --- |
| Volume VII Issue 12 | 26 July 2012 |
Greetings!


Next week, the MFSA office will say good-bye to our summer intern, Mercy Rehema. Mercy is an Ethnic Young Adult Intern through the General Board of Church and Society. While at MFSA, Mercy has helped with a major mailing project, attended a number of panel discussions on MFSA's behalf, and has researched the role of the Church in the HIV/AIDS pandemic. We are thankful for Mercy's presence in our office - her inquisitive nature helped us ask even more questions about our approach to social justice, and she has taught us many things about her perspective as a Kenyan. We wish Mercy the best as she returns to her studies at Africa University!

Soon, we will also be saying farewell to Jen Tyler, Associate for Movement Building. Jen's work at MFSA is part of her service as a Mission Intern through the General Board of Global Ministries. Jen has increased MFSA's visibility on the web and through social media; she has served on the Interagency Task Force on Immigration and was a driving force for the "Dignity Not Detention" Rally at General Conference; she has helped guide the work of OnFire; and she has worked with MFSA Chapters-In-Formation. Always a world traveler, Jen journeyed to Zimbabwe this past February to assist with cross-cultural organizing. Over the past year and a half, Jen has also taught her colleagues about the importance of self-care, a hallmark of her ministry. In June, Jen was commissioned as a Provisional Elder in the Dakotas Conference of The United Methodist Church. On September 1, Jen will begin as pastor of a two-point charge in Clark County, South Dakota. We know she'll continue to do great things to advance God's work of grace, peace, and justice.

Thank you to Mercy and Jen for continuing to challenge MFSA, the Church, and the world to ask questions, strive for healing and wholeness, and for calling us to bring our whole selves to the work we do!

MFSA Emphasizes Social Holiness at Jurisdictional Conferences
WASHINGTON, DC - July 23, 2012- Following the five recent Jurisdictional conferences of The United Methodist Church, the Methodist Federation for Social Action (MFSA) expresses gratitude for delegates, volunteers, and church leaders for their service this past week. Each jurisdiction passed legislation surrounding extensive justice issues within The United Methodist church and around the world. MFSA staff was present at each Jurisdictional Conference to help monitor, shape, organize, and celebrate the actions of each region. "This is the first time MFSA has been involved at the Jurisdictional level," said Jill A. Warren, Executive Director. "We consider our work to be a success and look forward to the ways in which we influence conversations moving forward." The work of MFSA will continue this fall at Annual Conferences in The Philippines.
Read more here...
Does Your Energy Come from Mountaintop Removal?

At the Northeastern Jurisdictional Conference of The United Methodist Church, MFSA's table display brought a witness to a practice that was happening less that 10 miles away from the Conference site in Charleston, West Virginia.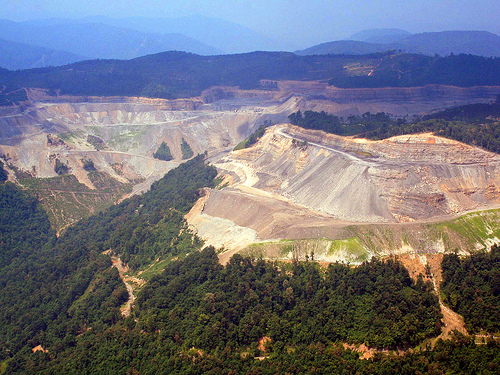 Mountaintop Removal site in Appalachia
Mountaintop removal mining is a form of coal mining in which coal seams are reached by blasting away the soil and rock above the seam and creating a fill for the overburden in the neighboring valley. Not only does this practice create habitat destruction and a lack of biodiversity, it affects local communities. Dust and fly-rock from mining sites have covered local properties; groundwater and wells have been contaminated; coal sludge keeps rivers and streams from flowing freely and have led to greater flooding in some areas. As mining becomes more mechanized, fewer jobs are available and families move away.


Metallic runoff from MTR site
A 2011 study found that counties in and near mountaintop mining areas
had higher rates of birth defects for five out of six types of birth defects,
including circulatory/respiratory, musculoskeletal, central nervous system, gastrointestinal, and urogenital defects. These defect rates were more pronounced in the most recent period studied, suggesting the health effects of mountaintop mining-related air and water contamination may be cumulative.

30% of coal mined in the state of West
Virginia comes from mountaintop removal mining. 50% of America's energy comes from coal, most of which is mined in West Virginia, Eastern Kentucky, and Western Pennsylvania. Does your energy come from mountaintop removal? Ask your power supplier. Consider the work of Interfaith Power and Light. And look for more news from MFSA about how you can learn more about mountaintop removal.
Sparks: Notes from the OnFire Movement

What makes a good bishop? Is it natural leadership capability?
The depth of one's own spiritual disciplines?
The ability to answer questions about the inclusion of LGBT persons in the church? How about issues of systemic change? Or the ability and willingness to listen to the voices of young people?

Read more here...
Progressive Ponderings
News from Progressive Movements
Progressive Job Postings
Social Media Corner
Be A Facebook Ambassador!
Let your Facebook friends know that you support MFSA!
Step One: "Like" Methodist Federation for Social Action.
Step Two: Update your Facebook status to say:
I stand with the Methodist Federation for Social Action. I stand for peace and justice! Won't you stand with me?
(And don't forget to tag MFSA in the post).