A message from the President...
and Miss Theresa!

Special Needs Dobermans is a remarkable organization of people who have one simple goal - to help save the lives of beloved Doberman Pinschers, one at a time. To say this is a labor of love for each of us would be true, but an understatement. The Doberman is a remarkable dog whose most striking trait was captured this year in the theme of the celebration of the breed's American Centennial. Always Faithful captured it all. Dobermans come in different colors, sizes and personalities. But they are faithful to those they love, always.
SND's main activities are dedicated to assisting the owners of Dobermans whose veterinary health needs have become so economically difficult that the dog might not survive without our support. We also work with the Doberman Pinscher Club of America to operate the Senior Dobe Project. This program takes on the care and support of aged Dobermans who have been abandoned and left homeless through no fault of their own. Although the organizations are funded independently, together we pool resources to support the rescue groups who keep them safe, cared for and available for adoption to loving homes where the dignity and maturity of an older dog is appreciated and cherished.
So, as another busy year comes to a close, let me first say a heartfelt thank you to the volunteers who assist us every day in helping the Dobes, one at a time. And, special thanks to those who find it in their hearts to support these activities financially. Every cent donated to SND goes to help the Dobes. There are no salaries, stipends or anything else to subtract from their care and support. Now, don't get me wrong - our team does get compensated - in the form of the long-distance love of another Doberman, in the tears of joy shed when they hear of another success story, in the simple satisfaction of knowing they have helped people who love the same Breed they do.
I hope you will continue to support us because, if you didn't share our love of Dobes you wouldn't even be reading this. I hope your heart is touched by some of the brief stories here.
In this centennial year, we celebrate Semper Fidelis, Always Faithful, as not just the way our Dobes serve us, but the way we serve them.

Mars Martin
President, SND
Sponsored Links
Do you shop online?
If so, chances are that between iGive and GoodShop your retailer is one of the thousands of stores that give a percentage of the purchase price that can be directed to SND. Registration is free for iGive and not required for GoodShop - and it really helps our Dobermans!
About Us
Mars Martin, President
Karen Crosby, Secy-Treas
Special Needs Dobermans is a 501(c)(3) organization incorporated in the State of New Mexico. All donations are fully tax-deductible to the extent permitted by law.
Donations by check saves fees and can be mailed to:
Special Needs Dobermans
P.O. Box 2496
Goldenrod, FL 32733

I hope you have enjoyed reading our first edition e-newsletter! Please let us know what kind of stories or other information you would like to read about while we highlight our accomplishments along the way in 2009!! All of you are a part of this effort - and that is what makes this great!! YOU and the SND Family united for Dobes!!

A healthy and happy New Year to you and yours!!

Mars Martin
Dear Supporter of SND!
The holidays are a time of giving, and we ask you to consider adding us to your list. Special Needs Dobermans helps dogs in need, one at a time. We take on the truly special cases that would otherwise overwhelm dog and owner. We save lives. It is not cheap, but it is worth every penny.
$500,000 Raised, 700 Dobes Helped
Thanks to the generosity of people like you, Special Needs Dobermans celebrated a real landmark this year when we surpassed the half-million dollar mark. Every penny has gone to help Dobermans. As we begin our quest to raise the next half-million to help the Dobes, we ask you to do all you can to help us help them. All donations go entirely to helping the Dobermans and are fully tax-deductible. For complete information on our organization, our cases and the Dobes who depend on you and us, please visit our website
www.doberman911.org
Thank you for supporting SND and the Dobermans just like
Miss Ruby
surrounded by her ribbons! Merry Christmas Miss Ruby!!
Nikki Needs Your Help!
Nikki has been the much loved center of attention for Georgia and her family including two Doberman mixes, Sassy and Midnight. Nikki was adopted when he was 4 years old from Dobe Rescue of the Four Corners. He had been surrendered by two previous owners and finally surrendered to a shelter because he "chased the livestock." He has lived the good life for the last five years having chased his new family and firmly placed himself in their hearts.
Nikki recently developed an intermittent but severe limp. Sadly, vets determined the 9-year-old boy has osteosarcoma. Nikki has started chemotherapy in hopes of arresting further spread of this deadly disease. With this treatment and your help, he will have more quality time with his loving family. Georgia is retired and lives on a fixed income and cannot afford the vet expenses that are already piling up. She has been a very long-time supporter of SND and has donated many items over the years to help our SNDobies - she has given selflessly and for the sheer joy of being a part of saving a Dobe.
Now it's our turn to help this dear lady keep the love of her life healthy and happy. Let's be there for Mr. Nikki. Let's make what goes around come around NOW for this great Dobe family.
Read the latest Nikki Updates
here!- Steve Martin
The Senior Doberman Project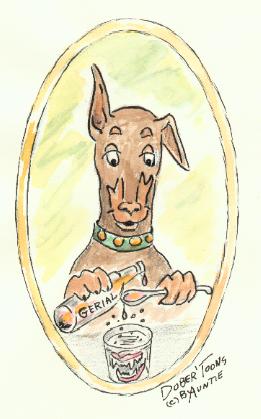 SND, in cooperation with the DPCA and the Doberman Digest, operate the Senior Doberman Project (SDP). The Project works directly with the individual rescue groups to list those Senior Dobes who are available for adoption. The goal of the coordinated listing of the Seniors is to increase adoptions and to highlight the plight of these precious Seniors.
Additionally, the SDP has a "special" component - the Sponsor A Senior Program. This is one of the most rewarding of all the ways supporters of SND have to support the Dobes in need. By agreeing to make a contribution of $30 per month for a particular Senior Dobe, one can assure that that the care for that particular Senior will be funded for that period. SND forwards all funds directly to the rescue group that is taking care of the Senior. There is special satisfaction in knowing a great Dobe is cared for while awaiting that forever home where it lives out its natural days because of what you have done.
The SDP helps save lives one at a time while also working to change attitudes many people have about older Dobes. Despite some stereotypes, seniors make great "new" pets and quickly adapt to a loving home.
Sponsoring a senior Doberman for the holidays would be a wonderful present to put under the tree for a caring loved one and for a deserving Doberman. Please consider renewing or beginning your support of a senior Doberman. Thank you so much for keeping our lovely seniors in your giving thoughts this holiday season. - Martha Clausen, SDP Manager
Please click http://www.doberman911.org/seniors/ and then pick! http://www.doberman911.org/seniors/cases/index.html
SUCCESS STORY: Jack of Hearts
The story of Jack is a typical example of the special magic that comes from Special Needs Dobermans. This boy was found by animal control lying in the middle of one of the busiest streets in Las Vegas. His leg was shattered. After three days at a clinic, the search for his owner was unsuccessful and paperwork was sent ordering euthanasia. The doctors and staff who had treated him saw something very special in Jack and did not wish to do that.
A call went out for help. It was answered by the Las Vegas Doberman Pinscher Club. Members took Jack to an orthopedic surgeon who said the leg and life could be saved, but it was quite expensive. Reaching out to SND, an immediate decision was made to move ahead with the extensive surgery while club members searched for a foster to care for the Dobe in recovery. Apparently, it was all meant to be. With the guidance of SND, financial commitments were made allowing the doctors to operate. At the same time, the phone rang in the home of a club volunteer. A woman was looking for a Doberman to love. Yes, she was willing to consider this guy. They met and it was love at first sight. But, like the club, she could not take on the financial burden to save this wonderful Dobe alone. Turns out they were anything but alone.
Two screws, three pins and several weeks of therapy later, Jack is now a healthy and happy boy. He is surrounded by the love of a family and returns that love every day. It would not have happened without the practical hands-on support of SND. They reached out to their extensive network of supporters. Within a few weeks the substantial bills were paid off!
A little boy and his mom now have the special love of a Doberman. A great Doberman now has a second chance at a complete and healthy life to share his special love. None of it would have happened without the work of Special Needs Dobermans doing what it always does - supporting the people who love Dobermans who are facing a life and death crisis, and making sure all that can be humanly and humanely done takes place ... for the Dobes and the people who love them. It is what SND does - helping a Dobe in need at the beginning and ending with a loving and complete family. - John Getter
What SND Does: A Kilo of Love!
Who would have ever thought our first donation to SND would end up being a lifesaver in disguise?
One day as I was surfing the Internet looking for sources of Dobie information, I tripped across Special Needs Dobermans. The SND Doberman stories I read were so compelling, I bid on and won a We Are Not Disposable bumper sticker and yellow bandana. Over the years, people would ask me where I got the cute bumper sticker and I would direct them to SND. In our family, my husband would often joke with his friends that only his wife would purchase a $35 bumper sticker. Well, I have to say that bumper sticker and bandana would end up being our lucky charm years later.
One September day in 2005, our rescue Doberman Kilo began experiencing nosebleeds, which ultimately lead to the devastating diagnosis of aspergillus - this after failed diagnoses and several treatment therapies. We found ourselves drained financially and maxed out on our credit cards to save Kilo's life. We needed funding right away and SND was there to help pave the way. Between discounts and financial flexibility, we were able to negotiate with the University of Florida Vet Hospital, with SND calling in a good faith binder deposit at 5 am MST due to the time difference between Florida and New Mexico, Kilo was able to begin his lifesaving rhinotomy procedure.
SND, our Florida rescue community and friends all pulled together to creatively find ways to raise money to pay Kilo's mounting medical bills. SND held eBay auctions and rescue friends sent in tax-deductible donations to SND. While our friends, family and SND were doing all they could, we donated some of my favorite Doberman items for auction, sold our boat and motor home to ensure the dollars needed to save his life were available. The key to our success with SND was the great tools SND had in place that we could leverage as a team to raise money and save Kilo's life.
While Kilo is no longer with us today, he did live two and one-half wonderful years after his numerous medical treatments. He loved boating, running on the beach and being the Captain of our pack. His legacy lives on through our friends and families commitment to SND for which we will be forever grateful. - Belynda Rutledge