Check out what is going on.



Calendar of Events
See What's Comin' Up
Monday August 13
Camp Shalom Show - Beatles Love
Katz 7pm
to view weekly photos
of our happy campers.
Pics of the Week!
From the Directors
Dear Camp Families,
Week 7 has been such a special one at the JCC Camps at Medford! We welcomed back our Camp Aaron campers that enjoyed their week at the NJY Camp. In anticipation of Maccabiah Color War breaking, campers were wrapping up their activities and projects while keeping an eye out for what was to come. The Camp Hilltop "When You Wish" and the Camp Aaron End of Year review shows were wonderful! Chaverim wrapped up their day trips and got set for their adventure in Niagara Falls and Canada.
The next week of Camp will be full of drama and excitement, highlighted by Maccabiah Color War and the Camp Shalom Show Monday evening at 7 pm at the JCC in Cherry Hill. Look for painted faces, colorful shirts, and friendly sportsmanlike competition all week! It's a great way to end what has been a fantastic summer at the JCC Camps at Medford. We cannot thank you enough for entrusting us with your children and we hope we delivered on what we promised. Of course we can always strive higher, so please take the time to tell us what you think we could do to make camp even better.
C
a
m
p
3
6
5

!
is an exciting initiative
connecting JCC Camps at Medford campers to year-round programming at the J!
Just 4 Kids at the J After School Enrichment Program
Jr. Maccabi Basketball
Lenny Krayzelburg swim lessons
JCC Sharks Swim Team
Vacation Day Programs,
You don't need to wait until next summer to stay connected to Camp friends all year long! Look for lots of fun, new events to take place this year as part of our soon to be expanded
C
a
m
p
3
6

5

!

As the Katz JCC motto states, YOU BELONG HERE! Have a great weekend and SHABBAT SHALOM!

________________________________________
MACCABIAH!!!!
MACCABIAH HAS LAUNCHED!
HERE ARE THE TEAM NAMES AND COLORS:
Camp Hilltop Maccabiah Teams:
Red Iron Man- S-2, S-4, G-1, G-6, L-3, A-9, A-1, B-5, B-1

Green Hulk- S-5, G-2, G-3, L-5, L-6,
A-3, A-4, B-9, B-2
Blue Captain America- K-1, S-3, G-5, L-2, A-5, A-6, B-3, B-6

Yellow Thor- S-1, G-4, L-1, L-4, A-2, A-7, B-4, B-7
Camp Shalom Teams
Red Iron Man - M-3, M-6, D-6, D-7, H-2, H-3, E-1, E-4, J-2, J-5, T-3
Green Hulk - -7, M-8, D-3, D-4, H-4, H-7, E-3, J-3, J-4, T-4, T-5

Blue: M-1, M-4, D-2, D-5, H-5, E-6, E-8, J-7, T-1, T-2

Yellow - M-2, M-5, D-1, D-8, H-1, H-6, E-2, E-5, J-1, J-6, T-6
Camp Aaron Maccabiah Teams:
Red Iron Man- GB-4, GB-7, GG-1, AB-1, AG-1, AG-4, TB-2, TB-3, TG-3

Green Hulk- GB-3, GG-3, GG-5, AG-2, AB-2, AB-5, TB-5, TG-1

Blue Captain America- GB-2, GB-6, GG-2, AB-4, AG-6, TB-4, TG-2, TG-5
Yellow Thor- GB-1, GB-5, GG-4, AB-3, AG-3, AG-5, TB-1, TB-6, TG-4
________________________________________
Hilltop Happenings
Happy in the Hilltop!
We had a great start to the week as Camp Hilltop put on "When You Wish", an amazing show on Monday evening; it was wonderful to see so many Hilltop families and friends. Special thanks to Randi Kresloff and Rachel Weiss, our Theater Specialists!
In Kosher Cooking, the campers were delighted to pop popcorn, then mix it with caramel to make a delicious treat (think "cracker jacks" minus the nuts). What is a more fitting snack to enjoy while discussing Jewish sports role models? Dance was hopping as the Hilltoppers showed us their moves by break dancing and exploring hip hop. At Games, the blacktop was transformed into "Scooterville" where there was a car wash, towing services, and even a drive-thru restaurant! Creativity abounded at Usable Arts where the Hilltoppers designed their very own "find it stick," a wand filled with hidden objects such as beads from their favorite sports or special words. In Arts and Crafts, a lively discussion about healthy eating habits took place while campers created placemats of their favorite "super fruits." Our Little Scientists learned about elements of weather, such as the quick nature of a lightning strike. Campers tested their response time (can we react as quick as lightning?) by trying to catch a falling strip of paper. Hilltop sports field was also a scene of quick moves, with games such as "king of the grass" at Basketball, "snake in the grass" at Soccer, and a friendly game of "horse" in Hockey, just to name a few. Cheering and lots of high fives from bunk mates and counselors created an atmosphere of good sportsmanship. What a great way to prepare for next week's Maccabiah!
Friday we announced the Maccabiah theme - The Avengers. The teams are..... Red - Iron Man, Blue - Captain America, Green - Hulk and Yellow - Thor. Let the games begin!!! We are very busy planning an unforgettable Color War Week 8 for Camp Hilltop.
Hope Segal
Camp Hilltop Director
609 654-5192 x110
___________________________________
PJ Library Visits Happy Hilltoppers
Many of our Hilltop campers welcomed Ronit and Penina from PJ Library of South Jersey and had a fun time at camp celebrating Shabbat.
Campers enjoyed a "storywalk" where they walked through camp while reading pages from the story, Bim Bam, then had fun singing songs for Shabbat.
PJ Library is a FREE Jewish book of the month club for kids ages 6 months - 6 years old. Age appropriate books are sent each month to homes. We are lucky to have this program in our community. If your child is not currently a member of this program, sign up online at www.pjlibrary.org
________________________________________
Sizzlin' in Shalom
SENSATIONAL SHALOM!
Time is flying in Camp Shalom! Can you believe it is the end of Week 7?
The campers were very busy this week all around camp. In Cooking we made our very own hummus and chips from scratch. In Teva (Nature), the children took nature walks and explored our surroundings by examining different types of leaves and insects. In Arts & Crafts the campers made their own set of Olympic gold, silver and bronze medals. In Mad Science we used recycled paper products to make imaginary cars. Digi-photo took amazing underwater photos at the Shalom pool. The tennis racquets have been in full swing as our campers skill levels have advanced. The courts are heating up!
All Camp Shalom clubs and instructional Swim come to an end this week, as we prepare for our special Week 8 - Maccabiah Color War schedule. Look for your camper's schedule to come home on Monday.
The Camp Shalom's presentation of "Beatle's Love," is ready to be performed Monday evening at 7:00 pm at the Katz JCC in Cherry Hill. We have many campers ready to sing and dance their hearts out on stage. We also have amazing scenery and props to display made by our very own campers that are part of our very own set production club. "Break a leg" to all the show performers!
We look forward to an amazing week eight!
Shabbat Shalom.
Elyse Neumann
Camp Shalom Director
Campshalom@jfedsnj.org
609 654-5192 x111
_____________________________
Action Packed Aaron
It's Exciting in Camp Aaron!
Week 7 was super busy around Camp Aaron!
Our theater majors and performing dancers put the finishing touches on their final summer performance of the "From the Silver Screen to the Great White Way" review Wednesday evening at the Katz JCC, with friends and family thrilled by what our campers put up on stage!
Camp Aaron's competitive sports final played an arena soccer match to a huge audience of sports fans and supporters in our Aaron hockey court. Great athletic moments abounded as the teams displayed great skill and sportsmanship.
Our Tavor campers hit the road on Thursday for their day trip to Ocean City. After some time on the beach & boardwalk, campers ate dinner at the Margate JCC, slept at the Katz JCC and returned to Medford in time for breakfast Friday morning, ready for a full day of camp.
Our Shabbat program started off with an extra special performance by our Aaron guitar classes followed by our hip hop dancers and theater majors. The campers looked back on the highlights of the summer with an extra special slide show. Shabbat ended with a bang as we announced the beginning of Maccabiah 2012!!
Camp Aaron can't wait to start Week 8 with lots of Maccabiah excitement!
Have a great Camp Aaron weekend!
Dina Greenblatt
Camp Aaron Director
Campaaron@jfedsnj.org
609 654-5192 x112
___________________________________
Chaverim
Movin' and a Groovin'
Chaverim was here, there and everywhere this week, finishing up our day trips at 6 Flags Great Adventure, Ocean City. Blackbeard's Cave, Camel Beach Water Park, and Vertical Reality. On Monday, we are off for the north, on our adventure to Canada and Niagara Falls. We cannot wait to tell you about it!
If you have any questions please email us at chaverim@jfedsnj.org
Corey Levin,
Chaverim Director
___________________________________
Gesher CIT's
Gesher Going GREAT!
Week 7 was full of activities for the Gesher CITs!
We started out the week with a new "Skill of the Week" - Making the Most of Transitions. This important skill was geared towards playing games with campers if you finish activities early, teaching your campers songs and cheers and using time between activities to learn more about their campers.
On Monday, the CITs organized and played in a teambuilding softball game. During this session the CITs not only enjoyed the sporting event, but practiced good communication and teamwork.
On Tuesday, the CITs enjoyed the sun and the sand at Seaside Heights. They got to explore the arcade and amusements at Casino Pier, as well as shop on the boardwalk and lay on the beach. Although we did not find Snooki or Pauly D, the CITs loved the Jersey Shore!
We finished out the week with an interview workshop to prepare for staff interviews next summer. During the workshop, the CIT staff shared important tips and information about how to fill out job applications, how to schedule their interviews and what to expect during the interview process.
On Friday, the CITs took part in a Challah Making Workshop, where they learned the steps of making Challah, as well as how and why the Challah is braided. A BIG CIT thank you to Robyn Greenberg and Tammy Arnow, for taking the time to run the Challah Making Workshop.
Looking ahead to Week 8, we cannot believe the summer is actually coming to an end. We are looking forward to a great last week with our amazing group of CITs by going to Dorney Park and participating in Maccabiah Color War.
As always, feel free to contact me with any questions!
Shabbat Shalom - have a great weekend!
Melissa Leibowitz
Gesher CIT Director
gesher@jfedsnj.org
609-654-5192 X109
___________________________________
EXTEND YOUR SUMMER CAMP EXPERIENCE LONGER WITH YOUR FRIENDS AT THE J:
Click links below to register online:

_________________________________

Doug Collins, Head Coach of the Philadelphia 76ers

_________________________________
Men's Basketball Leagues at the JCC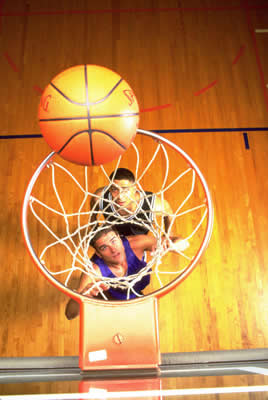 Looking for some fun & exercise? Join the Men's Basketball League at the JCC
Competitive league, recreational league, masters league (T-shirts, referees, trophies. etc.) - come join the FUN
For more info - contact Bill Christy at bchristy@jfedsnj.org