Greetings!
Old man winter didn't make much of an appearance in New England this year and spring is arriving early on Nantucket!

We are seeing an increase in inquiries for the upcoming season and have been working with our lodging and business partners to make your trip to Nantucket as seamless as possible. We will be offering seasonal value packages that will include your accommodations along with round trip travel to the island, dining cards at some of Nantucket's fine restaurants and various island activities.

As we continue to celebrate our 40th anniversary we want to remind you that our service is now free when booking reservations at all nightly lodging establishments (a processing fee still applies to vacation rentals). We also encourage you to enter our contest for a chance to win a trip to Nantucket, August 9-12, for the wildly popular Boston Pops concert at Jetties Beach.

We look forward to talking with you about your Nantucket plans and helping you find the perfect lodging for your visit.
Early Spring on Nantucket
$339
for 2 including tax
Until April 25 including weekends when available!


The winter months of January and February have now passed and the mild temperatures are awakening the island a bit early. We have had some early daffodil sightings and over the next few weeks the transformation from winter to spring is magical. A beautiful time on the island and our package is a great value.
2 nights lodging

2

Steamship Authority traditional ferry tickets

(trip time is 2 hours and 15 minutes)

Includes all taxes
*Participating lodging properties:
866-743-3330
Early Spring on Nantucket
$439

for 2 including tax



April 29 - May 24
Sunday to Wednesday arrival

The months of April and May are a beautiful time of year on the island with our legendary daffodils in full bloom. The days grow longer and warmer and most restaurants and shops re-open for the summer. A great time to explore the island at a very affordable cost.
*Participating lodging properties:
The Beachside at Nantucket (re-opens May 11th)
76 Main Street Inn (re-opens April 13th)
The Brass Lantern (re-opens May 1st)
Periwinkle Inn (re-opens April 24th)
*Participating restaurants:
Add a one day car rental


Traditional Ferry $509 Fast Ferry $559


Add two bicycles for the day


Traditional Ferry $489 Fast Ferry $539
Featured Nantucket

Vacation Rentals

(Click the property name for more information and photos)



Call us at

866-743-3330

for availability.
(Town)
A very comfortable 4 bedroom home located right in the heart of town. Just a short walk to Main Street and the harbor. Great for families.
Off Season starting at: $2,500 per week
Peak Season starting at: $5,000 per week


Monomoy Village -
Centrally located mid-island off Milestone Road and the beginning of Polpis Road. The bicycle path that networks most of the island is just across Milestone Road. This 3 bedroom cottage has all the amenities you need during you stay, including air conditioned bedrooms.
Off Season starting at: $1,500 per week
Peak Season starting at: $2,500 per week


(Mid-Island)
Convenient mid-island location with 2 bedrooms. The Surfside Beach bicycle path is just at the end of the road. And if you like to vacation with your pet, this home is "dog friendly"!


Off Season starting at: $1,500 per week
Peak Season starting at: $1,900 per week


(Surfside area)
4 Bedroom 3 1/2 Bathrooms
New listing for Nantucket Accommodations, this large home features
central air-conditioning, wood burning fireplace, finished basement and media room. Large yard and patio with grill to enjoy those casual cookouts under the stars.



Off Season starting at: $3,000 per week

Peak Season starting at: $4,000 per week


Sea & Ski Rewards! Beginning this year you will earn Reward Points for every reservation you book through Resort Accommodations, Nantucket Accommodations and Nantucket Retreats. Reward Points will be based on the total cost of your lodging before taxes and can be used for discounts on future visits to any of our destinations. Complete details will be available soon and if you have already booked your 2012 stay with us we will contact you to set up your Sea & Ski Rewards account.
Jet Blue Airways is launching seasonal service between Boston and Nantucket in May, the airline's 45th destination out of Logan International Airport. Flights will leave Boston at 4:50 p.m. from May 17 through September. This is a welcomed addition to their non-stop service from JFK in New York City.
Call us soon to take advantage of any special promotions or events in this issue.
866-743-3330



For 40 years now Nantucket Accommodations' staff of knowledgeable, year-round island residents has been helping visitors choose the right accommodations for their island visit. We visit each property and are familiar with the layout, decor, amenities and "overall ambiance" of each one.
Call us during our winter hours,Monday-Friday from 9AM to 4PM, or send us an email and we will get back to you the next business day. Nantucket Accommodations is a local year round business assisting both visitors and locals alike.
Sincerely,
Nantucket Accommodations Staff
Win the Boston Pops Weekend on Nantucket
We couldn't think of a better way to celebrate our 40th anniversary than to give away a trip to the island for Boston Pops Weekend, August 9-12, 2012. This incredible prize package will include:
To enter this contest you must visit our Facebook page and click the sweepstakes tab on the left side. Entries will be accepted until April 16, 2012 and the lucky winner will be announced Daffodil Weekend, April 27, 2012 on our website and Facebook.
Organized and sponsored by the Chamber of Commerce, the Annual Daffodil Festival is a full-scale celebration of winter's thaw, joyous for both islanders and visitors alike. Daffodils grace the island's roadsides, gardens and shop windows with blooms of yellow, orange, white and even pale pink.
The Daffodil Festival's grand event held on Saturday - is the Annual Antique Car Parade, which features over 100 daffodil-bedecked vintage cars.
After winding through town and across the island to the charming village of Siasconset, participants join residents and visitors for the Annual Daffodil Tailgate Picnic. Held on the lush lawns leading into the village, the picnic boasts fare ranging from elaborate gourmet cuisine served on fine china to box lunches and burgers. Other highlights include the Nantucket Garden Club's Annual Daffodil Show, Children's Daffodil Parade, Daffy Hat Pageant and Daffodil Dog Parade.

866-273-4541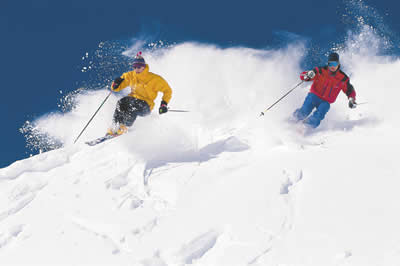 Spring Skiing

Killington, VT
Starting with Killington, Resort Accommodations will give you access to a variety of lodging options in premiere New England destinations.
Despite the mild winter, Killington currently has a 36" base and 130 trails open making for some of the finest early spring skiing in the northeast. And don't forget their legendary hospitality after a day on the mountain!
The NORTH STAR LODGE is offering this great value package for 2 people for 2 nights. Why not pack up the car and get out and hit the slopes before the spring sun takes it all away.
Two Night Ski Package for Two People -- $399
2 nights lodging (standard room with one queen or two double beds)
2 one day lift tickets
$50 dining card at Charity's or Santa Fe Steakhouse
Includes tax and fees
Upgrade to a suite with a king bed and whirlpool tub for just $559. Add a third person in a room with two double beds for just $179.
Killington Ski Report
Due to the success with the past three Tweed River Music Festivals happening every August in Stockbridge, Vermont, Tweed River Productions have decided to honor the beautiful and important winter season with a celebration of music. Expect a fabulous lineup of music beginning Friday night with locally grown Americana-roots style music with continued performances all day Saturday by some of New England's best artists.
Contact


Resort Accommodations at:
Grand Tasting in the heart of Nantucket - Over 175 wineries converge upon Nantucket during the weekend of May 19 and 20, 2012, for the focal point of the Nantucket Wine Festival-the Grand Tastings. The newly-renovated Nantucket Yacht Club promises the best Grand Tasting ever. Never in the history of the wine festival have we had such an exceptional collection of wineries, chefs, and food purveyors. The Grand Tastings help to support Nantucket Combined Charities, Inc.

Sample great food from some of Nantucket's great restaurants and the culinary offerings of special guest celebrity chefs and artisan food producers, and enjoy delicious wines presented and served by their winemakers, at the Nantucket Wine Festival Harbor Gala. The Gala will be held at the White Elephant Hotel on Thursday, May 17th.
The 41st Annual Figawi Race Weekend is recognized as a top sailing event not only on the east coast but is known nationally as well as internationally. Figawi Race Weekend kicks off the the Cape Cod and Nantucket summer season. Entries include sailors from several states 240+ boats (including 30 power boats) and over 3,000 sailors and visitors, as well as locals, attend this event.
Early Saturday morning, crews begin gathering. Skippers and boat owners prepare their boats, gather their crews, and head out to the start line. The first boat officially begins at 10 am off the Hyannis Port Jetty.
They finish at the entrance of Nantucket Harbor and parade into Nantucket Boat Basin. Standing on the beach at Brant Point Light is a great spot to watch all the action.
Saturday night Figawi hosts a Competitor Party under the tent on Nantucket. Mt Gay, Budweiser, Hammer & Sickle, and French Rabbit join Figawi along with live entertainment to throw a great gathering where old friends meet up after a long winter, and new friends are made.