Martini Blues Lounge
Come check us out this Friday night at Martini Blues Lounge in the city of Huntington Beach. Hit us up if you live in the OC or Southern Cali area. We have tickets that will get you in free before 9:30 and half price after 9:30. Please try to make it because we will be filming for an upcoming video. Hit us up so that we can get these tickets into your hands.

Word For The Week
2Co 3:18
But we all, with unveiled face, beholding as in a mirror the glory of the Lord, are being transformed into the same image from glory to glory, just as by the Spirit of the Lord.


S.O.G. TV Show

We want to thank all those that have supported our TV Show. We are negotiating with Time Warner for a spot in the near future. Check out some of our shows.
Celebrity Basketball Game/ Fresh Coast Magazine
Ameraycan Studios feat: Teddy Riley
T Nut and The Nut House Studio
Hit up our boy T Nut for beats or studio time. Tell him we said to hook you up. Nut House Studio Downey, CA.
(562)746-1163
S.O.G. Music Work Shop
S.O.G. Crew will be hosting a Music Workshop on Sunday March 9th and March 16th at 10am at Brand New Life Christian Center in the city of Orange, CA. We are inviting youth groups, music groups, ministries, street teams and anyone interested in learning how to take this country back for Christ. Battle Ax will be sharing key principles that have opened our eyes to take back the youth of this country, native American Indian tribes, prisons, streets, media, islands of Hawaii, the different cultures, nationalities, denominations, Hollywood, the Internet, music and so on. If you are hungry for God and change please attend these events. The work shop is free of charge and child care will be provided. Hope to see you there.
Pastor Robert (Battle Ax) Ornelas
Brand New Life Christian Center
(714) 974-7031
1110 West Taft Avenue, Orange, CA. 92865
Leonti Productions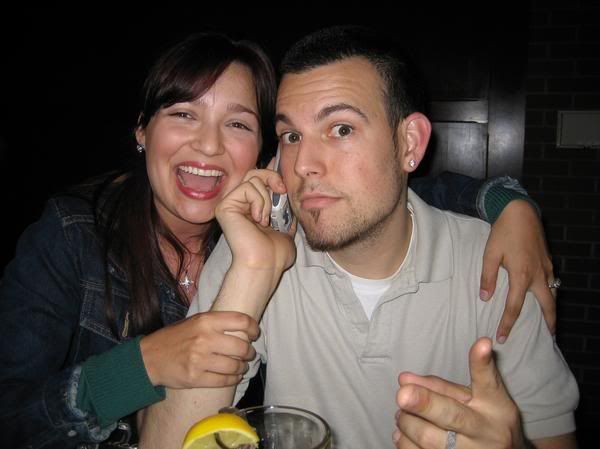 We are glad to promote our good friend Leonti on our newsletter and throughout all our network. Leonti produced most of our Up That Game cd with songs like Conspiracy, Warriors, Can't Give Up featuring Sean Slaughter out of Virginia, Dreaming, and hit songs Up That Game and Welcome To My World. We have already started working on a new project with Leonti titled "Where Legends Are Born," with four songs into the project. If you are interested in working with our boy, feel free to hit him up. Tell him we sent you so that you can get the hook up.
(714)632-5442
leonti@acropolisrpm.com
Leonti's Myspace
The Rising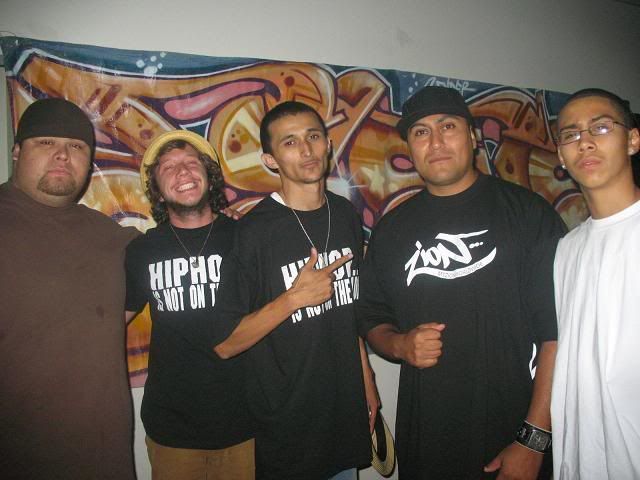 We will be with our boy Sonick on March 28th in the city of Rancho Cucamonga. keep checking out the news letter for that info.
Heat From The Streets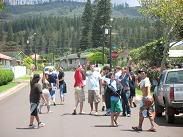 Hey what's up everyone! DJ Siren, here to share with you all about The S.O.G. Crew Street Team that's fired up and rearing to go this summer and fall. Last year, the Street Team pushed out 10,000 copies of the 'Up That Game' album that was released in stores in August. But, blessed were those that actually recieved a copy out on the streets before they hit the stores in June and July. The Street Team was seen all over the United States in major cities working hard. Thank you to all of you who have helped The S.O.G. Crew by picking up a cd. Now, the Street Team will be expanding and taking in more members in different states who will help promote on the streets.
I just want to show some love and say 'Amazing job!' to Battle Ax for putting together the newsletters that you all are now reading. He and I will be bringing to you all the 411 from the streets across the U.S. Stay tuned in for future events and articles; and don't be shy, hit us up and let us know how we're doing!
Much love and blessings,
DJ SiREN :)
*Pic was taken with street team on the island of Lanai in Hawaii.

We want to thank all our family and friends for all of your support through prayer. I also want to thank my mother n law Kathi for being there to take the kids to basketball while we were doing events in California, Nevada and Arizona this last weekend. We just got the word that we will be performing at the Orange County Fair this August on The D.O.P.E. Tour with Dennis Martinez, Christian Hosoi, POD, Arrested Development and Redcloud. The Movie D.O.P.E. is an anti drug movie with a killer soundtrack featuring all these groups. Please keep that in prayer.
Upcoming Events
S.O.G. CREW RECEIVES APPRECIATION AWARD FROM 2,000-PLUS STUDENTS

Friday, February 22nd, 2008, more than 2,000 Las Vegas High School students highly anticipated the WOG Urban Inspirational Concert in honor of black history month where hip hop artist's, The S.O.G. Crew from Anaheim, CA were scheduled to perform and speak to the students throughout the day. Las Vegas High School staff were delighted to have the group come and have been convinced to share the good news about the group with the other schools in the Las Vegas School District. The School District Council is planning a way to reach their students through activities and music to encourage them towards a positive outlook on life and planning and The S.O.G. Crew is one of the groups they hope will help them. The Las Vegas High School B.S.U. Club honored the group for their outstanding and dedicated service with a Certificate of Appreciation plaque.
2008 GANG AND VIOLENCE INTERVENTION RALLY

The EBC Awareness Rally is a free event and will be held on March 1

st

at Res Records Recording Studio, 2736 W Ramsey, Banning, CA 92220 from 10:00 am until 5 pm. Featured artists will entail MC Blvd, Brown King, The S.O.G. Crew, Setfree Rocks Band, Soap Box Poets and Brother Paul. Guest speakers are: Victor Beechem, Henry Alvarez, Ernie Kilmore and Carl McCary. The event will be hosted by Youth Rescue Mission Leadership Academy. The Youth Rescue Mission is dedicated to gang intervention and violence prevention programs; teaching youth and young adults independent living, problem solving skills, job readiness, mentoring, educational tutoring, and behavioral/character development. The event is created to encourage young people to live productive lives and bring peace to their communities. All are invited to come and enjoy the event. You can find more information about Youth Rescue Mission Leadership Academy at:

www.orgsites/ca/agape

and information about the event at:

www.myspace.com/thesogcrew

.
Chaffey High School This Saturday Night With Rallys for Christ

We will be at Chaffey High School this Saturday Night in the city of Ontario, Ca with Rick Reyna and Rallys For Christ. The event is called the Breakthrough and will be at 1245 N. Euclid Ave. from 7pm to 9pm. The goal is to reach out to the students of Chaffey and to the community of Ontario so try not to miss this event. S.O.G. will be sharing the stage with local Riverside reggae band Imisi and hip hop group His Krew. Rick Reyna will be giving the message to the youth. You can recieve more information on KSGN FM in the Riverside and Ontario area.
NIGHT OF CHAMPIONS 2008 AZUSA PACIFIC UNIVERSITY

This is the 24th annual Night of Champions and it will be held March 29th on the Azusa Pacific Campus. The Outdoor Program
from 4:00pm-5:45pm including a classic car show, In-And-Out hamburgers, skate board exhibitions, presence from C28, step team performance, and Hip Hop music by The S.O.G. Crew! The Indoor Program will run from 6:00-8:00pm and will include music from Phil Wickham, and testimony from Christian athletes and entertainers. This portion will also include a salvation message!



Past speakers have been Melvin Adams, Christian Hosoi and past artists have been Pax 217, Olivia The Band and many others. Thousands of youth attend this event and this is the event where Revolutionary from our group received Christ.

Tickets are $10 before March 25th, and $15 after that or at the door. To purchase tickets visit our website at www.apu.edu/noc.
GOSPEL MUSIC AWARDS NASHVILLE TENNESSEE/ ROCKETOWN

We will be in Nashville Tennessee on April 20th for the GMA (Gospel Music Awards) at Rocketown. 4Th Man Music Group (Fros T, Sonick and S.O.G.) and our good friends The Gospel Gangsters will be representing the West Coast at the event so please keep us in prayer.

Rockettown is a 40,000 square foot non-profit entertainment facility in Downtown Nashville Consisting of an indoor skate park, coffee bar, and three stages. They provide a safe, alcohol and drug free environment for youth to enjoy concerts, classes, video games and skateboarding. The facility was completed in 2003 thanks to the original vision of Singer Michael W. Smith who desired to have a place youth could go to hang out in a safe atmosphere.

Rocketown

,

GMA
100,000 CDS OUT THE TRUNK

I want to take this time to introduce to you our good friend Yvette who has has helped manufacture our CDs. As I am writing this article we have a few street teams out in Santa Monica, Venice Beach and Hollywood Blvd handing out our CDs and flyers to upcoming events. Yvette has helped manufacture over 10,000 of our "Up That Game" CDs in the last five months and has teamed up with us to reach our goal of handing out 100,000 cds by the end of summer. I want to encourage all our readers that have had a bad experience in the past with manufactures to check out our friend Yvette. She has been on time on every order and the quality of the product has been excellent every time. I am blessed to be able to introduce Yvette and her company to our family and friends.

CTLG has been in business since 2002. We handle everything from 1- 100,000 pieces, we pride ourselves on extraordinary customer service and attention to detail. Integrity is the most important part of our business. We also believe in giving back to the community and a portion of all our sales goes to Computers 4 Kids Foundation.

909.395.7864
Featured Artist: Zender, East Los Angeles' GRAFFITI ARTIST PIONEER

John Zender Estrada is an East Los Angeles raised resident, muralist and graffiti artist. Zender, as the community knows him, has been creating public artistic works since 1996, but has been drawing and painting since he was in high school. Over 300 pieces of his mural works, abstracts and paintings can be seen across the United States in art museums and galleries, on community walls, in schools, at festivals, in movies, on movie sets, and music videos. He has been recognized by the City of Los Angeles and surrounding areas as a founding cultural arts pioneer, setting a standard for other artists to live by in so much that he has been awarded more than 50 awards and certificates of recognition. Now, Zender has founded Flat Black Klothing, incorporating his artistic skills in creating highly fashionable clothing for the rock, hip-hop and skater enthusiast. He sponsors a hip-hop group, The S.O.G. Crew, and his clothing is seen worn by them at concerts and on T.V. He also founded a graffiti arts ministry, called the FBK Cru. The ministry is aimed at encouraging and training local graffiti artists to utilize their creativity for positive community re-enforcement of peace and unity. The FBK Cru allows for the graffiti artists to participate in a safe environment under Zender's instruction. Zender and his FBK Cru can be seen at community concerts, events and festivals. In the future, Zender will be publishing a magazine that focuses on all aspects of the hip-hop culture in Southern California. You can find Zender's information and artwork for purchase and display at:

www.johnzender.com

,

www.creativeartsolution.com

, and

www.myspace.com/zenderone

.

We just want you all to know how much we appreciate all of your friendship and prayers. Please continue to lift us up as we push to go higher in God. Much love and respect from the whole S.O.G. family.
The S.O.G. Crew