Setting the Bar Isn't Enough




I'm sure we've all heard the expression, "setting the bar" when it comes to setting expectations and standards of performance. I always think about the competitive pole vaulter who sets the bar level based on his/her highest jump and then anyone else looking to win the competition must successfully clear that height. And of course it's not enough to just meet that height but to exceed it to win the gold medal.







In the business world, we like to talk about setting the bar as well and we apply this concept to everything from sales goals to customer service levels, defect rates, on-time delivery percentages - about anything we can measure. This presumably gives us targets to meet or exceed that will enable the organization to excel.







But something's missing here. In the pole vault competition, competitors must clear a minimum height in order to even stay in the meet. If they can't, they're done for the day right there. Organizational leaders should take the cue that it's not enough to set one bar - they need to really set two bars: one that sets MINIMUM standards and one that sets HIGH BAR standards.



Click here to read the full article.


To learn more, please visit

my website

at www.kodyne.com.

PS - if you think someone you know would like to see this newsletter, click this link

_____________________________________________
Minnesota Nice Ain't Nice - Challenging the Accepted Wisdom on Communication

by guest contributor Bob Ryan of About Purpose, Inc.

If you grew up in Minnesota, or even in the Midwest, you probably were taught "Minnesota Nice." It's a cultural norm in communication that dictates we talk nicely to one another in the belief that it is more respectful. In the Midwest, we rarely say what we really mean. We speak in a way that avoids conflict. We tend to couch our communication in a bundle of "niceties."

Maybe there's a fear that if we are too direct, we'll sound like some of those rude people from the East Coast - which is a misperception people from the Midwest often have.

In much of my consulting with companies, I find that Minnesota Nice is the cause of a great deal of interpersonal problems, conflict, misunderstanding and even animosity. It is far from "nice." I submit that it is downright disrespectful and counterproductive to effective relationships and task accomplishment.

Read through some common communication errors and their remedies. Then have a frank talk with your staff, your significant other, your children, your friends. I guarantee you will find it easier and more effective to communicate if you stop being so "nice" and concentrate on directly communicating what you really intend.



Bob Ryan is the founder of About Purpose - an organizational training and consulting company focusing on helping you identify, shape, and achieve your purpose. He is also the founder of Swim Starting with Me -

promoting business ethics through personal responsibility.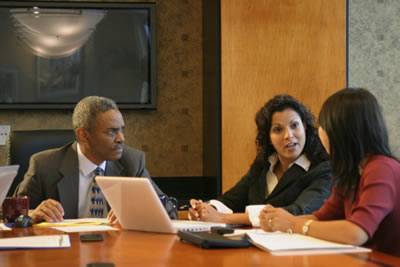 Success is...?


"Success is simply a matter of luck - Just ask any failure."

Earl Wilson


" At the time I brought Mark in to help us we had no idea how our budget would be affected by the recession or of the changes we would face in our senior leadership. Having the plan that Mark helped us to develop has had a real impact on my organization's ability to navigate during a very challenging time."

Christopher Bursack
Chair - Strategic Planning Team
Discover Church

Upcoming Articles
.

We're Expanding!
Epic Realty is expanding into the Fargo, North Dakota area. We're very excited about this opportunity to serve in this new market.

Now is a great time to look at real estate.
We have lake properties available!
Call to learn more:
Curt Johnson, CRS, CSI
Epic Real Estate Services
612-269-3169
[email protected]
A member company of
T
he Alternative Board TAB
TAB provides peer advisory and coaching services to the small-to-mid-size business owner.