Issue: #

05-2012

May 2012
Welcome to the Office of Inspector General, Division of Health Care's
May 2012 edition of the Long Term Care Provider Newsletter. This newsletter is a valuable vehicle to update you on current events affecting Long Term Care.
Please feel free to share this newsletter with anyone you think would benefit. To continue receiving this newsletter, be sure to join our mailing list by clicking the link to the left of this article. We look forward to serving you through this communication vehicle.
Get Ready, Get Set, GO!
Getting Ready for the Life Safety Code Survey
Being prepared for your Life Safety Code (LSC) Survey will
ensure the survey process moves efficiently and effectively. There are a couple of ways you can do this.
Click the links below to find out more information.
2. Review the Required Documents Checklist and have them available once asked by the LSC Inspector.
Dementia and Behaviors
As many of you are well aware, many residents within our facilities are admitted with multiple diagnoses which may include some form of Dementia. Residents
diagnosed with Dementia can present many challenges to nursing facility staff related to ever changing behaviors with the aging process and many variables and factors which affect these residents who reside in nursing facilities across Kentucky. The Centers for Medicare Medicaid Services (CMS) detail in Appendix PP, the federal requirement F250 §483.15(g) Social Services §483.15(g)(1) The facility must provide medically-related social services to attain or maintain the highest practicable physical, mental, and psychosocial well-being of each resident. CMS details, "...that facilities aggressively
....Click Link to Read More........
Time to Check Out the Links!
Updates MDS Website Links
A nice game of golf sounds like a nice thing to do....Here's a little maintenance that may not be as much fun, but is definitely necessary. Recent CMS software upgrades resulted in website address changes. Please see below...
Don't Forget!
Backup Your MDS Assessment Data!
Reminder to Backup your Assessment Data
There have been situations where providers have lost their database causing undue time spent restoring data. It is the responsibility of the Nursing Facility provider to have a regular back up plan for all local assessment data.

If you need assistance with the backup of your data or have questions with regard to this issue, please contact the QTSO Help Desk for assistance at 1-800-339-9313 or (help@qtso.com).
Best Practice Tip for Wheelchair Positioning
Health Care Excel, the Medicare Quality Improvement Organization (QIO) for the state of Kentucky, has collaborated with health care providers in our state for more than 20 years to improve residents' quality of care and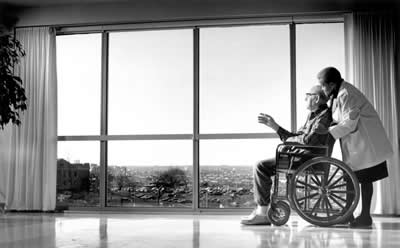 quality of life. On April 8, 2011, the Centers for Medicare & Medicaid Services (CMS) released a Survey & Certification Memorandum, S & C 11-22-NH: Quality Assurance and Performance Improvement (QAPI) Initiatives related to Section 6102 (c) of the Affordable Care Act for Nursing Homes.
Minimum Data Set (MDS) 3.0 Updates
The Office of Inspector General, Division of Health Care, is offering a MDS 3.0 Updates-webcast designed to discuss changes to the MDS 3.0 effective April 1, 2012. The recommended audience for this webcast includes Long Term Care Providers involved with the MDS 3.0 assessments.
No registration is required to view this webcast. A Certificate of Completion and Contact Hours will not be provided for this webcast. The Power Point presentation, April 2012 changes to MDS 3.0, is attached for your reference while viewing the webcast. This webcast can be accessed at the following website: http://kennect.chfs.ky.gov/viewerportal/vmc/home.vp?programId=esc_program%3A5205.
If you have any problems accessing the webcast, please contact Jessica Lowe at (502) 564-7963 extension 3310 or at jessica.lowe@ky.gov . If you have any MDS 3.0 questions, please contact our MDS Coordinator, Nancy Spiller at (502)564-7963 extension 3301 or at nancyl.spiller@ky.gov.
Click this link to reveiw ==>
PowerPoint slides
associated with the webcast training.
Training Opportunity - Save the Date!
The Office of Inspector General is Kentucky's regulatory agency for licensing all health care, day care and long-term care facilities and child adoption/child-placing agencies in the commonwealth.