Want to Know Kentucky's Top 10 Life Safety Code Citations for Nursing Homes?
Guidelines for Scabies Prevention and Control
Scabies
The following guidelines, revised April 2002, have been adapted and published by the Kentucky
State Department for Public Health, Communicable Disease Branch, with the permission of the
Missouri Bureau of Communicable Disease Control.
Click Link to Read Article
Trimming the Tree & Decking the Halls
Practice Safety Tips When Decorating for the Holidays

Holiday decorating is a special tradition. But many decorations also create fire hazards. Putting fire safety first assures that the holiday spirit lasts until the holidays pass.
Office of Inspector General Holiday Schedule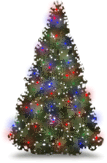 Christmas Tree
The Staff at the Office of Inspector General would like to wish you a Happy Holiday Season!

The Office will be closed in observance of these holidays on December 23-24, and December 30-31, 2010.
Cabinet for Health and Family Services, Office of Inspector General, Division of Health Care Leadership Team
Issue: #

2010-007

December/2010
Welcome to the Office of Inspector General, Division of Health Care's December edition of the Long Term Care Provider Newsletter. This newsletter is a valuable vehicle to update you on current events affecting Long Term Care.
Please feel free to share this newsletter with anyone you think would benefit. To continue receiving this newsletter, be sure to join our mailing list by clicking the link to the left of this article. We look forward to serving you through this communication vehicle.
Minimum Data Set (MDS) 3.0 Assessments
There have been several updates relating to MDS 3.0 since its inception in October 2010.
I. An issue was identified with the RUG calculations in the Assessment Submission and Processing (ASAP) System. The issue resulted in issuance of fatal error number -1049 (RUG Value Not Calculated).
This issue may have affected MDS 3.0 records submitted between 5:00 p.m. (ET) Saturday, November 20th and 9:30 a.m. (ET) Monday, November 22nd.

The issue has been resolved and any records rejected with error -1049 during the above-mentioned time frame should be resubmitted.




If you have any questions concerning this information, please contact the QTSO Help Desk at

help@qtso.com or 1 (888) 477-7876.
II. Additional information for those working with the MDS 3.0:

Quick Tips:
Ensure that TLS 1.0 is enabled
Ensure all current security updates are installed
Update Internet Explorer to version 7 or later, if needed.
III. MDS Personal IDS
CMS has discovered that a significant number of facilities have only one user with a registered MDS Personal ID. If this single user resigns, the facility is then left without appropriate access to transmit MDS submissions and generate CASPER Reports until a new personal ID can be requested and created. Therefore, facilities are strongly encouraged to have at least two registered users.
Please be sure to share this information with your MDS Staff.
CMS is Pleased to Invite You to Participate in Listening Session Training
CMS Listening Session: Health Care Delivery System Reform
Thursday, December 16, 2010
1:00 pm to 2:30 pm (EST).
Hosted by CMS Regional Administrator, Dr. Renard Murray
featuring
Dr. Richard Gilfillan
Acting Director, Centers for Medicare and Medicaid Innovation (CMI)
and
Sharon Donovan
Federal Coordinated Health Care Office
Also including
The Department for Health and Human Services Regional Director, Anton Gunn
Office of Inspector General Hires New Personnel
The Office of Inspector General Hires Staff Assistant, Sarah McCoun.
Sarah McCoun has a bachelor's degree in Psychology from the University of Kentucky. She has 8 ½ years of experience working in State Government, 3 ½ of which were spent as a Social Services Worker with Department for Community Based Services. For the past five years, she served the citizens of the Commonwealth of Kentucky primarily in the Office of the Ombudsman. Sarah held the position of Citizen Assistance Specialist, Quality Assurance Human Services Section Supervisor, and acting Branch Manager overseeing the operation of the Performance Enhancement Branch.
Ms. McCoun now serves the Commonwealth of Kentucky as a Staff Assistant for the Office of the Inspector General. In this role, Sarah works closely with the Inspector General on a variety of initiatives aimed at achieving organizational objectives.
The Office of Inspector General Hires Training Specialist II, Shannon Gunn.
Shannon Gunn is responsible for the training coordination for the
OIG. She is a 2009 graduate of University of Louisville, Kent School of Social Work Masters program and specialized in Gerontology. Shannon has had experience working with corporate and non-profit agencies. Her previous experiences include working in a long term care facility as a Social Services Director, working with non-profit agencies that assisted the elderly population and facilitating Family Team Meetings for the Community Based Services agencies.
Ms. Gunn now serves the Commonwealth of Kentucky as the Training Specialist II. In this role, she is responsible for coordinating all aspects of training in the Division of Health Care.
Using Newer Version of Internet Explorer?
Having Trouble Opening Links?
If using a newer version of Internet Explorer, you may receive an edit advising you that "There is a problem with this website's security certificate." If this occurs, click the "continue to this website (not recommended)" link. You will then be able to view the attachment.
The Office of Inspector General is Kentucky's regulatory agency for licensing all health care, including long-term care facilities, day care centers, and child caring/child-placing agencies in the commonwealth.