Success Stories
The Art of Business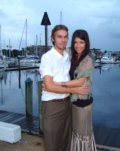 Justin Kingsley Noyes and Rachel Vanatta Noyes had the talent to start a business selling Rachel's jewelry and Justin's art, but lacked the business tools to make it happen. In 2005, Rachel contacted SCORE, and in 2007, The Hive Creations was born. Today, their business represents over 300 talented artists from all over the world.
"From brainstorming our first business concepts to financing and expansion, SCORE was there each step of the way. If our counselor did not have a specific answer to a question, he put us in touch with someone who would. The ball was always kept rolling. Now, well into our fourth year of business, SCORE is still there whenever we need advice on new projects and undertakings." Find out more.
Justin Kingsley Noyes and Rachel Vanatta Noyes, The Hive Creations www.thehivestore.com
Western Pennsylvania SCORE Volunteer of the Year
Art Green, Pittsburgh Chapter of SCORE
When retired Westinghouse engineer and quality improvement consultant Art Green opened his own consulting firm, he could have used the assistance of SCORE-America's Counselors to Small Business.
"I was the consultant and the marketer and the accountant" he said "and I probably did a a lot of things wrong."
He hadn't yet heard about the volunteer corps of retired and working professionals who lend their expertise counseling entrepreneurs and small business owners. But since 2005, he has been one of them. I love one-one counseling and right now I have about 30 active clients.
With degrees in mathematics and electrical engineering from Saint Vincent College and Carnegie Mellon University, he joined Westinghouse. While there he earned a masters degree in business administration from the University of Pittsburgh, and spent the latter part of his career as a quality control consultant.
In addition tp counseling, Green serves as co-chair for Pittsburgh SCORE's monthly Small Business Basics workshops, in which guest speakers teach business planning, recordkeeping, taxation, marketing, finance and legal issues. Those efforts have touched nearly 1000 attendees over the years.