October 11
, 2012 · Vol. 23, No. 14
Spinoff Creates Lunar Robot for Moon Mission
Carnegie Mellon spinoff
Astrobotic Technology Inc
. has unveiled a prototype of Polaris, a solar-powered robot that will search for deposits of water and ice at the moon's poles.
William "Red" Whittaker
, Astrobotic CEO and founder of CMU's Field Robotics Center, said Polaris is the first rover developed specifically for drilling lunar ice. It can accommodate a drill to bore one meter into the lunar surface and can operate in regions characterized by dark, long shadows and a sun that hugs the horizon.
Polaris is 5 1/2 feet tall, 7 feet wide and almost 8 feet long, and can move at about a foot a second on 2-foot-diameter composite wheels. The robot would launch from Cape Canaveral atop a SpaceX Falcon 9 launch vehicle. Astrobotic, in partnership with CMU, seeks to win the Google Lunar X Prize of more than $20 million.
Read the full story and watch the video.
Stephen Schwartz Returns for Cabaret Oct. 21

Carnegie Mellon alumnus and acclaimed songwriter
Stephen Schwartz
(A'68) will return to Pittsburgh for
"Schwartz on Schwartz,"
presented by CMU's
School of Drama
at 6:30 p.m., Sunday, Oct. 21, at the CLO Cabaret at Theater Square, 655 Penn Ave., Pittsburgh.
Schwartz, best known for his award-winning music and lyrics for Broadway musicals such as "Godspell," "Pippin" and "Wicked," will play the piano to accompany junior musical theatre students singing songs from his catalog of tunes.
Tickets are $25 each, with all proceeds benefiting CMU's Senior Showcase, an annual spring event in which graduating drama students travel to New York and Los Angeles to present their work to industry professionals.
How Can Pittsburgh Be Smarter? Find Out Friday
That's the question a team from IBM has been working on with Pittsburgh leaders for the past three weeks as part of the IBM Smarter Cities Challenge.
The team will report on its findings and present the "roadmap" they are providing to guide the City of Pittsburgh at its closing session from 10:30 a.m. to noon, tomorrow (Friday, Oct. 12) in Rangos 1, University Center. The event is open to the public.
The plan will include recommendations for successful growth, better delivery of municipal services, more citizen engagement and improved efficiency.
Read more about the Smarter Cities Challenge
.
Inspire Innovation Campaign Update
As of Oct. 1, 2012, Carnegie Mellon's Inspire Innovation campaign had reached $1.08 billion. Since August 15, 2012, the campaign raised $7,277,963.
For the latest progress, visit cmu.edu/campaign/about/progress.html.
School of Drama Receives First NEH Grant
The translation of a centuries-old German text still relevant today to theater artists has earned the College of Fine Arts and its School of Drama its first National Endowment for the Humanities grant.
Wendy Arons
(right), an associate professor of Dramatic Literature, who also serves as option coordinator of the
Dramaturgy Program
, and her collaborators -
Natalya Baldyga
of Tufts University,
Michael Chemers
of
the University of California at Santa Cruz and independent scholar Sara Figal
- have received a $289,697 grant from the National Endowments for the Humanities Scholarly Editions & Translations Program.
The grant will support work on the first complete translation from German into English of G. E. Lessing's "Hamburg Dramaturgy."
CMU Earns Grant To Preserve Executable Content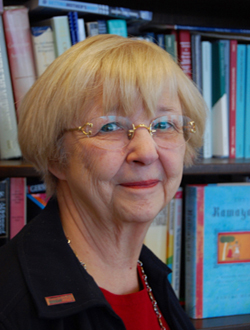 The
Institute of Museum and Library Services
has awarded a two-year, $497,756 grant to Carnegie Mellon computer scientists and library personnel, led by
University Libraries
' Dean
Gloriana St. Clair
(right), to develop Olive, the first archiving system for the preservation of dynamic, interactive, executable content, the core output of the computer science community. Co-PIs with St. Clair are
Jerome McDonough
of the University of Illinois Urbana-Champaign and
Anita de Waard
of Reed Elsevier, Inc.
New types of educational electronic content such as learning games and interactive data visualizations are transforming teaching research and scholarly publishing. Preserving this content, and the generations of earlier executable content upon which it was built, is essential to optimal progress in computer science.
Read the full story
.
Help ensure the safety and well-being of the CMU community:
University Police: 412-268-

2323




Ethics Hotline: 1-877-700-7050