September 27
, 2012 · Vol. 23, No. 12
Twitter Exec Seeks CMU Students for New Startup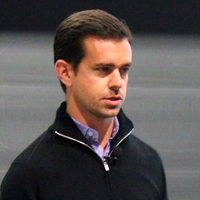 Twitter co-founder and executive chairman
Jack Dorsey
sends new employees back to square one in his latest venture.
SquareOne is the name of an onboarding process that offers an introduction to the culture of Dorsey's new mobile payment startup, Square Inc. His new company has 400 employees and is expanding its workforce as it begins to grow internationally.
The Career and Professional Development Center hosted Dorsey and his team on Wednesday as part of a college recruiting tour for Square that included stops at the Massachusetts Institute of Technology and Princeton University.
Dorsey shared his thoughts on entrepreneurs, founders and disruption to more than 350 students who packed Rashid Auditorium. To him, being an entrepreneur or a founder is an attitude - not a job.
Smart Traffic Signals Get Green Light
Smart traffic signals that "talk" to each other to vary their sequence depending on traffic flow, is getting the green light from the City of Pittsburgh after proving effective in a pilot study involving nine intersections in East Liberty.

The revolutionary technology developed by Stephen Smith, a research professor in the Robotics Institute, reduced vehicle wait time by 40 percent, travel time by 26 percent and vehicle emissions by 21 percent.

Smith said the system, which uses concepts of artificial intelligence and traffic theory, uses sensors to sense traffic volume at each intersection. He said the system varies the length of green lights according to traffic flow and relays changes to sensors at neighboring intersections.
The technology was sponsored by the Traffic21 Initiative at the Heinz College with funding from the Henry L. Hillman Foundation. Grants from The Heinz Endowments' Breathe Project and from the Richard King Mellon Foundation provided funding for the pilot study.
Energized: CMU Launches New Energy Institute; Breaks Ground for Scott Hall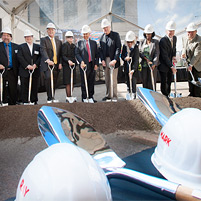 Energy was the focus of activity last weekend as Carnegie Mellon launched the new Wilton E. Scott Institute for Energy Innovation with a Friday symposium, followed by a Saturday ceremonial ground breaking for Sherman and Joyce Bowie Scott Hall, a new facility that will house the institute as well as the Biomedical Engineering Department and a nanofabrication laboratory. Scott Hall will be built near Hamerschlag Hall on the Pittsburgh campus.
The Scott Institute was made possible by a lead gift from alumni
Sherman Scott
(E'66) and his wife,
Joyce Bowie Scott
(A'65), a CMU trustee.
The institute, led by professors
Granger Morgan
and
Andrew Gellman
, brings together more than 100 faculty and researchers working to improve energy efficiency and to develop new, clean, affordable and sustainable energy sources.
Read the full story.
Shaping the Future: Levin Keeps Fast Company

Fast Company magazine has named Golan Levin, director of the Frank-Ratchye STUDIO for Creative Inquiry and associate professor of electronic art at Carnegie Mellon, one of the "50 most influential designers shaping the future." The list is featured in the magazine's October issue, currently on newsstands and online

.



In the article announcing the 50 innovators, editors said they "chose a group of people who are pushing the boundaries of their discipline into promising new directions." They went on to call the group "masterful collaborators ... what unites all of them is that their projects will affect not only how we live today but also what life might look like just a few years down the line."




CMU Speeding Pace of Autism Research
Carnegie Mellon's Cognitive Neuroscience Lab is helping to advance autism research by participating in the Autism Imaging Data Exchange (ABIDE), a program in which more than 1,100 autism and control datasets from a group of 16 international research labs have just been released.
"This is a phenomenal collaboration that will allow researchers unprecedented access to a massive dataset, collected under careful conditions from a very large sample of individuals with autism, all of whom have been carefully characterized in term of their behavioral profile," said Marlene Behrmann, professor of psychology and director of the Cognitive Neuroscience Lab.
In related news: Behrmann wrote a blog post, "Connecting Autistic Behavior to Brain Function," for the Huffington Post on her recent research that found that autistic adults have unreliable neural responses. The study, which was published as the cover story of the Sept. 20 issue of Neuron, connects, for the first time, autistic behavior to brain functions, offering a new area of research for scientists to focus on in order to develop better measures for diagnosing those on the Autism Spectrum Disorder and designing more effective treatments. Read the full story.
Go Ahead, Brag a Little ...
There's a lot to brag about. After all, we don't just imagine the future, we create it.
During its more than 100-year history, Carnegie Mellon has been a birthplace of innovation. From small sparks of inspiration, these big ideas have grown to shape the world.
Explore and download a sample of these ideas. Have something to share? Use #cmubrag on Twitter.
Help ensure the safety and well-being of the CMU community:
University Police: 412-268-

2323




Ethics Hotline: 1-877-700-7050