August 30
, 2012 · Vol. 23, No. 8
Alum, Tony Nominee Returns for Reading of "8"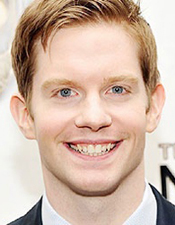 Carnegie Mellon alumnus and Tony Award nominee Rory O'Malley (A'03) is returning to his alma mater to participate in a one-night-only reading of "8," a play chronicling the historic trial in the federal constitutional challenge to California's Proposition 8, which stripped gay and lesbian Californians of the freedom to marry. The reading by O'Malley and School of Drama students is slated for 7 p.m., Monday, Sept. 10 in the University Center's McConomy Auditorium.

O'Malley, who received Tony and Drama Desk award nominations for his role as Elder McKinley in the Broadway hit "The Book of Mormon," is a co-founder of Broadway Impact, an organization dedicated to marriage equality. In "8" he will be reading the role of Ted Olson, lead counsel for the plaintiffs. After the show, Jenny Kanelos, executive director and co-founder of Broadway Impact, will join O'Malley and the cast for a Q&A session with the audience.

Tickets are free; students may obtain two per person with a valid CMU ID and the public may obtain one per person. Tickets must be picked up in advance at the University Center Information Desk.


Developing Surgical Tools for Outer Space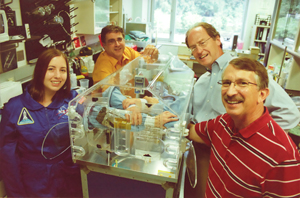 Move over "Bones" McCoy. Future voyages of the starship Enterprise just might include astro surgery as this dynamic discipline jumps from the pages of fiction to reality.

A team of biomedical engineering researchers from Carnegie Mellon and the University of Louisville are developing surgical tools that could be used for future spaceflights to the moon, an asteroid or Mars.

"In deep space, surgical procedures will be severely complicated by absence of gravity, where it becomes difficult to prevent cabin contamination from blood and body fluids," said James Antaki, a professor of biomedical engineering at CMU.

Antaki, Louisville Professor George M. Pantalos and CMU researchers James E. Burgess and Jennifer A. Hayden are developing a watertight surgery system to isolate the wound and control bleeding by creating a pressurized aqueous environment within the surgical field.


Workshop Eyes Future of Medical Imaging
Experts from around the world will gather at Carnegie Mellon to discuss the newest game-changing technologies that will revolutionize the field of medical imaging, Sept. 5-6 in the University Center.


Speakers from institutions including CMU, the University of Pittsburgh, Harvard, Stanford and MIT will talk about a wide range of imaging techniques including ultrasound, MRI, spectroscopy and microscopy, and how these technologies can be applied to the fields of neuroscience and medicine and to the diagnosis and treatment of medical conditions like cancer and traumatic brain injury.

CMU's Department of Biological Sciences, the Center for the Neural Basis of Cognition and Butterfly Network, Inc. is organizing the workshop. CMU alumnus and university trustee Jonathan Rothberg (pictured above), a trailblazing innovator in the field of biotechnology, is sponsoring the event.

Rothberg (E'85) is best known for pioneering high-speed, massively parallel DNA sequencing.




Athletics Department Launches Tartan Club
Carnegie Mellon's Athletics Department has launched the Tartan Athletics Club, a new initiative to support, grow and develop the athletics program by engaging alumni, students, staff and friends.

"We believe that this initiative provides a great opportunity for supporters of Carnegie Mellon Athletics to engage and connect with our program," said Director of Athletics, Physical Education and Recreation Susan Bassett.

The goals of the club are to support the department's fundraising efforts, regularly involve athletics alumni and raise awareness of the athletics program.


Help ensure the safety and well-being of the CMU community:
University Police: 412-268-

2323




Ethics Hotline: 1-877-700-7050