August 2
, 2012 · Vol. 23, No. 4
Olympic Watch: CMU Freshman Swims Tomorrow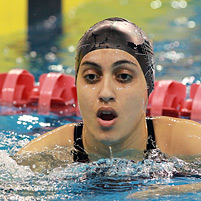 Nada Arakji, a freshman at Carnegie Mellon's Qatar campus this fall, will be the first female Qatari swimmer to compete in the Olympics when she competes in the 50-meter freestyle, Friday, Aug. 3. Heats are scheduled to begin at 10 a.m. (London time).

Arakji will study business administration with a minor in marketing. She also plans to join the basketball team, encourage other girls to take up sports, and lead her own swimming club.


Brodsky is PCA Artist of the Year; Her Show Opens Friday, Aug. 10
Charlee Brodsky, a fine art documentary photographer and professor of photography in the School of Design, is the Pittsburgh Center for the Arts' (PCA) 2012 Artist of the Year.
A special show she created for the PCA, which features new works centered around her two West Highland White Terriers, will open from 5 - 9:30 p.m., Friday, Aug. 10 at the PCA, 6300 Fifth Ave., Pittsburgh, Pa. 15232. The exhibit, titled "Good Dog," will run through Oct. 28.
Read more about Brodsky. | Get a sneak peek of her show.
Tool Lets You See Time-Lapse Videos of Earth

Thanks to researchers at Carnegie Mellon's Robotics Institute and their colleagues at Google and the U.S. Geological Survey, you can now watch deforestation unfold in the Amazon, water levels in the Aral Sea and the urbanization of the Las Vegas desert.

By adapting their technology for exploring time-lapse imagery, they've created a tool that enables anyone to easily access 13 years of NASA Landsat images of the Earth's surface.

The tool, based on CMU's GigaPan Time Machine technology, transforms the Landsat image archive into a set of seamless videos easily accessible from a modern Web browser. Users can zoom in or out on any spot on the globe and move back and forth in time.


Inspire Innovation Campaign Update

As of June 30, 2012, Carnegie Mellon's Inspire Innovation campaign had reached $1.07 billion. Since May 31, 2012, the campaign raised $35,274,261.
For the latest progress, visit
Gallery Holds US Premiere of "Imperfect Health"
The Miller Gallery, Carnegie Mellon's award-winning and critically acclaimed contemporary art gallery, will present the U.S. premiere of "Imperfect Health: The Medicalization of Architecture," which examines today's emerging health problems juxtaposed with a variety of proposed architectural and urban solutions.
The exhibit opens with a reception from 6 to 8 p.m., Friday, Sept. 14, and will run through Feb. 24, 2013. A tour at 4:30 p.m., led by the curators, precedes the opening reception.
"'Imperfect Health' makes an insightful contribution to local and national dialogues around health problems, and whether architecture and design should take on prescriptive roles," says Astria Suparak, director of the Miller Gallery.
Help ensure the safety and well-being of the CMU community:
University Police: 412-268-

2323




Ethics Hotline: 1-877-700-7050