July 12
, 2012 · Vol. 23, No. 1
President Obama Makes Campaign Stop at CMU
U.S. President Barack Obama visited Carnegie Mellon's Pittsburgh campus last Friday during his two-day "Betting on America" campaign bus tour through Ohio and Pennsylvania. Obama spoke on the College of Fine Arts (CFA) lawn, where several thousand supporters braved temperatures in the high 90s.



Obama emphasized the need for education. "We've got to invest in our young people so they get the best education. A higher education is an economic necessity," he said.

Prior to his talk, Obama met CMU President Jared L. Cohon, faculty member Gary Fedder, technical co-lead for his Advanced Manufacturing Partnership, Student Body President Will Weiner and Devin Hentz, a student in Carnegie Mellon's Summer Academy for Math and Science.


Dan Martin Named Dean of College of Fine Arts


Dan J. Martin has been named the Stanley and Marcia Gumberg Professor and Dean of the College of Fine Arts (CFA).
A professor in the Heinz College and the School of Drama, Martin has served as interim dean of CFA the past two years. Previously he served as CFA associate dean and associate dean in the Heinz College.

"Dan's success in all of these endeavors draws off both his rich background in the arts and his deft management talents and experiences," said CMU Provost and Executive Vice President Mark S. Kamlet. "Together, Dan and the school heads provide CFA and the university an exceptionally strong leadership team across the arts."
Qatari Freshman To Compete in Olympics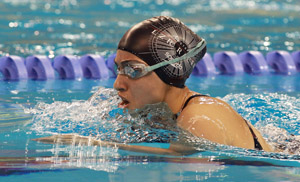 Nada Arakji, who will be a freshman at Carnegie Mellon University in Qatar this fall, will be the first Qatari female athlete to swim in the Olympics after receiving a wildcard entry to this year's games in London. She will be competing in the 50-meter freestyle event.

Arakji's appearance at the Olympics, which get under way later this month, is breaking stereotypes associated with Arab women. Arakji, who will be majoring in business, has become a symbol for women's empowerment.

"I chose Carnegie Mellon because its programs are ranked very highly and my degree will be recognized worldwide. I feel very lucky to be able to attend a prestigious university like Carnegie Mellon without having to leave my home country," she said.

Read the full story.

Bright Idea Lets Drivers See More Clearly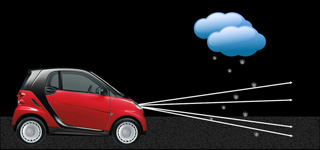 Drivers can struggle to see when driving at night in a rainstorm or snowstorm, but a smart headlight system invented by researchers at Carnegie Mellon's Robotics Institute can improve visibility by constantly redirecting light to shine between particles of precipitation.
The system, demonstrated in laboratory tests, prevents the distracting and sometimes dangerous glare that occurs when headlight beams are reflected by precipitation back toward the driver.
"If you're driving in a thunderstorm, the smart headlights will make it seem like it's a drizzle," said
Srinivasa Narasimhan
, associate professor of robotics.
CMU Study: Parents Less Likely To Develop Colds
New research led by Carnegie Mellon's Sheldon Cohen and Rodlescia S. Sneed shows that being a parent influences health in a positive way. Published in Psychosomatic Medicine, the research provides the first evidence that, when exposed to a common cold virus, parents are 52 percent less likely to develop a cold than non-parents.
Free image courtesy of FreeDigitalPhotos.net.
Help ensure the safety and well-being of the CMU community:
University Police: 412-268-

2323




Ethics Hotline: 1-877-700-7050