June 28
, 2012 · Vol. 22, No. 49
CMU, Lehigh Launch Program To Bolster Manufacturing in Pennsylvania
Carnegie Mellon and Lehigh University are managing a new $1 million manufacturing and innovation development program to help foster a global renaissance in Pennsylvania manufacturing.

According to Matthew Sanfilippo, executive director of CMU's Institute for Complex Engineered Systems (ICES), the Research for Advanced Manufacturing in Pennsylvania program (RAMP) is designed to tap the research and innovation capabilities of both CMU and Lehigh and provide technical and economic benefits to the state's manufacturing companies by enabling knowledge transfer, the discovery of new technologies and retention of highly skilled students.
"This program is designed to help Pennsylvania companies invent and develop advanced manufacturing capabilities to compete in a global marketplace," said Gary Fedder, ICES director and a professor in the Electrical and Computer Engineering Department and the Robotics Institute.


Firm Selected To Assist Presidential Search
In an email to the university community, James E. Rohr, life trustee and chair of the presidential search committee, announced that Storbeck/Pimental & Associates has been selected to assist the search committee in identifying and screening candidates. Rohr said the firm specializes in serving higher education institutions and not-for-profits.

Rohr also thanked the university community for providing input on the future of CMU and the desired attributes of the next president through several community forums this past spring and through the presidential search website. Input is still welcome via the search website.
Read more about the presidential search and provide your input.
CMU Goes Scouting for Engineers
More than 40 local Brownies and Cub Scouts got an education in engineering this past Monday at the College of Engineering's "Scouting for Engineers" program. The scouts participated in hands-on demos related to magnetic forces (right) and other engineering related topics. They also played the MySecureCyberspace Game, in which they learned how to spot spam, how to keep personal information private and how to identify website traps.
The program was led by Annette Jacobson, associate dean for undergraduate studies in the College of Engineering, and Electrical and Computer Engineering Professor Jim Bain.
Green Giant: CMU Plays Role in Phipps' Center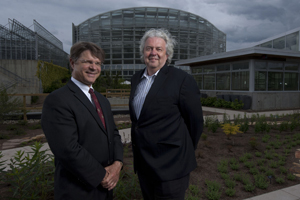 Carnegie Mellon faculty, students and alumni have been been part of the planning and construction for the Phipps Conservatory & Botanical Gardens' Center for Sustainable Landscapes (CSL), which could be known as one of the greenest buildings on earth.

The CSL will produce all of its own energy through solar panels, a wind turbine and 14 geothermal wells. It also will manage and treat storm and sanitary water.

CMU faculty members played a key role in the design sessions. Faculty included Khee Poh Lam, Vivian Loftness, Azizan Aziz and Christine Mondor. In 2009, Loftness' fourth-year studio had students designing concepts for the building.

"Too often, university faculty and students are not out in the field and don't have the opportunity to work with great organizations that are doing innovative things" said Steve Lee, head of the School of Architecture. "With Phipps and its proximity to our campus, we're fortunate to have the opportunity to work closely on projects like this that make a difference."

Read the full story in the Piper.

Pictured above is Phipps Executive Director Richard Piacentini (left) and CMU's Steve Lee.

Staff Council Presents Kennywood Picnic July 7
Carnegie Mellon's Employee Picnic at Kennywood Park, sponsored by Staff Council, is Saturday, July 7.
Employees can purchase one ticket ($37.99 value) for $10 (valid only on July 7) and four additional tickets for $15 each. Tickets must be purchased with cash only and employees must present their own CMU ID.
The following are dates, times and locations for the remaining ticket sales:
June 28 11:30 a.m. - 1 p.m. Mellon Institute
July 2 11:30 a.m. - 1 p.m. University Center
July 3 11:30 a.m. - 1 p.m. University Center
July 6 11:30 a.m. - 1 p.m. University Center
23rd Year Begins July 12
The 8.5 x 11 News will be off next week, but we'll be back to start our 23rd year July 12.
Help ensure the safety and well-being of the CMU community:
University Police: 412-268-

2323




Ethics Hotline: 1-877-700-7050