June 21
, 2012 · Vol. 22, No. 48
Greenlighting 10 Startups: Entrepreneurs Fund Awards Grants to Alumni Ventures
Carnegie Mellon's Open Field Entrepreneurs Fund (OFEF) has awarded $500,000 to 10 startup companies from across the U.S. Announced last year, the fund was established by CMU alumnus and Flip Video Camera creator Jonathan Kaplan and his wife, Marci Glazer, to provide early-stage business financing and support to alumni who have graduated from CMU in the last five years.
"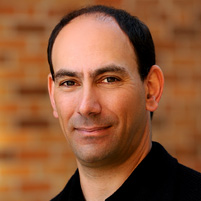 Carnegie Mellon graduates have what it takes to create great companies," said Kaplan (left), CEO of The Melt and five-time entrepreneur. "But without money and mentoring these young adults can often take jobs instead of taking risks. I want them to dream big and create the next great product or service just like I did."
Ashton Kutcher Among Backers of CMU Spinoff; Users Can Translate Web, Learn New Language
CMU computer scientists Luis von Ahn and Severin Hacker have created a new, free website, Duolingo.com, that will help users tackle the huge task of translating the Web even as they learn a new language. The site has received $3.3 million from investors, including New York-based Union Square Ventures and Hollywood actor and producer Ashton Kutcher.

Duolingo features computer tools that enable these foreign language learners to translate text as well as a professional. The site, which has been used by more than 100,000 people in a just-completed beta test, offers free language lessons in English, Spanish, French and German. In addition to computer-generated exercises to build vocabulary and grammar skills, Duolingo offers users a chance to practice their new language skills on real-world texts from the Internet, with the computer providing advice and guidance on unknown words.
Greenlighting Tiramisu: Spinoff To Market App
CMU spinoff Tiramisu Transit LLC has received Small Business Innovation Research (SBIR) Phase I funding of $102,000 from the U.S. Department of Transportation (USDOT) to commercialize Tiramisu, the smartphone app that enables transit riders to create real-time information about bus schedules and seating.

Tiramisu has been in use in Pittsburgh since summer 2011 and is available for iPhone and Android phones. Thus far, users have recorded more than 30,000 trips on Port Authority of Allegheny County buses and trains.
CMU Partners To Help Improve Job Training
Carnegie Mellon is known for creating companies and creating jobs. Now, it's helping to train skilled workers to fill those jobs.

U.S. Labor Secretary Hilda Solis (left) acknowledged that fact when she came to Carnegie Mellon last Thursday, June 14, to announce more than $147 million in grants to develop and expand innovative strategies to help unemployed Americans return to work. Those strategies include improving job training, something that Carnegie Mellon is approaching head on as partners with the Pennsylvania AFL-CIO and the Three Rivers Workforce Investment Board.


Fractions, Long Division Predict Math Success
Over the past 30 years, mathematics achievement of U.S. high school students has remained stagnant and significantly behind many other countries, including China, Japan, Finland, the Netherlands and Canada. A research team led by Carnegie Mellon's Robert Siegler has identified a major reason why - U. S. students' inadequate knowledge of fractions and division.


Transportation Topic of Town Meetings
Carnegie Mellon's Transportation Committee invites people commuting from the suburbs to attend one of four meetings to discuss current and potential transportation issues. Topics of conversation will include car sharing, van pooling, satellite parking lots and Port Authority options.
Each meeting will focus on a specific geographical location.
The meeting times and locations are:
Western communities (Bethel Park, Crafton, Bridgeville, Dormont, Greentree, McKees Rocks, Moon, Mt. Lebanon, Oakdale, Peters Twp., Upper St. Clair): 4-5:30 p.m., Thursday, June 21, UC-McKenna/Peter
Southern communities (Clairton, Duquesne, Elizabeth, Finleyville, Homestead, Jefferson Borough, Pleasant Hills, South Park, West Mifflin, Whitehall): 9-10:30 a.m., Friday, June 22, UC-McKenna/Peter
Eastern communities (Delmont, E. McKeesport, Forrest HIlls, Irwin, Monroeville, Murrysville, Penn Hills, Plum, Trafford, White Oak): 9-10:30 a.m., Monday, June 25, UC-McKenna/Peter
Northern communities (Ambridge, Allison Park, Aspinwall, Cranberry, Fox Chapel, Freeport, McCandless, Millvale, Natrona Hts., Oakmont, Sewickley, West View, Wexford): 4-5:30 p.m., Wednesday, June 27, UC-Connan.
Ticket Sales Begin June 26 for Kennywood Picnic
Ticket sales for Carnegie Mellon's Employee Picnic at Kennywood Park, sponsored by Staff Council, begin 11:30 a.m., Tuesday, June 26 in the University Center. This year's picnic is Saturday, July 7.
Employees can purchase one ticket ($37.99 value) for $10 (valid only on July 7) and four additional tickets for $15 each. Tickets must be purchased with cash only and employees must present their own CMU ID.
The following are dates, times and locations for the ticket sales:
June 26 11:30 a.m. - 1 p.m. University Center
June 27 11:30 a.m. - 1 p.m. University Center
June 28 11:30 a.m. - 1 p.m. Mellon Institute
July 2 11:30 a.m. - 1 p.m. University Center
July 3 11:30 a.m. - 1 p.m. University Center
July 6 11:30 a.m. - 1 p.m. University Center
Help ensure the safety and well-being of the CMU community:
University Police: 412-268-

2323




Ethics Hotline: 1-877-700-7050
Personal Mention
Obituary:
This issue features:

Marsha Lovett
Chester Spatt
Donald Jones and Dennis Ciccone
Paul Fischbeck

Library Staff: Justin Wagurak, Charlotte Trexler, Kara Kreger, Ona Taylor, Aimee DeLuca, Svetlan Kirkov, Jon McIntire, Andrew Perlman, Diane Covington, Denise Novak, Larry Stanley, Martin Aurand and Terry Hurlbert

Cheemeng Tan
Reza Vali
Daniel Teadt
Jennifer Aylmer
Aamir Masood

Laura Chen, Courtney Chin, Katie Cecil, Duke Miller and Will Duncan


News Briefs
Submit News
Email
Bruce Gerson
or
Heidi Opdyke