June 7
, 2012 · Vol. 22, No. 46
Silicon Valley Campus Celebrates First Decade
Ten years of innovative research, academic excellence and entrepreneurial success take center stage this Saturday (June 9) at a Carnegie Mellon Silicon Valley event celebrating the creation of the CMU campus at Moffett Field in Mountain View, Calif.

A beacon of technological achievement and a hub for developing creative software management leaders and entrepreneurial startups, CMU's Silicon Valley campus has quadrupled in size since its inception in 2002 and helped launch more than a dozen startups. Silicon Valley's entrepreneurship program is closely tied to the university's Greenlighting Startups initiative. An engine for accelerating enterprise and job creation, Greenlighting Startups builds upon the university's impressive record of turning campus research into new businesses.

"We are celebrating not just our academic achievements, but our important role as a change agent in the dynamic ecosystem of Silicon Valley," said Martin Griss, director of CMU's Silicon Valley campus. "We are excited to achieve the envisioned balance and synergy between innovative education, research and entrepreneurship."


Alumni Up for Broadway's Highest Honor
School of Drama graduates Christian Borle (A'1995) and Judith Light (A'1970) (pictured at right) are nominated for 2012 Tony Awards, which will be presented Sunday, June 10, beginning at 8 p.m. (ET) on CBS. Borle, who starred in "Peter and the Starcatcher," is up for Best Performance by an Actor in a Featured Role in a Play. Light is nominated for Best Performance by an Actress in a Featured Role in a Play for her performance in "Other Desert Cities."
CMU alumna Kara Lindsay (A'2007) appeared in "Newsies" and Leslie Odom, Jr. (A'2003) appeared in "Leap of Faith." Both productions are nominated for the best musical award.
Photo credit: J. Countess/WireImage.com
CMU alumni have won 22 Tony Awards
CFA Presents Paintings by Watfa Midani
The College of Fine Arts presents an exhibition of recent paintings by local artist Watfa Midani, titled "Love, Life and Nature." The exhibit will be on view through June 30 at the Miller Gallery in the Purnell Center for the Arts.

Midani's work has been featured in solo exhibitions at many venues and her work appears in private and corporate collections around the world. Her late husband, Akram, was a former dean of the College of Fine Arts.

The exhibition is open to the public from 12 to 6 p.m., Tuesday through Sunday. Admission is free.


Steinbrenner To Host National "Green" Media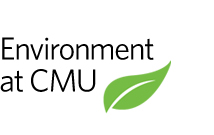 Carnegie Mellon's Steinbrenner Institute for Environmental Education and Research (SEER) will host 10 top environmental journalists for the 10th anniversary of its highly successful Steinbrenner Institute Environmental Media Fellowships, June 10-12.

"The fellowship enables leading environmental science, technology and policy journalists to broaden and deepen their knowledge of environmental issues. It also provides a unique opportunity for Carnegie Mellon faculty members to share their research findings with, and learn about communication skills and strategies from a group of top reporters and editors," said David A. Dzombak, faculty director for the Steinbrenner Institute and the Walter J. Blenko Sr. Professor of Environmental Engineering.


Help ensure the safety and well-being of the CMU community:
University Police: 412-268-

2323




Ethics Hotline: 1-877-700-7050