May 24
, 2012 · Vol. 22, No. 44
Three Professors Earn Top Faculty Distinction












Three Carnegie Mellon professors, Nadine Aubry, Jaime Carbonell and Chris Hendrickson, have received the elite distinction of University Professor, the highest academic accolade a faculty member can achieve at Carnegie Mellon.



"Professors Aubry, Carbonell and Hendrickson represent the intellectual foundation on which this university is built. They are esteemed, award-winning scholars who are committed to advancing their fields through education, groundbreaking research and their impact on the world. They have earned this most distinguished honor through their academic pursuits and service to the university, and we are most fortunate and proud to have them as part of our community," said Provost and Executive Vice President Mark Kamlet.



Brain Researchers Launch New Startup
New research from Carnegie Mellon's Center for the Neural Basis of Cognition (CNBC) shows that the brain's visual perception system automatically and unconsciously guides decision-making through valence perception, or in other words,

the process that allows our brains to rapidly make choices between similar objects based on visual features and past experience.




The CMU team of Michael Tarr, Sophie Lebrecht, Babs Carryer and Thomas Kubilius were awarded a $50,000, six-month grant to investigate how understanding valence perception could be used to make better consumer marketing decisions. They are building upon CMU's entrepreneurial reputation by

launching neonlabs to apply their model of visual preference to increase click rates on online videos.



Read the full story. | Watch the neonlabs presentation video. |
Greenlighting Startups
Commencement Curtain Call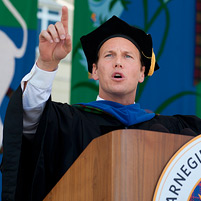 More than 4,000 graduates from more than 100 countries received their undergraduate and graduate degrees at Carnegie Mellon's 115th Commencement last Sunday.

President Jared L. Cohon called them a special group for navigating "one of the most challenging programs of its kind" and succeeding.

Student speaker Caroline Kessler (DC'11) called her classmates atypical. She said they defy normal and explanation.

Keynote speaker Patrick Wilson (A'95) encouraged the Class of 2012 to live for the moment and to always remember their graduation day. He said there is no other school in the country like CMU and its School of Drama.
Rising Prices Drive Health Care Costs Upward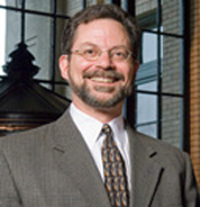 Rising prices for care were the chief driver of health care costs for privately insured Americans in 2010, according to the first report from the newly formed Health Care Cost Institute (HCCI), led by Martin Gaynor, the E.J. Barone Professor of Economics and Health Policy at the Heinz College.

"Health care spending is a critical problem - it's not an exaggeration to say that if we solve the health care spending problem we solve our fiscal problems," said Gaynor, the HCCI Governing Board chairman.


Pathways to Healthy Solutions
University Health Services and Human Resources invite you to explore connections between health and stress from 11 a.m. to 2 p.m, Thursday, May 31 in the University Center.

Sessions include "Frugal Fitness" with CMU Director of Fitness Donna Morosky; "A Yoga Practice for Stress Management" with yoga teacher Diane Dice; and a luncheon with keynote speaker Sheldon Cohen, the Robert E. Doherty Professor of Psychology and director of the Laboratory for the Study of Stress, Immunity, and Disease. Cohen's talk is titled "What Science Tells Us About Stress & Health."


Geography Plays Role in Emission Reductions
A new report by Kyle Siler-Evans, a Ph.D. researcher in the Department of Engineering and Public Policy, and professors Ines Azevedo and M. Granger Morgan, finds significant regional differences in the emission benefits of renewable and energy efficiency measures.

The study, published in the journal Environmental Science & Technology, found that energy efficiency measures in the Midwest and parts of the mid-Atlantic result in significant emission reductions, while energy efficiency measures in Texas, the Northwest and the West yield much smaller reductions.

Read the full story.

Gates Hillman Architect Earns AIA Top Honor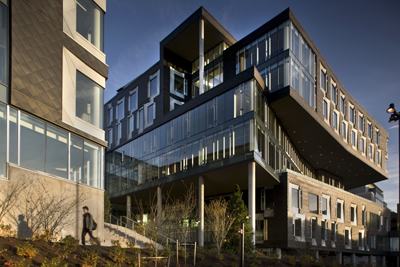 Architect Mack Scogin has received the 2012 American Institute of Architects (AIA) Honor Award for Architecture for designing the Gates Center for Computer Science and Hillman Center for Future-Generation Technologies. The AIA Honor Award is the the architectural profession's highest recognition of works that exemplify excellence.



"The building not only matches the culture and aspirations of the school, but also provides campus connections that had been clearly missing before," the AIA jurors observed.



Help ensure the safety and well-being of the CMU community:
University Police: 412-268-

2323




Ethics Hotline: 1-877-700-7050