April 26
, 2012 · Vol. 22, No. 40
City Approves CMU's 10-Year Master Plan
Pittsburgh City Council yesterday unanimously approved Carnegie Mellon's 10-year Master Plan, which will guide the university's growth through 2022.

Proposed projects include a biomedical-energy-nanotechnology building located between Wean, Hamerschlag and Roberts halls; a new Tepper School of Business facility at the Morewood parking lot site; additions to the University Center and a major reconfiguration of Skibo Gym; an extension to Margaret Morrison Carnegie Hall; and transforming Morewood and Forbes into a formal entrance to the university.

Read the full story.
CMU Part of NYU Center for Urban Science
Carnegie Mellon has joined NYU, the Polytechnic Institute of New York and several other academic and industry partners in NYU's Center for Urban Science and Progress (CUSP), which will focus on developing technologies for the challenges facing cities today, including infrastructure, energy efficiency and transportation.

For CMU, the CUSP will provide a test bed for faculty to research and deploy smart cities technology. CMU brings strength in intelligent transportation systems and smart infrastructure research to the program, which involves faculty from across campus.

Read the full story.
Mechanical Engineering is Bicycle-Friendly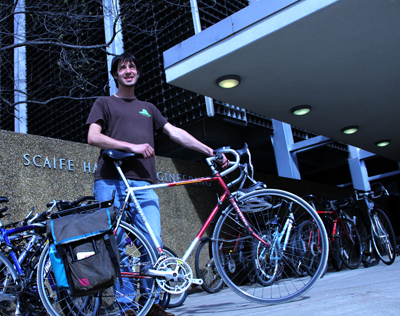 Through Ph.D. student Billy Epting's work spearheading bicycle-friendly initiatives, CMU's Mechanical Engineering Department has been recognized as a bronze level Bicycle-Friendly Business by the League of American Bicyclists.

Epting estimates he has saved more than 1,920 pounds of carbon dioxide and more than $800 in the last year by riding his bicycle to his engineering lab. He says he burns more than 80,000 calories annually.

Read the full story.
Cabaret Looks at Technology and Society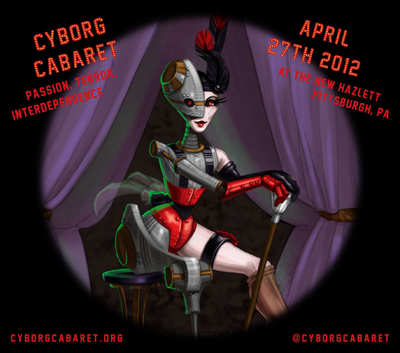 CMU humans and robots from the Robotics Institute, School of Art and Entertainment Technology Center will share the stage of the North Side's New Hazlett Theater at 8 p.m., Friday, April 27, for the Cyborg Cabaret, a variety show designed to make the audience laugh hard and think harder about how technology is changing society.

"The show will be about one-third technology, one-third funny and one-third thought-provoking," said Heather Knight, a CMU Ph.D. student in robotics who is co-hosting the cabaret with cyborg musician and Master of Fine Arts graduate student Dan Wilcox, aka robotcowboy, and Data, the stand-up comedian robot.
Vibrating Steering Wheel Guides Drivers

A vibrating steering wheel is an effective way to keep a driver's eyes safely on the road by providing an additional means to convey directions from a car's navigation system, researchers at Carnegie Mellon and AT&T Labs have shown.


Vote for Your Staff Council Divisional Rep
Staff members can now vote for their Staff Council Divisional Representatives. Voting ends at noon, Friday, May 4. To see your division's nominees and to cast your vote, go to the Staff Council website.

In officer elections for 2012-13, John Lanyon was elected vice chair, Cathy O'Domes was elected secretary and Kaycee Palko was re-elected treasurer. Vice Chair Jeffrey Harris will succeed Adam Rauf as Staff Council Chair.


Microsoft Imagine Cup Finalists Needs Votes
A team called "Dr. Fishbowl," comprised of Chris Reid (DC/CS'12), Wilson Pei (E'13), Yueran Yuan (CS'13) and Steven Blessing (CS'12), won the U.S. Finals of the Microsoft Imagine Cup for Game Design for Microsoft/Xbox and will represent the U.S. in the world competition in Australia.
This year's theme is "Imagine a world where technology helps solve the toughest problems." The students created the game "Redux," which involves turning waste products into profitable, usable products.
A People's Choice Award will be granted to the finalist team that receives the most votes by May 19. Voters can vote daily through the deadline:
- By texting "Fishbowl" to 45444
- Through Twitter: @mstechstudent I am voting for #Fishbowl in #ICPeoplesChoice
Help ensure the safety and well-being of the CMU community:
University Police: 412-268-

2323




Ethics Hotline: 1-877-700-7050