April 12
, 2012 ˇ Vol. 22, No. 38
Building To Be Named for Former CMU President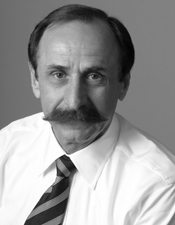 Carnegie Mellon will name the Collaborative Innovation Center (CIC) on its Pittsburgh campus for its seventh president, Robert Mehrabian, during an 11 a.m. ceremony in the CIC lobby on Wednesday, April 18.

The Robert Mehrabian Collaborative Innovation Center recognizes his contributions to economic development in Pittsburgh and to technology commercialization at CMU.

All members of the university community are invited to attend the naming ceremony.
Steven Huth Named New CIO, Vice Provost
Provost and Executive Vice President Mark Kamlet has announced that Steven Huth, chief information officer for Carnegie Mellon Qatar and a member of the Computing Services management team in Pittsburgh, will succeed Joel Smith as CMU's chief information officer and vice provost, effective Aug. 1.
CMU Partners With Portuguese Business School
Carnegie Mellon's Department of Electrical and Computer Engineering and the University of Porto's Business School (EGP-UPBS) in Porto, Portugal, will offer a new dual-degree graduate program in engineering and business this fall.


The two-year program will give participants the opportunity of studying one year in Portugal at the University of Porto and another year in the U.S. at Carnegie Mellon. Students will be required to meet academic requirements from both universities to receive a master's degree in electrical and computer engineering from Carnegie Mellon and an MBA ("The Magellan MBA") from EGP-UPBS.

Learn more.
wats:ON? Festival Looks at Transformations

Amazing transformations from humble beginnings is the theme of this year's Jill Watson Festival Across the Arts.

wats:ON? 2012: TRANSFORMER, held in honor of Jill Watson, a Carnegie Mellon alumna, adjunct faculty member and acclaimed architect who died on the TWA Flight 800 crash in July 1996, will be held April 12-14 at CMU's College of Fine Arts.


Concert Choir Joins PSO To Celebrate Broadway
The CMU Concert Choir will appear with the Pittsburgh Symphony Orchestra (PSO) at Heinz Hall this week in concerts celebrating the much-beloved music from the Broadway hits "Miss Saigon" and "Les Misérables."

The concerts begin at 7:30 p.m., Thursday, April 12; 8 p.m., Friday, April 13, and Saturday, April 14; and 2:30 p.m., Sunday, April 15. Tickets, ranging from $20-95, can be purchased by calling the Heinz Hall box office at 412-392-4900, or visiting the PSO at www.pittsburghsymphony.org. CMU faculty, staff and students can recieve a discount at www.pittsburghsymphony.org/cmutix.


CMU Joins Foundation To Improve Urban Life
Carnegie Mellon has joined the New Cities Foundation (NCF), a prestigious new global platform designed to improve the urban environment, from better lighting to safer roads and improved infrastructure.



The NCF partnership involves Carnegie Mellon's Remaking Cities Institute (RCI), the Traffic21 initiative, the Institute for Complex Engineered Systems and the Pennsylvania Smart Infrastructure Incubator.
Help ensure the safety and well-being of the CMU community:
University Police: 412-268-

2323




Ethics Hotline: 1-877-700-7050