March 29
, 2012 · Vol. 22, No. 36
Data Scientists Helping Hollywood
In Hollywood, movies about "mad scientists" have helped studios attract moviegoers for generations. Today, however, studios are looking for a different type of genius: data scientists.
To meet this need, the Heinz College is introducing a business intelligence and data analysis concentration for its Master of Information Systems Management program.
"There is a real need for data scientists - professionals who not only understand where the data comes from, such as social network sites, blogs, and twitter for example - but also understand how that data can be used by various business units to make better decisions about their marketing and operations," said Professor Ari Lightman, who
moderated a panel discussing the role data analytics plays in creating successful marketing strategies at the recent South By Southwest conference.
Last Call for the March 31 Centennial Concert

There's still time to save 50 percent on tickets to the Carnegie Mellon School of Music Centennial Concert at 8 p.m. on Saturday, March 31 at the Benedum Center.

The concert showcases School of Music alumni, students and guests. Joining these featured performers will be 200 current students in the world-class Carnegie Mellon Philharmonic, Repertory Chorus and Concert Choir under the direction of faculty members Ronald Zollman and Robert Page. (more information)

Order with promo code "CMUMUSIC" to save 50 percent. Call 412.456.6666 or visit the Benedum Box Office.


Staff Council Seeks Division Reps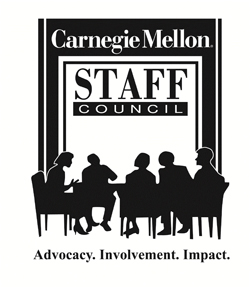 Nominations for Staff Council Divisional Representatives are now being accepted through April 6. Each division should have two representatives and the list of divisions is available on the Staff Council website. Current staff council reps are listed on the site as well.

To nominate an individual for a two-year term beginning this August, submit his/her name online.


CIT in the Spotlight at NSBE Convention
More than 10,000 college and high school engineering students are expected to attend the 38th annual National Society of Black Engineers' (NSBE) Conference this week in Pittsburgh, where the College of Engineering (CIT) is hosting an information booth featuring interactive robots and the autonomous Chevy Tahoe "Boss."

"The world's increasing globalization demands more interaction with people from diverse cultures and backgrounds, so this NSBE conference is an excellent opportunity to reach a large, talented and diverse audience," said Kurt Larsen, assistant dean for undergraduate studies at CIT .


"Mathletes" Give CMU Best Showing in Prestigious Math Competition
A team of first-year students from the Mellon College of Science - Michael Druggan, Albert Gu and Archit Kulkarni - placed second in the Mathematical Association of America's William Lowell Putnam Competition, the premier mathematics contest for undergraduate students.

The second-place finish marks CMU's highest showing in the 73-year history of the Putnam Competition. The university's team has placed in the top five three other times, ranking third in 1987, third in 1949 and fourth in 1946. CMU's Department of Mathematical Sciences in the Mellon College of Science will receive $20,000 for the second-place finish, and each team member will receive $800.


CMU Goes Dark for Earth Hour

From 8:30 to 9:30 p.m. on Saturday, March 31, the exteriors of many of Carnegie Mellon's landmark buildings will go dark as part of Earth Hour, a global environmental initiative that asks individuals, businesses and communities to turn off their lights for one hour to show their support for environmentally sustainable action.

This year, CMU will turn off the Hamerschlag Hall tower lights, and the exterior lighting to Doherty Hall, Walking to the Sky, the East Campus Garage, Hunt Library, the Pausch Bridge (except for the safety lights) and Mellon Institute.


Help ensure the safety and well-being of the CMU community:
University Police: 412-268-

2323




Ethics Hotline: 1-877-700-7050