March 22
, 2012 · Vol. 22, No. 35
Special Offer for the March 31 Centennial Concert

Save 50 percent on tickets to the Carnegie Mellon School of Music Centennial Concert at 8 p.m. on Saturday, March 31, at the Benedum Center.

The concert showcases School of Music alumni, students and guests. Joining these featured performers will be 200 current students in the world-class Carnegie Mellon Philharmonic, Repertory Chorus and Concert Choir under the direction of faculty members Ronald Zollman and Robert Page. (more information)

Order with promo code "CMUMUSIC" to save 50 percent. Call 412.456.6666 or visit the Benedum Box Office.

The Centennial concerts are quickly approaching. Help us spread the word - share the website http://music.cmu.edu/centennial/ via Facebook, Twitter or your favorite social media site. Use hashtag #CMUmusic100 on Twitter or "tag" School of Music (https://www.facebook.com/CarnegieMellonMusic) on Facebook.

Help Shape the Presidential Search; Participate in Open Forums
Several open forums for the Carnegie Mellon community to provide input to the search for a successor to President Jared L. Cohon have been scheduled for next week.

The schedule follows:

Students:
4:30 - 5:30 p.m., Tuesday, March 27, Rangos I, University Center

Staff:
Noon - 1 p.m., Wednesday, March 28, Connan Room, University Center

Faculty:
4:30 - 5:30 p.m., Thursday, March 29, McConomy Auditorium, University Center

Alumni:
Friday, April 20 (during Spring Carnival), Connan Room, University Center (time will be announced)

Read the full story | Presidential Search website

Future Tenant Celebrates 10th Anniversary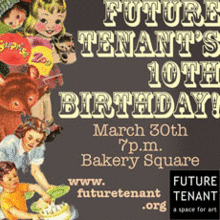 Future Tenant, an experimental downtown Pittsburgh art space managed by CMU arts management students, celebrates its 10th anniversary with a fundraiser at 7 p.m., Friday, March 30 at Bakery Square. Earlier this week, the City of Pittsburgh proclaimed March 20, 2012, as Future Tenant Day.

An exhibition by first- and second-year MFA students called "Extra Fancy" will be on display at the celebration.

Future Tenant is a joint project of the Pittsburgh Cultural Trust, Carnegie Mellon's College of Fine Arts, and the Master of Arts Management program at Carnegie Mellon's Heinz College.



For the fifth consecutive year, Carnegie Mellon has been named to the President's Higher Education Community Service Honor Roll. The selection by the Corporation for National and Community Service and the U.S. Department of Education recognizes CMU's commitment to community service and service learning.
Judith Hallinen, assistant vice provost for Educational Outreach and director of the Leonard Gelfand Center for Service Learning and Outreach, said nearly 5,000 students spent more than 143,000 hours engaged in community service in 2010-2011.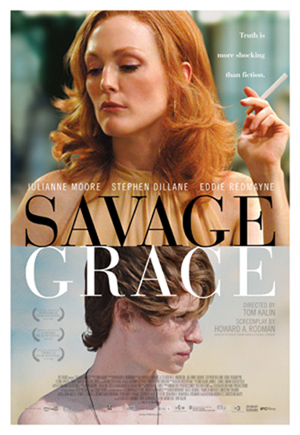 The Center for the Arts in Society (CAS) will host acclaimed filmmaker, writer and activist Tom Kalin, March 29-30, to kickoff its "Gender/Sexuality/Media" project.

Inspired by three notorious American crimes, Kalin's three feature films, "Swoon," "I Shot Andy Warhol" and "Savage Grace," test the boundaries between psychology and behavior, public and private identity and documentary fact and dramatic truth.

Kalin will give a talk titled "Fiction/Nonfiction," in which he'll discuss the tension between the two in his work, at 4:30 p.m., March 29 in Gregg Hall (Porter Hall 100).
Grant Expands Crowdsourcing of RNA Design
Researchers at CMU and Stanford are expanding EteRNA - a unique research project that taps online game play to create RNA designs that are then tested in a laboratory - thanks to a $1 million grant from the W.M. Keck Foundation.



The additional funding will allow scientists to test thousands of player-designed molecules each month. Until now, only about 32 of the designs could be evaluated monthly.
Help ensure the safety and well-being of the CMU community:
University Police: 412-268-2323 | Ethics Hotline: 1-877-700-7050