February 2
, 2012 · Vol. 22, No. 28
World Bank President To Speak at CMU, Feb. 9

Robert Zoellick, president of the World Bank, will speak about global economic issues from 4:30 to 6 p.m., Thursday, Feb. 9 in the College of Fine Arts' Kresge Theatre.

The event will be moderated by Professor Kiron Skinner and is sponsored by the Center for International Relations and Politics, The Thomas M. Kerr Jr. Prelaw Program and the Global Studies Major.

Secretary of Commerce Bryson Visits CMU
U.S. Secretary of Commerce John Bryson visited Pittsburgh to tour Aquion Energy, a Carnegie Mellon spin-off that creates advanced battery systems.
He also visited CMU, where he led a discussion with business leaders, CMU Vice President of Research Rick McCullough and Pittsburgh Mayor Luke Ravenstahl about American business growth, innovation and public private partnerships.
Study: Quarter of Tweets Not Worth Reading

Twitter users choose the microblogs they follow, but that doesn't mean they always like what they get. Researchers at CMU, MIT and Georgia Tech found that users say only a little more than a third of the tweets they receive are worthwhile.

City Debuts Transportation Plan at CMU Tonight
The Pittsburgh Department of City Planning is hosting a public kickoff meeting from 6-8 p.m., today (Feb. 2) at Porter Hall 100 to discuss the city's first transportation plan, which will guide transportation decisions and spending for the next 25 years.

Pilot Program Aimed at Portuguese Entrepreneurs
The Carnegie Mellon Portugal Program has created a pilot international Entrepreneur-in-Residence program to

work with Portuguese companies in the hopes they might set up U.S. operations in Pittsburgh. Four Portuguese companies currently in the program are coming to visit CMU and Pittsburgh Feb. 8-10.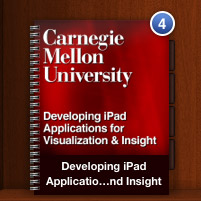 Devices in hand, a group of students lucky enough to get into one of Carnegie Mellon's newest classes are already hard at work. They are learning the art of iPad programming.

But they aren't the only ones.

The class lectures are available for free at Carnegie Mellon on iTunes U - bringing the top-notch instruction of CMU's Human-Computer Interaction Institute to learners far and wide.
The February issue of the Piper features a look at the silver anniversary of the University Athletic Association, a Q&A with Director of the Center for Arts in Society Paul Eiss, a recap of President Jared L. Cohon's state of diversity address, interviews with "SMASH" cast members who credit CMU for their success and a feature on a statistics study that scores big with Scrabble.
The website also includes a video of Don Tapscott's recent campus lecture. Tapscott is a leading authority on innovation, media, and the economic and social impact of technology.
Hard copies will be in campus mailboxes soon, but visit the Internal Communications website for a sneak preview.
Help ensure the safety and well-being of the CMU community:
University Police: 412-268-2323 | Ethics Hotline: 1-877-700-7050