January 5
, 2012 · Vol. 22, No. 24
CMU Featured at World-Famous Electronics Show

Carnegie Mellon professors and researchers will be among those discussing their research and products at the International Consumer Electronics Show in Las Vegas (Jan. 10-13), the world's largest and most well-known technology tradeshow.

CMU's Quality of Life Technology Foundry will feature five CMU start-ups and several other innovations and partner collaborations will be on display.


BNY Mellon Awards $1 Million to Tepper School
BNY Mellon has announced an award of $1 million to Carnegie Mellon's Tepper School of Business to continue funding for a named professorship in the field of finance.

The BNY Mellon Professorship in Finance was established in 1996 to further research, teaching and collaboration across academic disciplines that will provide meaningful results for students and the global marketplace. The gift extends this professorship for another decade and signals BNY Mellon's commitment to excellence in research and education.


Forbes Recognizes CMU Alumni, Students

Forbes recently released its 30 disrupters under 30, in each of 12 fields making a difference. Eight Carnegie Mellon students and alumni are featured including Stuart Anderson, Eric & Susan Gregg Koger, Jason Mirra, Chris Harrison, Heather Knight, Chris Bell and Chris DeLeon.
Skinner Analyzes Iowa Caucuses in Paper

Kiron Skinner, director of CMU's Center for International Relations and Politics and foreign policy adviser to Newt Gingrich and his 2012 presidential campaign, wrote an opinion piece, "Iowa is Deceptive; Political Artistry Matters," for Advancing a Free Society.
The column explains how even though success in Iowa does not guarantee future wins, candidates and their campaign advisers must pay attention to caucus outcomes.
Veloso Honored by Chinese Academy of Sciences
The Chinese Academy of Sciences has named Manuela Veloso as an Einstein Chair Professor for 2012. Veloso, the Herbert A. Simon Professor of Computer Science at Carnegie Mellon University, is one of 20 prominent international scientists so honored.

As an Einstein Chair Professor, Veloso will present a lecture at the University of Science and Technology of China, a national research university in Hefei, China, and at another Chinese university.


Murphy Appointed to NIH Council of Councils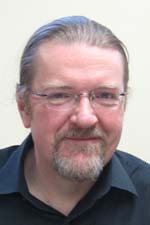 Robert F. Murphy, director of the Ray and Stephanie Lane Center for Computational Biology, has been appointed to the National Institutes of Health Council of Councils.

The Council of Councils advises the NIH director on policies and activities of the Division of Program Coordination, Planning and Strategic Initiatives. These include making recommendations on research that represents important areas of emerging scientific opportunities, rising public health challenges, or knowledge gaps that deserve special emphasis or would otherwise benefit from strategic planning and coordination.


In Severe Weather: Check TV, Web and CMU Alert
In the event of severe weather, members of the university community should tune in to KDKA-TV, WTAE-TV or WPXI-TV for official university announcements regarding delays, cancellation of classes and/or office closings.

Announcements also will be posted on the Web at http://www.cmu.edu/alert/ and recorded on the Carnegie Mellon main switchboard (412-268-2000).

Notification also will be sent via the CMU Alert Emergency Notification Service. For information on how to register for the service, go to http://www.cmu.edu/ehs/emergency-response/cmu-alert/index.html.


Help ensure the safety and well-being of the CMU community:
University Police: 412-268-2323 | Ethics Hotline: 1-877-700-7050