The Bath & Body Digest
An eNews Publication from Pour le Mieux Bath & Body Essentials
November, 2011 -- Vol 1, Issue 7
Click here to be added to

our eNews monthly

mailing list.

Coming Out

of the

Mold

Fresh from the soap mold this month,
we have

"Pure in Heart"

All Natural Soap

5.5oz Bars

(made with pure Essential Oils and Fresh Herbs)

Greetings!

Ready? Set... OPEN!

After months of revamping, rewording, and picture taking, we are reopening for business on Friday, November 11, 2011. That's right -- 11/11/11!

Visit us at www.pourlemieux.com for your bath and body essentials. We carry natural soaps, liquid washes, and scrubs & rubs to name a few. If you have a favorite item or scent that we do not currently carry, let us know! Our goal is to offer what YOU like!

As a thank you for your support, encouragement and suggestions, we are extending an 11% discount* on your first order! Be sure to enter YOUNGlove111111 at check-out.
Offer ends 12/31/2011.

Take care, and "all the best"!

~plm

*multiple percentage discounts cannot be combined on a single order.

Pour le Mieux links will be LIVE on 11/11/11!!
Good Ole Fashioned Snoozes
The Benefits of a Good Night's Sleep,
How often do we overlook the benefits of sleeping? As Americans, far too often!
Proper amounts of sleep increase recovery from illness, wound healing, memory processing, digestion, cell regeneration, and even burning calories! Have you ever wondered why you are sleepy following a large meal? Well, the blood flow to your stomach increases and your brain is on a slight "stand-by" while your digestive system processes the food. A good friend of mine who we'll call "Sleepy" actually schedules a nap on a daily basis. Some cultures have a set time for this activity. The luxury of napping to replenish the body and soul is no longer a laughing matter. For the 45-60mins he allows his body to re-charge, he is able to be more productive in his personal and professional life.
If you are unable to take a nap during the day, try scheduling 7-8 hours of sleep each night, or the amount you find that works best to replenish your body. Items such as sachets or room sprays that have been scented with Lavender Essential Oil are wonderful to help your body relax to fall asleep more easily. In addition, there is a popular tea called "Sleepytime" which contains herbs to help induce sleep, and comes in six (6) different varietals.
And every year around this time, we get the additional benefit of sleeping an hour longer as we "fall back" for day-light savings. So set those clocks back this Saturday, enjoy a cup of Sleepytime, and spritz your linens with a little lavender.
To learn more about the benefits of sleeping, visit Better-Sleep-Better-Life.com and check out their natural remedies section to reduce insomnia, and other sleepless nights.
PLM Product Watch: Body Balms
Head Shoulders Knees & Toes Body Balm
With winter fast approaching, you may need something a little heavier than body lotion to moisturize your skin.
Our new oil-based Head Shoulders Knees & Toes Body Balm is just the thing. Inspired by the popular children's rhyme, this unscented balm can be used from your head to your toes! Made with sweet almond oil to soften and
Cocoa beans in a cocoa pod
increase hydration of the skin, and a dab of
cocoa butter to treat dry or itchy patches.
For those extra crisp mornings, it can even be used sparingly on your eyes, and ears, and mouth, and nose!
Product Type: lotions & butters
Product Base: Vegan Friendly
Packaging: 2oz Jar
One-Thousand Words, A Picture Is Worth
November is


Write a Novel Month

NaNoWriMo is short for National Novel Writing Month where writers from around the world participate in an on-line forum which focuses on writing a 50,000-word novel in one month. The goal is to keep the rhythm of writing going, even when Writer's Block creeps it's way in. There a many tools, tips and tricks to encourage young, amateur writers. Not all finish, but most have a sense of accomplishment in that they actually started.
If you enjoy writing and would like to participate, join us as we all try to reach 50,000-"sensible"-words in November 2011!!
The Book Nook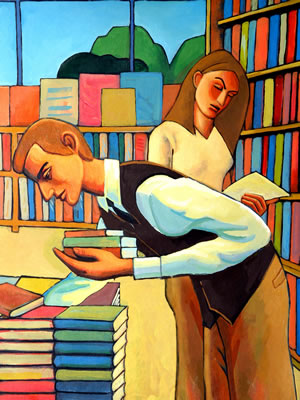 What are you currently reading? Let us know and we may feature your selection here next month.
For the other submissions, please check the Book Nook on our web-site for a running alpha list.
Thank you for your patronage!
Pampering doesn't have to be expensive, but memorable.
Pour le Mieux. Remembering you.