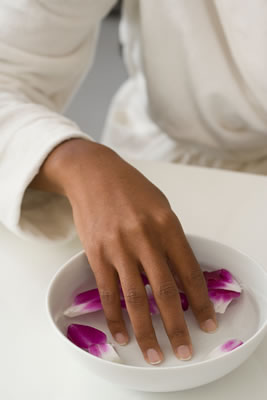 Having gone back to wearing my finger nails naturally, I find I spend more time picking and cleaning them. Especially my cuticles.
Instead of making a special trip to the nail salon every week, I've found that my own home "mani" to groom my cuticles does the job even better.
You'll need:
Warm soapy water
Nail Brush
Wash Cloth
Orange Stick
Cotton Balls
Olive Oil
Cuticle Remover
Skin Moisturizer
Rose Petals (optional)
Directions:
Gently massage the cuticles of your left hand with olive oil, and soak them in a bowl of warm soapy water with rose petals for 2-3 minutes.

You can use a nail brush to remove additional debris from under the nails or around the nail beds.


Note: A little liquid soap goes a long way.
With a warm wash cloth, pat them dry, removing all oil and soap.

Apply your cuticle remover of choice and massage into each cuticle. Note: Regular oil or lotion will not adequately soften the dead skin for removal.

Using your orange stick, gently push back each cuticle and remove the dead skin using a tiny circular motion on each finger nail. It is recommended that you go across each cuticle 2-4 times to remove all dead skin.

Wipe away the cuticle remover and dead skin with a moist towel.

Using a cotton ball, apply a skin moisturizer to each cuticle.
Repeat for your right hand.
Note: If you feel the need to pick your nails, use a cuticle balm or hand cream to massage the dry area.
CAUTION:
It is best to soften and remove the cuticles with an orange stick instead of cutting or pulling them off.
Try to avoid using any metal objects on your cuticles such as clippers or tweezers. This can

damage your

cuticles, which can cause swelling or bleeding.
Pour le Mieux offers several moisturizing products to provide a spa pampering experience in the comfort of your own home. Click on the "lotions & butters" link from our home page.
Disclaimer: The Bath & Body Digest and Pour le Mieux Bath & Body Essentials does not warrant or guarantee results and assumes no liability for any unfavorable results. Product use is at the user's sole risk regardless of any fault or negligence by The Bath & Body Digest or Pour le Mieux Bath & Body Essentials.