Quick Links
Equicizer Video Tour
Meet our Supporters & Equicizer Experts
(Alphabetically)
Click on your favorite horseman below. View photos, videos & testimonials with them using their Equicizer!
Visit Our Program
If you are just visiting, please join!

Phone:
419 663 1472
Fax:
425 663 1472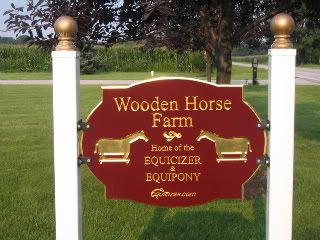 Check out our friends at
The Yellow Horse.com

A Yellow Pages with national listing for everything Equine!
A letter from Frankie...
Hi Everyone!
"That ole' saying 'the frost is on the pumpkin' is true here in North Central Ohio. There's a pumpkin patch just around the corner that must be 300 acres big! Quite an amazing spectacle! Fall is definitely one of my favorite times of the year. The horses love it too and are feeling quite frisky, so if you're riding don't forget to strap those helmets on!"
The Equicizer At The World Equestrian Games!
The Equicizer & Equisense Team Up To Score High At WEG
The Equisense Team with Frankie Lovato on "Robbie" the Equicizer at the World Equestrian Games
The 2010 World Equestrian Games (WEG) held in Lexington Kentucky this past October was amazing to say the least. 58 countries were here to compete in various disciplines for the highest honors in Equestrian sports.
The Equicizer made quite the showing over in the vendor's area in booth # 610, Dressage Medalist and Olympic Coach

Jane Savoie along with Ruth Hogan Poulsen and the Equisense Team launched their new software called the Equisense Systems by EQtrained.com. This state of the art software consists of sensors embedded inside a saddle and reins that could accurately measure the rider's hand, leg and seat pressure while they are riding.
Since a real horse could not be used in a 10 X 10 booth in the
vendor's area, what better solution than to have an Equicizer! The Equisense and Equicizer teamed up to be the most popular booth at WEG!
Click Play to watch the video with the Equisense System and the Equicizer in action from the World Equestrian Games.

Special thankyou to Cherryl Mitchell of Richer Farm for letting us borrow her very special Equicizer "Richer" at WEG!
Click on the photo (above) to see a complete slide show of photos with Sandy, Frankie & the Equicizer at the world Equestrian Games!
More Show Dates with Equisense & the Equicizer
The Equisense Team & "Robbie" the Equicizer are going on the road together. Currently you can see them at Equine Affaire Springfield, MA, November 11-14 Booth # 620.
Also: Horseman's Council Equestrian Lifestyle Expo & Holiday Market November 20-21 at the Lake County Fairgrounds Expo Center Grayslake, IL.
For more information and future show dates, visit
In Racing News...
"What It Takes To Be A Jockey" DVD
Sneak Peek
With the Breeders' Cup in the air, we wanted to remind everyone that Frankie Lovato's "What It Takes To Be A Jockey" DVD is now available in both USA and PAL formats. This is a great holiday gift for those who are interested in becoming jockeys or exercise riders or even just fans of racing!
We wanted to offer a sneak preview from the DVD's bonus clips where Hall Of Fame Jockey Mike Smith talks with Frankie on what it takes to be a jockey.
Click Play to see interview with jockey Mike Smith on What It Takes To Be A Jockey!

Zenyatta, The Greatest Race Horse In History
-or- The Greatest Race Horse In Our Hearts
by Frankie Lovato
B
eing a professional jockey myself for 25 years,
and
my father also a professional jockey for as many years, my whole life has been horse racing. With this being said, never have I gone through the emotion and magnitude I felt when fellow jockey Mike Smith and Zenyatta loaded into the starting gates for the 2010 Breeders' Cup Classic.
Photo courtesy of Skip Dickstein photography, copywrite, all rights reserved. Visit Skipdickstein.com for more information.
Shout Outs To Our Peeps!
Steve Lantvit's Horsemanship Presents
"Sure In The Saddle" TV Show
Equicizer Expert and sensational horseman and, Steve Lantvit, debuted his new TV series on October 27th called "Sure In The Saddle". It is shot on location at Steve's Highgrove Farm and produced by Gale McCraw, producer of over a decade of Clinton Anderson's shows and videos. The show airs on Dish Network's, University House Channel (channel 9411) on Wednesdays at 5:30pm EST and Saturdays at 10:00 am EST. The topics will range from beginner to advanced Horsemanship.
We wish Steve's first season the very best that he deserves and thank him for his years of supporting us with the Equicizer!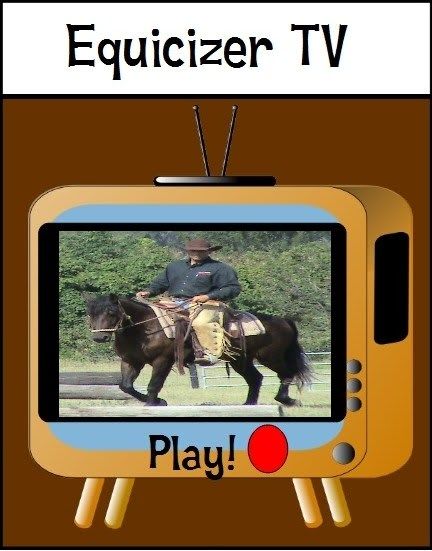 For a quick preview of "Sure In The Saddle", Click Play!

E

quicizer Expert
Ruth Hogan Poulsen
,
Dressage FEI Instructor/trainer
USDF Gold, Silver and Bronze Medalist has just added 2 more CD's to her "Riding With Soul" Collection! One is a compilation of Jazz and Big Band and the other is Pop/Rock. Ruth's talent as a Free Style Competitor and her amazing ability to choreograph programs for Dressage Riders and their horses, make this collection something everyone should have.
Even if you are not a competitor, they are a lot of fun for you and your horse to ride to. For more information,
click here
!
We also would like to mention that Ruth just purchased a beautiful training facility in Wellington Florida to give her clients and horses only the very best. Go to
Ruth's website
to find out more information and maybe get a lesson personally from Ruth on Rocky, the rock star Equicizer!
Horses in the Morning Radio Show
T
he first live morning show for the horse addict. Join hosts Glen the Geek and Jamie Jennings as they cover all kinds of topics in the world of horses. Frankie Lovato, Jr. will be a frequent guest as their Horse Racing Expert! This is a light and lively, entertaining daily look at the horse world and the people in it. Visit
Horses in the Morning
website. The show airs live M-F from 9:00 am to 10:30 am EST. Shows are archived each day so you can listen anytime!
Fun Photo!
W
ith the movie of the great Secretariat being released, we thought it would be fun to share this race photo from Frankie Lovato's past. Here you will see Frankie wearing the famous silks of Secretariat and the Meadow Stable. You will also see Penny Chenery Tweedy (Secretariat's owner) in the winner's circle with Frankie at Aqueduct Race Track, 10 years after the great Secretariat himself.
"This was one of Penny's last winner's as an active racehorse owner, it was a great privilege to have worn these silks."
-Frankie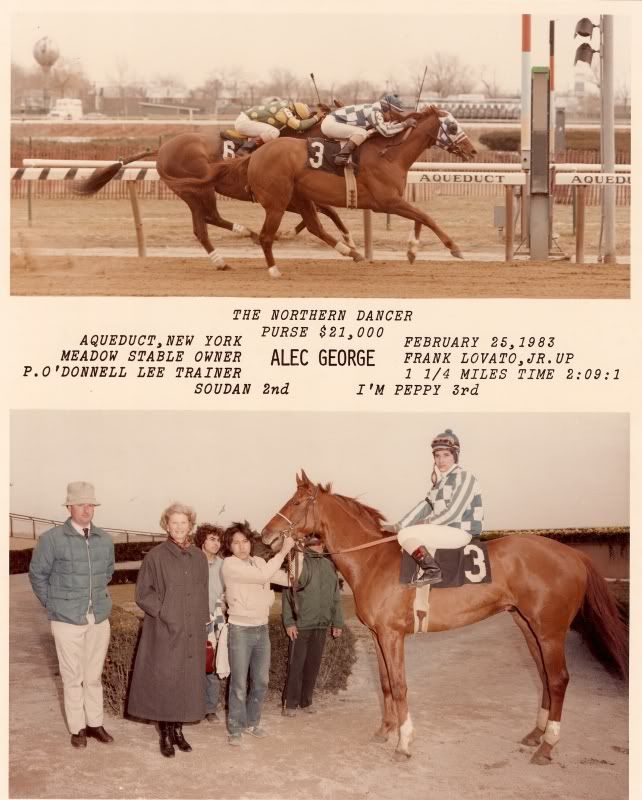 Win photo with jockey Frankie Lovato Jr in the Meadow Stable's silks for legendary owner Penny Chenery Tweedy.
To Order Your Equicizer
We offer several ways to order an Equicizer and to pay for it.
Here are our models and their prices
Elite
(which features moving head/neck, body, hand carved face, and personalization)
for $2800
Classic
(which features moving head/neck and body and personalization)
for $2500
Original
(which features moving head/neck, typically used by jockeys)
for $2000
Call for shipping quote. A deposit of $1200 is due at time of order for all models.
You can place your order by
calling us at (419) 663-1472 or
We accept payment by check, money order, credit card, and paypal. We also offer a layaway program that works well with just about every budget!
Thank you for reading our newsletter! Remember to check out
Happy Trails as always!!
Frankie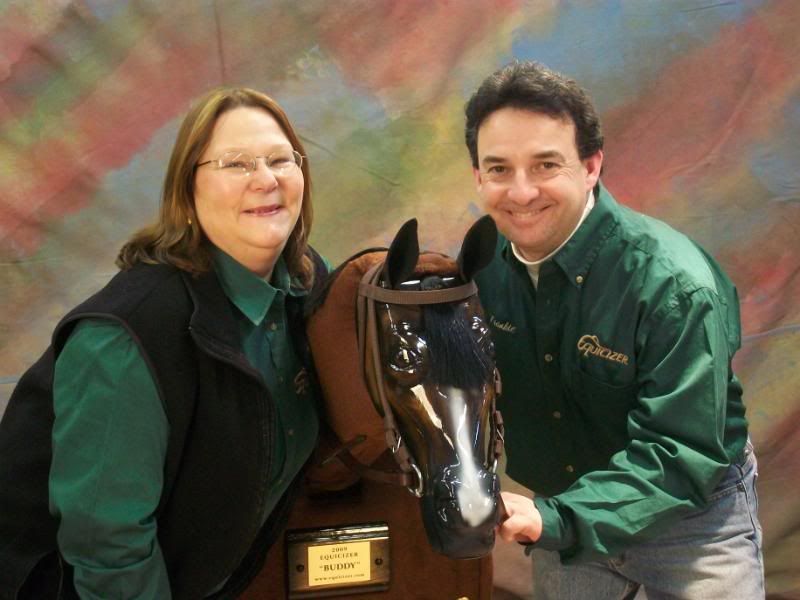 Frank & Sandy Lovato
WOODEN HORSE CORPORATION
819 Dublin Road
Norwalk, Ohio 44857
email: Equicizer@aol.com
Phone: 419-663-1472
Fax: 425-663-1472
web address
www.equicizer.com
We now also have the domain name
www.exercisehorse.com
Much easier to spell and remember