Meet our Supporters & Equicizer Experts
(Alphabetically)
Click on your favorite horseman below. View photos, videos & testimonials with them using their Equicizer!
Visit Our Program
If you are just visiting, please join!

Wooden Horse Corporation
819 Dublin Road
Norwalk, Ohio 44857
Phone
:: 419 663 1472
Fax
425 663 1472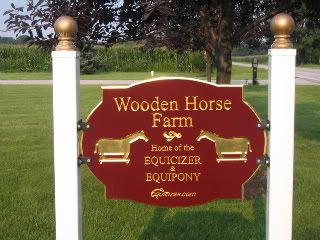 Check out our friends at
The Yellow Horse.com
A Yellow Pages with national listing for everything Equine!
Hi Everyone!
A letter from Frankie..

"This summer has given me some amazing milestones in my life and things I would experience for the very first time. From a man being around race horses my entire life, I would get my first pony, show our pony at the county fair, and put our 4 year old little cowgirl granddaughter on the school bus for the first time for her 1st day of kindergarten, these are memories never to be forgotten and things I would like to share!"
Adventures With Popcorn The Wonder Pony
Frankie, Sandy, & Allie posing with Popcorn at the county fair.
O
k, this is a little off track to start the Equicizer newsletter since the only relation to this story about Popcorn, the pony, and the Equicizer is that he is housed beside my Equicizer workshop and he is actually the same height as an Equicizer with a set of caster wheels, but I still wish to share this with my readers!
Many of you may have read in my last newsletter that my wife Sandy had gotten me my very first pony as a Father's Day gift (though I do share the ownership with my granddaughter Allison). Also this past summer, some dear friends and Equicizer supporters, Cheryl Caldwell and Kathleen McFarren, unveiled the premier edition of their new
Honest Horses Magazine
, which is a hard copy magazine in Northern California.
Cheryl and Kathleen asked me if there was anything I would like to write about for their magazine and guess what I came up with!? Yup, it was about Popcorn. This was published in Honest Horses Magazine but incase you have not been able to get a hardcopy, I placed the article with photos on a webpage.
Equicizer Exercise Tip of the Month!
2
009's CHA Riding Instructor of the year
Steve Lantvit
shows some exercise and warm up tips using the Equicizer.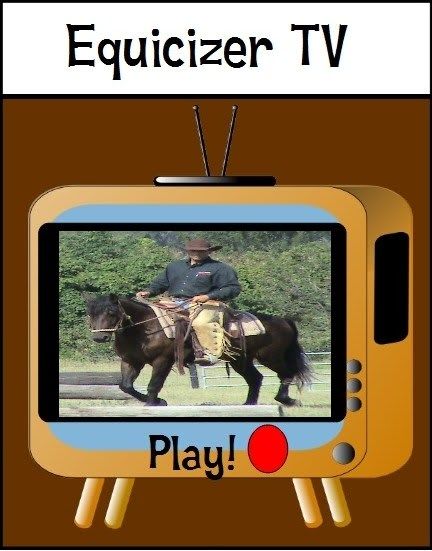 Click PLAY to watch!
"If any of you Equicizer owners have an exercise tip or method you would like to video & share, please let us know and we would love to feature it in our newsletter for our readers!"
Now In Stock!
T he much anticipated DVD "What It Takes To Be a Jockey" is now in stock! Frankie has poured his heart, knowledge, and experience into this informative, educational DVD which highlights many of the "trade secrets" of being a jockey. We highly recommend this for anyone that is interested in learning more about becoming a jockey or even just a big racing fan!
For more information and place your order on-line, click here!
2010 Jockey Camp A Huge Success!
Jockey Camp 2010
Frankie works with Kayla using the Equicizer on rhythm and position.
The 2nd annual Jockey "Boot" Camp held July 30-August 1st was a great success. A half dozen students made the event from all parts of the country to sink their teeth into 3 days of solid horse racing & riding all done in a classroom setting. The goal I set for the students is if they believe they want to get into horse racing either as a jockey or exercise rider to create a pathway of knowledge and direction as safely as possible. We discuss every angle of the business of horse racing, from watching and analyzing racing videos to simulation exercises and learning techniques aboard Equicizers, also learning track rules, etiquette and marker poles on foot with a model racetrack, health and fitness discussions with diet, nutrition, and weight management, and live telephone interviews with other famous jockeys and trainers.

Frankie on a live phone interview with Hall Of Fame Jockey Laffit Pincay Jr that students listen, learn and ask questions!
I would like to thank retired famous jockeys
Laffit Pincay, Richard Migliore
and trainer
Michael Stidham
for their participation in this years event.
Cindy from Curves talking about nutrition
Also,
for her Diet, Health and Nutrition Demonstration
To see entire highlights and photos for Jockey Camp 2010, Click here!
The Funniest Video In The Whole World!
I
n relation to Jockey Camp, there was the 2nd running of the Bouncy Ball Derby. This is guaranteed to make you laugh!
Click PLAY to watch!
August's Equi-effect
We LOVE hearing about your experiences with the Equicizer and what you are doing with it. We've decided that it is so hard to keep what's happening to ourselves, but it's also hard to share all of them. So, we are highlighting one each month though this month, we wanted to share two! Thanks for the inspirational words of encouragement everyone!
This e-mail shows how loved the Equicizer is in therapeutic settings.
Dear Frankie & Sandy,

Wings and Hooves Participant and Volunteers Picture©Suzanne DeGeorge 2010

"Mosey" our Equicizer is extremely helpful to some of the riders! We certainly appreciate him!"

-

Suzanne DeGeorge,

with

Wings and Hooves

or Wings and Hooves on Facebook at Kingswood Farm in East Kingston, NH. It is run by Karen Cuneo who purchased an Equicizer ("Mosey") several years ago - before she even had a name for the program.
This e-mail also shows the versatility of an Equicizer in a therapy setting.
We began lessons on "Stella" right when we got her last week here at Project R.I.D.E. Yesterday afternoon, this beautiful young student of ours led Stella outside under the shade of a tree to take her lesson. I wanted to share with you that we did not intend to

Student from Project R.I.D.E. offers 'Stella' the Equicizer a kiss after her ride.

move our Equicizer to and from different locations, but wow...this worked out to be a HUGE success. Our student was confident, in charge and able to pick her spot. After Stella wore her out, she said "c'mon Stella girl" let's go back to the barn!!! She kissed her face and her forehead and I am sure she fell in love in that very instant.

Thank you Thank you Thank you for making these remarkable horses for centers like ours! The uses are endless and much more than we expected when we made a decision to purchase Stella. Each day we find a new use and are creating lessons as we go. I will be keeping you posted as time goes by!

Regards and our thanks....."

-Tina Calanchini and the staff, students, volunteers and Board of Directors at Project R.I.D.E. in Elk Grove, CA
NOTE:
Therapeutic Riding and Hippotherapy Programs find the Equicizer to be invalueable with their riders. They are able to safely discuss horse familiarization, stretches, warm-ups, address specific lesson points, and practice mounting and dismounting while sparing the live horses.
Clinics, therapists, and individuals get amazing results with the Equicizer in a variety of disciplines to address core strength, flexibility, muscle tone, balance and even vocalization, among other benefits.
To Order Your Equicizer
We offer several ways to order an Equicizer and to pay for it.
Here are our models and their prices
Elite
(which features moving head/neck, body, hand carved face, and personalization)
for $2800
Classic
(which features moving head/neck and body and personalization)
for $2500
Original
(which features moving head/neck, typically used by jockeys)
for $2000
Call for shipping quote. A deposit of $1200 is due at time of order for all models.
You can place your order by
calling us at (419) 663-1472 or
We accept payment by check, money order, credit card, and paypal. We also offer a layaway program that works well with just about every budget!
Thank you for reading our newsletter! Remember to check out
Happy Trails as always!!
Frankie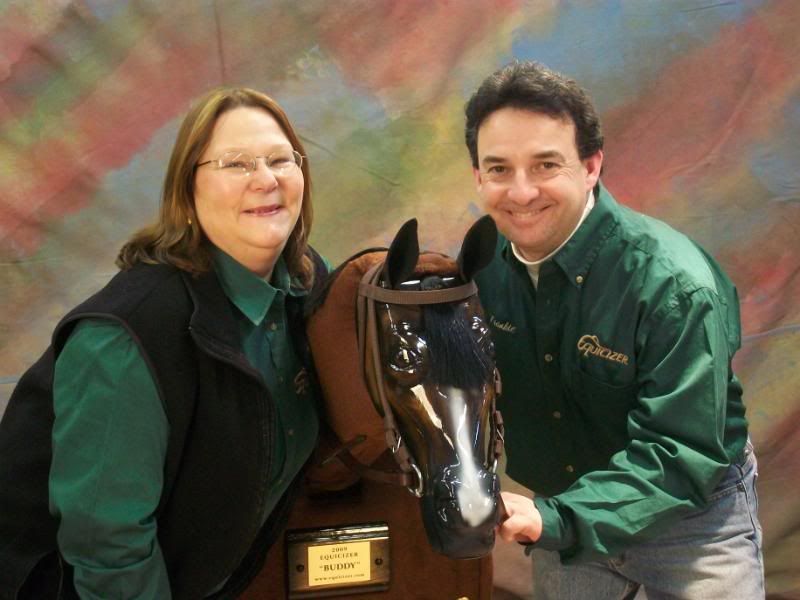 Frank & Sandy Lovato
WOODEN HORSE CORPORATION
819 Dublin Road
Norwalk, Ohio 44857
email: Equicizer@aol.com
Phone: 419-663-1472
Fax: 425-663-1472
web address
www.equicizer.com

We now also have the domain name www.exercisehorse.com
Much easier to spell and remember