Meet our Supporters & Equicizer Experts
(Alphabetically)
Click on your favorite horseman below. View photos, videos & testimonials with them using their Equicizer!
Visit Our Program
If you are just visiting, please join!

Wooden Horse Corporation
819 Dublin Road
Norwalk, Ohio 44857
Phone
:: 419 663 1472
Fax
425 663 1472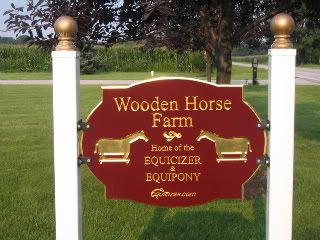 Check out our friends at
The Yellow Horse.com
A Yellow Pages with national listing for everything Equine!
Hi Everyone!
A letter from Frankie..
Our new pony Popcorn shown here with Frankie (grampy) and Allie

News Flash!
I got a pony!! "Terms and conditions" I have to share with my grand daughter Allison.. agreed ;-) More on this story soon!....
Frankie & Sandy
Proud Moments


Ohio Chamber of Commerce Entreprenuership Award

The Wooden Horse Corporation was nominated for the State of Ohio Chamber of Commerce Entreprenuership Award this spring by our local Norwalk, Ohio chapter. Seventeen nominees were then selected out of the list and asked to attend the award ceremony and networking social in Columbus, Ohio. We are proud to say that we were one of these elite companies to be recognized for our innovative product and it's impact on our community and people's lives. We were enlightened by guest speaker, Tom Brokow's speech on political and personal subjects, and impressed to be "rubbing" elbows with fellow small business companies and our government officials. Thank you again, Norwalk Chamber of Commerce for nominating us!!!
NBC Alive and Well Expo, Los Angeles, CA
The incredible Rita Roberson has struck again as the Equicizer's leading spokesperson in the world of individuals with disabilities! Due to Rita, who has Cerebral Palsy, and her Equicizer "Fancy" making an appearance at the LA Abilities Expo last April, which Rita manned and demonstrated her success
Equicizer Team, Los Angeles, CA
using the Equicizer giving her quote "my Equicizer bunny body and legs" to many viewers, we were asked to be highlighted at the NBC Alive and Well Expo!

Again, this expo was a first experience for us, and we were so excited and honored to be asked to come and get our name exposed including promos for this event showing Rita riding her Equicizer on NBC Los Angeles News Network!

Speacial thanks to

Rita, Michael, Jordanne, Mari, Kristen, Dominic & Julie West for making this happen!
More Equicizer sightings!
Pegusus Family Fun Day Hartville, OH
T
he Equicizer was enjoyed by all at the
Pegasus Farm
Family Fun Day including the staff! With shows, games, rides and events for all ages, and we DEFINATELY CANNOT leave out the fact that our favorite singing damsel, Templeton Thompson and her magnificent husband Sam Gay, mesmerized the
Jackie Baker showing off her talents of eating ice cream and riding at the same time!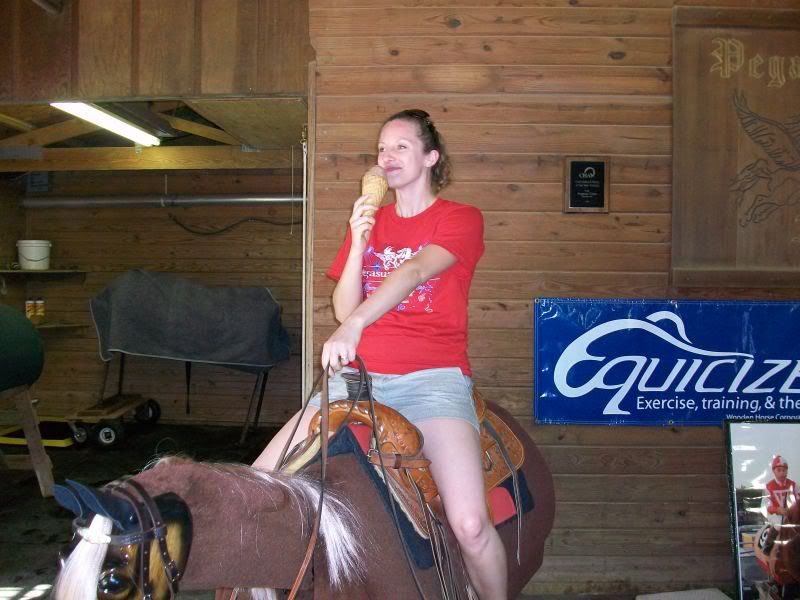 crowds with her heartfelt songs and gorgeous voice! This day was PACKED for everyone to have a great time and see this amazing facility that hosts one of the nicest therapeutic riding programs in the state of Ohio.
We want to give a shout out thank you to Jackie Baker, Missy Howard and all of the staff of Pegasus Farm for inviting us to be a part of their Family Fun Day celebration!
National Helmet Awareness Day Lexington, KY
T
his past weekend on July 10th at the Kentucky Horse Park was the first annual National Helmet Awareness Day. Sandy and I attended and supported this important event with great passion and want to thank Lyndsey White, Jeri Bryant and
SUCCEED® Digestive Conditioning Program®
. for masterminding and making this event a reality. To read more about this great event, please visit
Riders4helmets.com
Renowned riders, Eventer Cathy Wieschhoff and Dressage's Reese Koffler- Stanfield were on hand at the booth to answer questions about their perspectives on the importance of helmets and later joined in the Equicizer fun!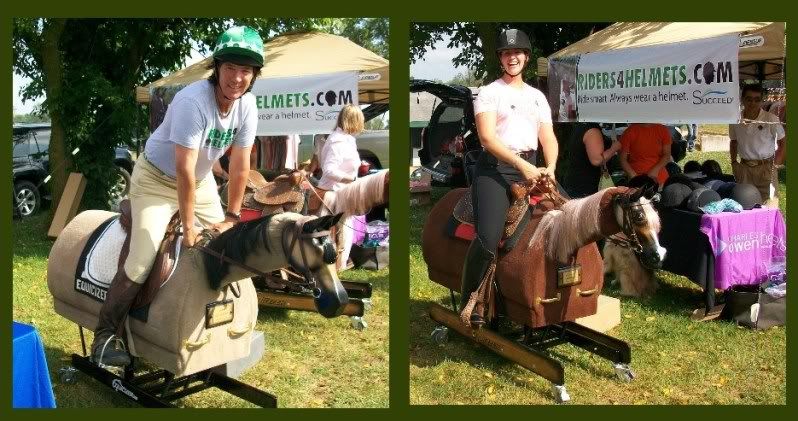 Special thanks to these great riders
Cathy Wieschhoff
&
Reese Koffler-Stanfield!
Templeton Thompson
Templeton Thompson & husband Sam Gay perform for Stampede Of Dreams and friends.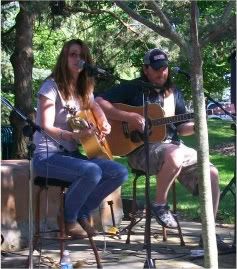 A
nd speaking of
Templeton Thompson
, she graced our Norwalk, OH area with an intimate concert in a wooded yard by a pond. Between Tempy's voice lilting through the trees, the blankets for picnics, and the friendly companionship between listeners, I can't think of a better way to spend a perfect summer evening! She and her amazing husband, Sam graciously shared the stage with our very own talented Frankie Lovato, Jr. and other performers.
During Temple and Sam's visit, Templeton interviewed me in the Equicizer shop for her
Life On Planet Cowgirl TV Show
. There were actually multiple segments with our interviews.
To see any of the interviews with
Templeton and I and all of Templeton's
videos for her Life On Planet Cowgirl series,
click Play on the TV!
Frankie Lovato, Jr.'s
Jockey "Boot" Camp 2010!
Frankie Lovato's Jockey Camp is ready to roll July 30-August 1st. It's not too late to get signed up!!! If you know anyone that may be interested, please forward on this information. This is a once a year event and the only one in North America. For more information and application, click here on the Jockey Camp Web Page
Frankie Lovato's Jockey Camp,
also music video with Templeton Thompson
along with last years Jockey Camp highlights,
click PLAY on the TV!
June's Equi-effect
We LOVE hearing about your experiences with the Equicizer and what you are doing with it. We've decided that it is so hard to keep what's happening to ourselves, but it's also hard to share all of them. So, we are going to try and highlight one each month. We may even start a prize "thank you" for the winner! Thanks for the inspirational words of encouragement everyone!
This e-mail shows how much of a WORKOUT the Equicizer is and how gentle and effective therapy is on the Equicizer. We have had people even tell us that they have sold their treadmill for our Equicizer! Thanks Carol and Keep Up the Hard Work!!!
"Dear Sandy & Frank,

I have had my Sardi now for 3 months. I ride 3 X a day for 10 minutes. My lower back pain from arthritis is GONE! My Tylenol use has gone from 8 capsules a day down to 4. My legs are much stronger and my balance has really improved. I have lost 2" in my hips (from 42 down to 40).
If nothing else happens I will still be very happy with her! Thank You!"
- Carol McCulley
July's Equi-effect
This e-mail shows how effective the Equicizer is in the different equine disciplines, particularly dressage. Thank you Carol-Ann for keeping us up to date. Enjoy riding!
"Just to let you know - Black Jack exceeded expectations. The workmanship is top notch (and so was the packaging) and set up was easy and quick.

Despite the inclement weather, I'm able to ride Black Jack almost daily. He's takes a bit more work to keep going than my "real one" and I certainly felt the first few workouts in my thighs.

Mostly I use the time to improve my dressage and english riding skills such as position, inside leg to outside rein, switching crop hands, balancing skills, driving and slowing seat, etc. My coach has noticed the difference too. Occasionally, I shorten my stirrups and envision a gallop to the finish line - riding hard - something I haven't done in real life. My neighbours walking past the window have puzzled looks on their faces wondering what I am doing, but no one has stopped in to ask."

- Carol-Ann, Duncan British Columbia
NOTE:
Therapeutic Riding and Hippotherapy Programs find the Equicizer to be invalueable with their riders. They are able to safely discuss horse familiarization, stretches, warm-ups, address specific lesson points, and practice mounting and dismounting while sparing the live horses.
Clinics, therapists, and individuals get amazing results with the Equicizer in a variety of disciplines to address core strength, flexibility, muscle tone, balance and even vocalization, among other benefits.
To Order Your Equicizer
We offer several ways to order an Equicizer and to pay for it.
Here are our models and their prices
Elite
(which features moving head/neck, body, hand carved face, and personalization)
for $2800
Classic
(which features moving head/neck and body and personalization)
for $2500
Original
(which features moving head/neck, typically used by jockeys)
for $2000
Call for shipping quote. A deposit of $1200 is due at time of order for all models.
You can place your order by
calling us at (419) 663-1472 or
We accept payment by check, money order, credit card, and paypal. We also offer a layaway program that works well with just about every budget!
Thank you for reading our newsletter! Remember to check out
Happy Trails as always!!
Frankie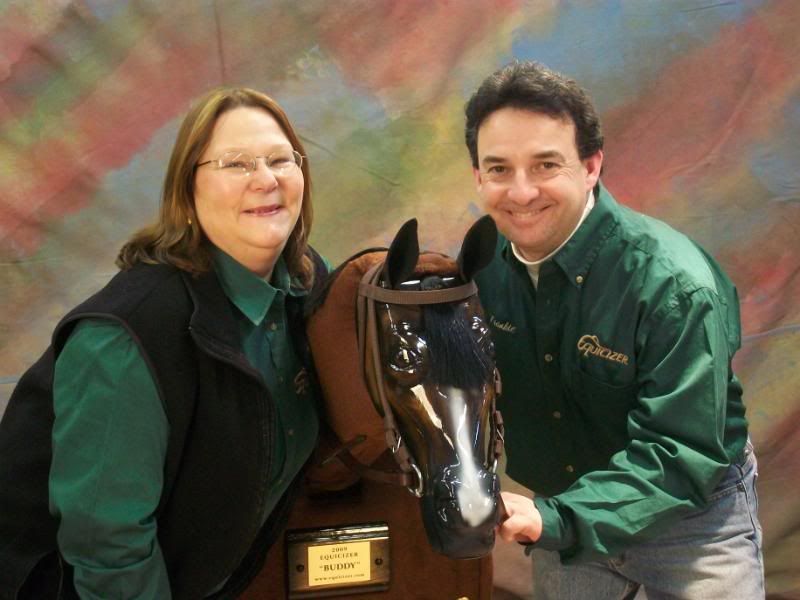 Frank & Sandy Lovato
WOODEN HORSE CORPORATION
819 Dublin Road
Norwalk, Ohio 44857
email: Equicizer@aol.com
Phone: 419-663-1472
Fax: 425-663-1472
web address
www.equicizer.com

We now also have the domain name www.exercisehorse.com
Much easier to spell and remember