Meet our Supporters & Equicizer Experts
(Alphabetically)
Click on your favorite horseman below. View photos, videos & testimonials with them using their Equicizer!
Visit Our Program
If you are just visiting, please join!

Wooden Horse Corporation
819 Dublin Road
Norwalk, Ohio 44857
Phone
:: 419 663 1472
Fax
425 663 1472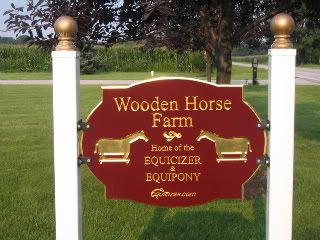 "It has been a month of jam packed action to say the least; life in the fast lane in our horse world with expos, travel & business.

Yet, in the mix of all this, I was taking snow stakes down that I had used to mark the shop's driveway. I was reminded of the baby Maple tree I had planted last year. I thought the baby tree had died as the leaves wilted and fell off last summer. BUT, I noticed very healthy buds on it's branches... it's alive and well!! This made me so happy and I just had to share! Ahh, the simple things can be so breathtaking! Just when you think something has had it's last moment, life fights back and wins."
Frankie and Sandy
Expo Highlights


Equine Affaire- Columbus, Ohio
W
ow, what an event. We had 3 Equicizers set up in our booth and figured we had approximately, 3,500 riders jumping aboard for a ride over the four days!
One of the highlights during the expo was
Colleen Kelly's Rider Biomechanics
presentation. Colleen used the Equicizer in her
Colleen Kelly Presentation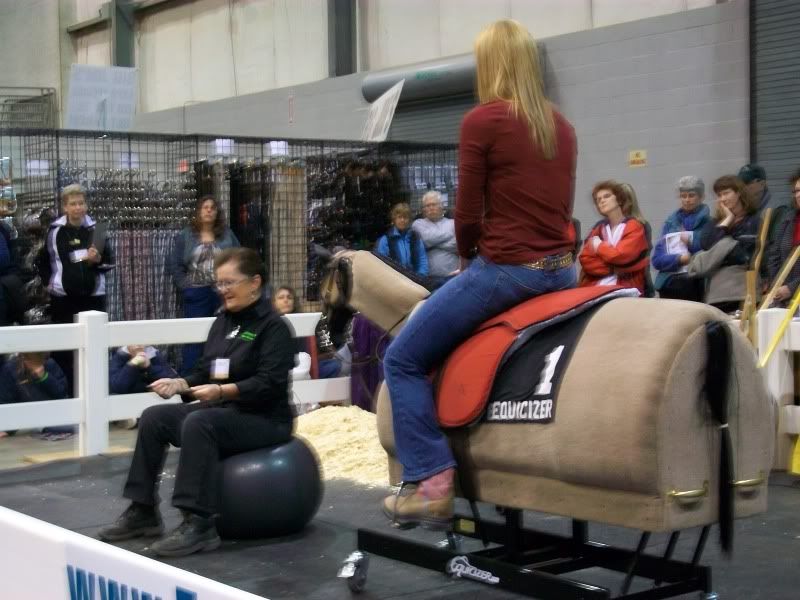 presentation and what an awesome presentation it was. People were crowded around to hear her knowledge and quips. Colleen is an internationally acclaimed Equestrian. Dressage master, Jose Mendez traveled from Australia
Jose Mendez, Frankie, and Colleen Kelly
to join Colleen as a special guest.


Also, a very special thank you to champion horseman and clinician, Terry Myers, who
Terry Myers working with a rider.
spent hours in our booth working with riders aboard the Equicizer. Terry and his Ride-in-Sync™ philosophies helped people have break throughs with their riding using the Equicizer right in our booth. It's always amazing to see Terry do his magic and the rider's results on the Equicizer after just 5 minutes! Be sure to check out Terry's website at
TMTrainingCenter.com
!
NOTE: Clinicians and instructors' get immediate results with rider's on the Equicizer. We witnessed riders correct his/her position, address fears, and fix bad habits just in the few minutes at our booth.
Los Angeles Abilities Expo- Los Angeles, California
This was the Equicizer's first expo to be presented to the healthcare industry!
Special thank you
to Rita Roberson and friends to make this possible. Rita was born with Moderate to Severe Spastic Athetoid Quadriplegia Cerebral Palsy
and uses the Equicizer regularly. At the expo, Rita with her Equicizer, "Rita's Fancy", was able to show attendees how the Equicizer helps her with her everyday life.
This video was taken at the expo
If you would like to take a peek,
click Play to watch!
NOTE: Clinics, therapists, and individuals get amazing results with the Equicizer in a variety of disciplines to address core strength, flexibility, muscle tone, balance and even vocalization, among other benefits.
Kentucky Derby Time!
The 136th running of the Kentucky Derby is this Saturday May first!
Dear friend & colleague Jackie Baker of Regarding Horses featured me in one of her blogs.
Jockey Frankie Lovato, Jr.
Jackie and I thought how fun it would be to make this interactive, allowing readers to ask any question they would ever have about jockeys, horse racing or the Derby.
I wanted to share this with all of you incase you wanted to take a look. There are no dumb questions in horse racing! And I will answer every question personally!
You can also watch this short video with me produced by
EquestrianLife.com
discussing the Kentucky Derby and road to the Triple Crown.
Click Play to watch!
S
taying with the theme of the Kentucky Derby, for our therapeutic riding lessons on April 29th, we thought how fun it would be to race it up a bit! All the students had a chance to dress up and ride like a jockey on Brownie the
Fun at Stampede of Dreams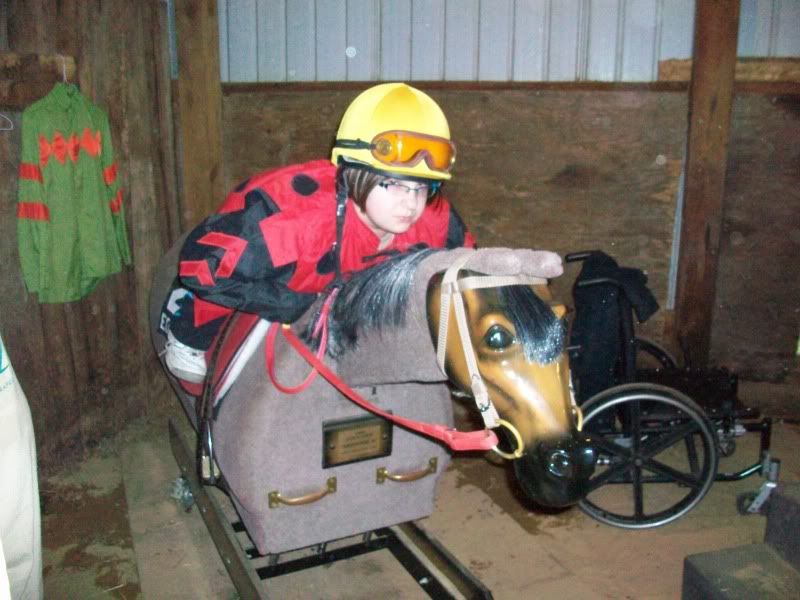 Equicizer during their warmup. They also got a little jockey lesson on their horses during lessons. Of course we got some pictures and thought we'd share!
Poster autographed by last years Kentucky Derby winning jockey Calvin Borel. Poster for purchase & proceeds for our non-profit Stampede Of Dreams program. Special thanks to jockey Calvin Borel!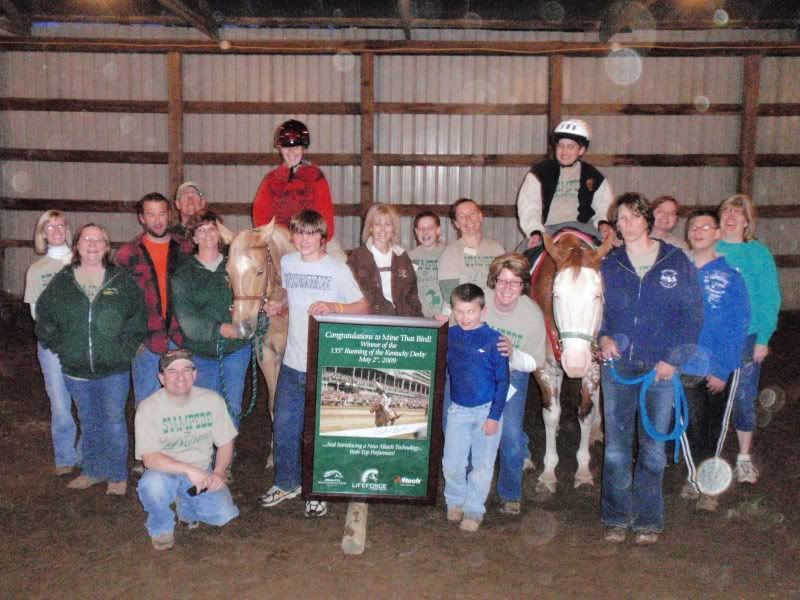 To see a complete slide show of our lessons on April 29th, click here!
NOTE: Therapeutic Riding and Hippotherapy Programs find the Equicizer to be invalueable with their riders. They are able to safely discuss horse familiarization, stretches, warm-ups, address specific lesson points, and practice mounting and dismounting while sparing the live horses.
Ruth Hogan Poulsen
To Ruth Hogan Poulsen who was featured at Everything Equine at the Champlain Valley Expo Center Vermont. Ruth did various presentations during the event which she used her Equicizer Rocky. Ruth let us know that she will have video's of her latest adventures with the Equicizer soon.

Click here for Ruth's Facebook page!
Steve Lanvit
T
o
Steve Lantvit
who is hosting the Extreme Cowboy Association (EXCA)Races at Highgrove Farm on May 15-16 and October 9-10. Extreme Cowboy Racing is a fun, fast-paced event that truly tests the horsemanship and skills of the Rider and Horse Teams. Participate in one of the most exciting equine sports and see what the excitement is all about!
Thank you for reading our newsletter! Remember to check out
Happy Trails as always!!
Frankie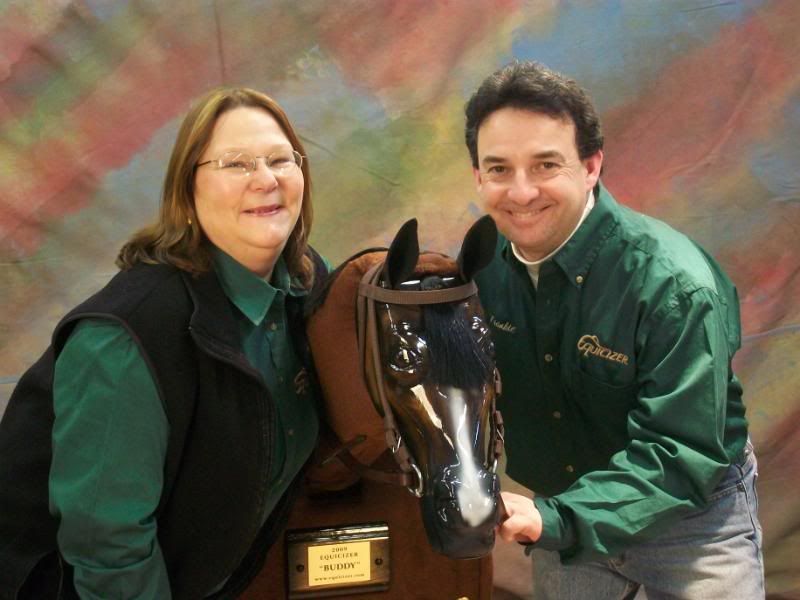 Frank & Sandy Lovato
WOODEN HORSE CORPORATION
819 Dublin Road
Norwalk, Ohio 44857
email: Equicizer@aol.com
Phone: 419-663-1472
Fax: 425-663-1472
web address
www.equicizer.com

We now also have the domain name www.exercisehorse.com
Much easier to spell and remember