Your Wooden Horse Corporation is excited to jump into 2010 by announcing the re-naming of our Equicizer models, a cosmetic improvement to the face of our equine, and notifying you of our price increase.
NEW NAMES
The popular G1 model's new name is "Elite", reflecting all of the personal enhancements that you choose from to really make the equine reflect you. The G2 model's new name is "Classic", reflecting the classic, streamlined lines of our gorgeous horse. The G3 model's new name is "Original", reflecting on the heritage of where the Equicizer started in horse racing and jockey's training.
COSMETIC IMPROVEMENT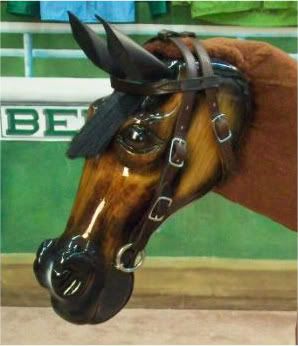 The new 2010 models cosmetic improvement now includes a more realistic, leather ear which blends beautifully with the already personalized, hand carved face. Here is a photo (right) of the new ears on our Elite series. We will have complete series of photos of the "new" look of the Equicizer models very soon so be sure to check them out on our website
www.equicizer.com
.
PRICE INCREASE
It is our commitment to keep our products affordable and cost efficient so that our clients are able to utilize the Equicizer for their improvement, therapy, and pleasure. Fortunately, for the past 9 years, we have strived and accomplished maintaining a consistent price from year to year, only raising by $100 once. Unfortunately, we have been experiencing such a price increase from our suppliers that we must raise our prices.
The good news is we now have more options to help you with purchasing an Equicizer. We have established a
Layaway Program
to help with budgeting and paying off a model and a
Leasing Option
for our business customers. Please contact us for more information on both of these programs!
Please note---The price increase does not affect any of the current orders processed or anyone that wishes to place their order prior to December 31, 2009. This would be a great time to get your order in! Remember the new layaway program could help lock in the 2009 price and still keep the payments within your means.
Below are the new titles of the models and their new price structure:
G1 will now be known as the Elite $2,800.00

G2 will now be known as the Classic $2,500.00

G3 will now be know as the Original $2,000.00

Equipony will remain the same name but the new price is $1,850.00
These new prices will go into effect on January 1, 2010.
As always, our beautiful, hand crafted horses are made out of quality products and with exceptional skill to provide you with a lifetime of riding.
Happy Holidays Everyone!