It's been an interesting summer to say the least, starting with;
Breyerfest
Sandy and I along with our Equicizers recently attended
Breyerfest
this past July. The
Breyer Model Horse Collectable's
celebrated 20 years with their annual model horse festival and horse fair held at the Kentucky Horse Park in Lexington Kentucky. One of the highlights of this event for us was that we were able to spend time with reining champion
Stacy Westfall
and singer/songwriter
Templeton Thompson
and what a blast we had! Both Stacy and Templeton performed during the entire event, with Stacy riding "Whizards Baby Doll" (aka Roxy) bridle-less and Templeton performed great songs, such as her Girls & Horses, while she was aboard her mare "Jane"! Both of these amazing horsewomen's horses were honored at this event. To see and learn more about the new Breyer model of Roxy, click here!
Breyer model "Roxy"
Jockey Boot Camp Huge Success!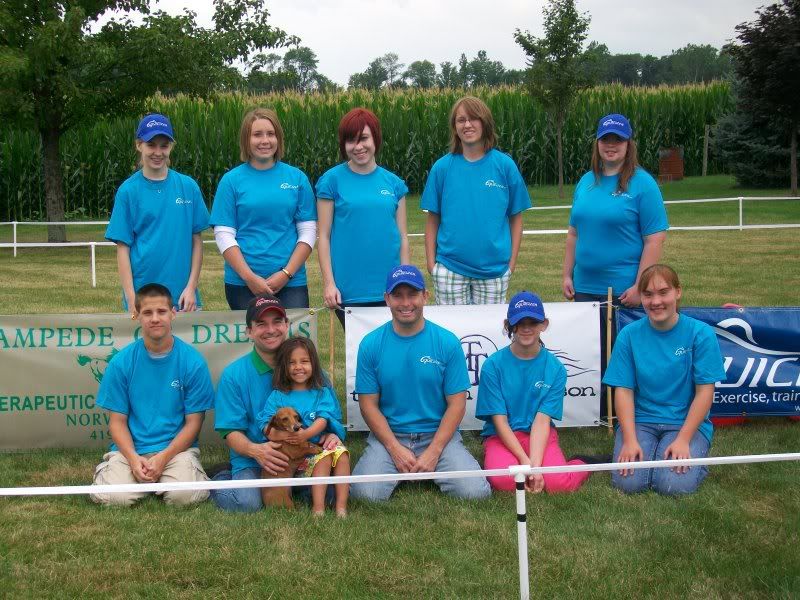 As many of you may have read in our July's newsletter, we made a little history with the very first ever Jockey Workshop (nick-named Jockey Boot Camp) in North America. The concept of this workshop was to offer those wanting to become jockeys some guidance, knowledge and direction in what it takes to become a jockey and or exercise rider in the thoroughbred industry. It was a great time and I believe a program like this is much needed within the racing industry. It went so well that I am pretty certain I will be hosting at least one per year. I will also be following up with my "What It Takes To Be A Jockey" DVD that I hope to release later this fall. I will keep you posted on that! A great article with photos has been written by Lori K Black. To see this article and great coverage of this event (complete with photos), click here!
Tis The Season?
I know it's still summer time but have to mention to anyone considering placing their order for an Equicizer for the holiday season, please get your orders in now! We are already booked up with orders through November and will only be able to take a few more orders that will make it in time for Santa's sleigh. Don't hesitate! Secure your orders now!
Shout Outs In The World Of Dressage!
I have to give a mention to three of the Nation's top women in dressage, all of which have been huge supporters to my Equicizer world. They have been very busy and have some very exciting things happening that I want to share with you!
Starting with
Ruth Hogan-Poulsen!
Ruth- Competitor, trainer, instructor, also well known for her custom
"Freestyles A- C"
has just released her "Riding With Soul", a five cd collection that you can learn to dance with your horse! For more info, click here for
Ruth's Riding With Soul.
Jane Savoie
has a really special offer right now and I do mean special! Jane is giving away "Free Stuff"!! Jane is always creating great tools that help you be a better rider, to learn more about these great giveaways, click here to learn more about
Jane Savoie's Free Stuff!
Betsy Steiner
is always busy with her riding, training, judging, dressage retreats, her Equilates, etc., but now she has an Equicizer to mix it up a bit! Betsy is very excited about incorporating the Equicizer into her program and she will be offering some great exercise tips and advice in the future for all you Equicizer owners out there, so stay tuned!! To learn more about Betsy, be sure to check out
BetsySteinerDressage.com
and
Equilates.com
Any MTV Fantasy Factory Fans Out There?
Unless there is a new discipline of riding (meaning riding an Equicizer 30 mph up a 2 story skateboard ramp into an enormous ball pit), this was not my intention when developing the Equicizer. Still, I must say this was quite entertaining for a laugh. MTV's Fantasy Factory premiers "tonight" (Thursday, August 27 @ 9 pm ET/PT) One thing for sure, this proves that I build my Equicizers TOUGH!" I do not recommend this exercise with your Equicizer! To see a clip of this daredevil stunt using an Equicizer, click here!
"Rob Dyrdek's Fantasy Factory" -- Jockey Training
Therapeutic Riding Article With The Equicizer
On a final "extra feel good" note, there was this very nice article written just recently with a therapeutic riding program that is using the Equicizer, if you would like to see, click here!
Thank you as always for reading our newsletter and for all your interest and support! Happy trails as always!
Frankie Lovato, Jr
Frank & Sandy Lovato
WOODEN HORSE CORPORATION
819 Dublin Road
Norwalk, Ohio 44857
email: Equicizer@aol.com
Phone: 419-663-1472
Fax: 425-663-1472
web address
www.equicizer.com
We now also have the domain name
www.exercisehorse.com
Much easier to spell and remember!