Happy Spring! I have some really cool things to share with you! To start with, a last minute show has been added for the Equicizer.
Stacy Westfall
will have an Equicizer named "Pepper" with her at the
Minnesota Horse Expo
this coming weekend April 24-26.
Stop by and see Stacy and the Westfall Horsemanship's booth, say hello and take "Pepper" for a spin!
While you're there, stop by and see Equicizer supporter, American's favorite cowboy, and the hardest working man in the horse business,
Craig Cameron
.
In the last 7 days, Craig has attended the Midwest Horse Fair in Madison Wisconsin, returned to his ranch in Texas, taped 6 RFD-TV shows, driven to LaPorte Indiana for a 4 day clinic at
Steve Lantvit's Highgrove Farm
, and will be ready to roll for the Minnesota Expo for this weekend.. Wow!
In the Equicizer Dressage world, our dear supporter, friend, and the dressage master of position herself,
Ruth Hogan-Poulsen
, and her colleague Jane Savoie have just released an brand new DVD called Program Your Position. Please check this out as they also have a special limited time offer to go along with this DVD. If you already have an Equicizer, this DVD will go along with the Equicizer like peas and carrots! To learn more on their special offer, hurry & click here!
Program Your Position
Speaking of the dressage world, Sandy and I were invited last weekend by IDA and Findlay University's head dressage instructor, Janet Harms to the Intercollegiate Dressage Nationals at Findlay University. While there, we met Dressage American World Championship team member
Betsy Steiner
. Betsy is also the pioneer of Equilates, a system to develop the equestrian athlete through the use of Pilates-based exercises. Both Betsy and I are very excited about incorporating the Equicizer into Betsy's program. Check it out at
Equilates.com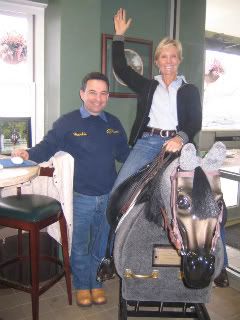 Frankie along with Betsy Steiner aboard the Equicizer
In the Equicizer therapy world and saving the best for last, I have an amazing thing to share with you! I received an email with a Youtube video from one of our dearest clients, Rita Robertson. Rita is Spastic Athetoid Cerebral Palsy. She states in this video "The Equicizer is the best physical therapy tool I have found!" Please watch this video by clicking here.
Rita's Equicizer Therapy Video
This says it all and just makes me feel like the luckiest man on earth!