DONATE NOW!!
BE SOCIAL
__________________

__________________

SUMMER WILL
BE HERE SOON!
DON'T FORGET TO PROTECT YOURSELF FROM THE SUN THIS SUMMER!
It is always important for CLL patients to practice sun safety. This is especially true during the hot summer months.
Easy ways to do this are to wear protective clothing, hang out in the shade and wear sunscreen.
FEATURED VIDEO
CLL Vaccines
Dr. Thomas Kipps discusses the potential of CLL vaccines and the research being conducted to take the idea from concept to reality.
CHECK
THIS OUT
Click here to read an interview with Dr. George Calin.
He and his colleague, Dr. Carlo Croce, discovered a link between cancer and micrRNAs.
QUESTIONS/COMMENTS?
Is there something specific you want to read and learn about?
Let us know if you have any comments or suggestions for improvement.
You are the reason CLL Global exists, and we want to hear from you.
Greetings!

Welcome to the June issue of Tidbits, the electronic newsletter sent to you by CLL Global. Keep reading to find out more about an inspirational salon owner and an update on a recently completed grant.
RESEARCH NEWS

Project Update: Deciphering the Key Players

Dr. Andreas Rosenwald (Univ. of Würzburg, Germany) has just completed a two year grant funded by the CLL Global Alliance program. He has been analyzing molecules involved in the CLL microenvironment (the environment in the lymphatic system and bone marrow including CLL cells, other cells and molecules) to identify 'key players' that prevent cell death of CLL cells and promote their growth. Tissue samples from patients were used for the analysis.




Newly discovered proteins CCL3 and CCL4 and their correlation with existing prognostic markers are among the important findings from Dr. Rosenwald's work. Of the tissue samples tested, those with high levels of CCL3 and CCL4 have been found to strongly correlate with established unfavorable prognostic markers (such as unmutated IgVH status and high levels of ZAP70). While CCL3 and CCL4 protein levels are currently not available for standard testing, it is likely these proteins will become important prognostic factors in the near future.

Also found to be correlated with CCL3 are CD57+ cells. CD57 is a protein found on a specific type of T-cell (NK cells). Dr. Rosenwald found significantly more CD57+ cells in CCL3 positive samples compared to the CCL3 negative cases. His data indicates that the expression of CCL3 by the CLL cells might attract a specific CD57+ cell population, which might further promote CLL cell survival.

In co-culture experiments of CLL cells and bone marrow stromal cells, TCL1 was found to be among the most strongly up-regulated genes. These experiments were performed in collaboration with Drs. Jan Burger and Marco Herling. There was no statistically significant correlation between the TCL1 expression and the CCL3 status. Dr. Rosenwald will continue close collaborations with Drs. Burger and Herling to further dissect the key players in the CLL microenvironment.
THE HAPPENINGS
Taking on Facebook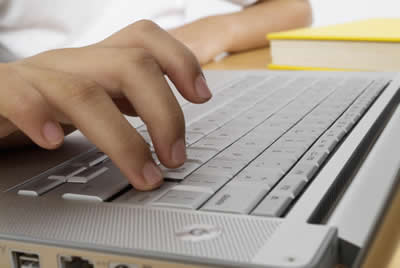 Word of mouth used to be the fastest way to spread information. Social media is now competing for top honors. The social media site, Facebook, has made it easy to show support for people, organizations and ideas. Although most of our supporters are people affected by chronic lymphocytic leukemia, it is important to bring awareness to others that this disease exists. Many people do not know what CLL is until they or their loved one is diagnosed.
We want to tell the world that we are on the hunt for a cure of a little known disease. You can help us have a larger presence on Facebook, one of the most influential concepts of our time. If you are already a member, you can show your support by liking us, joining our Cause, or both! Either way, it lets your Facebook friends know that we exist and that you approve of what we are doing. Although we are few (both at CLL Global and the number of people living with the disease), together we can solve the CLL puzzle through support, awareness and Facebook.
Click here to go to our Facebook page
Click here to go to our Causes page
PARTNER PERSPECTIVE



Baton Rouge Salon Owner Supports CLL Global


René Uzé built his dream life from the ground up. He

was born to cut hair, and in high school he started doing so using his bedroom as a salon. Eventually, he owned one of the most successful high-end salons in New Orleans. Just as life seemed perfect,

Hurricane Katrina hit. Literally everything René had worked for was lost. As he was putting his life back together, he was diagnosed with CLL. With fearlessness and ambition, René has defied his cancer and his doctor's expectations. He now owns two successful salons in the Baton Rouge, LA area where he relocated after Hurricane Katrina.

René's story was a perfect fit for Rick Domeier and Max Davis' book, "Can I Get a Do Over?," which is a compilation of "unforgettable stories of second chances and life makeovers". The two authors will join René for a book signing and reception at Forum, a Rene' Uze' Salon , in Baton Rouge on Thursday, June 23rd from 5pm to 9 pm. The book will be for sale at the reception, and proceeds will be donated to CLL Global. If you are in the Baton Rouge area, please stop by for an inspirational evening. The event will take place at Forum Salon, 7425 Corporate Boulevard, Baton Rouge, LA 70809 in the Towne Center at Cedar Lodge. More information will continue to be posted on the Forum Salon Facebook page.
THANK YOU FOR SUPPORTING US!
Sincerely,

CLL Global Research Foundation