NAFUSA Liaison Committee Meets with Attorney General and AGAC
Latest in Periodic Meetings with General Holder
Department of Justice to Celebrate Life of Jack Keeney
January 24th in the Great Hall
Attorney General Appoints Eight New U.S. Attorneys to AGAC
Full Committee Composed of 19 Members
H.M. Ray Dies at 86
Served 20 Years as U.S. Attorney
Robert Miller Authors Article on Prosecutive Discretion
ABA Litigation Magazine
Tennesseans Remember How Hal Hardin Handled Last Minute Pardons
Outgoing Governor's Last Ditch Effort Stopped by U.S. Attorney Hardin 33 Years Ago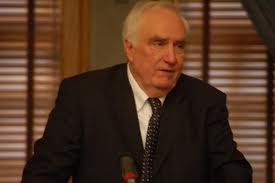 The recent news of Gov. Haley Barbour of Mississippi granting pardons or early release to more than 200 inmates led to a guest column in the Memphis newspaper, The Commercial Appeal. On January 14, 2012, in Guest column: Power of the pardon remains explosive, Keel Hunt writes of an effort 33 years ago by then governor Ray Blanton of Tennessee to issue 52 executive clemencies, including a pardon for the son of a political friend. Less than 48 hours later Blanton was out of office, stripped of his power in what amounted to a bipartisan "coup", led by then U.S. Attorney Hal Hardin, shown above, long time NAFUSA member.
Supreme Court Set To Have Historic Year
2011-2012 Term Includes Three Major Cases
Update on New York Terrorism Panel
Iraqi Detainee Causes Dilemma
At the NAFUSA annual conference in October, 2010, The New York Times reporter Charlie Savage moderated a two hour panel discussion on the appropriate forum in which to prosecute terrorism cases. More than a year later the national debate on this issue remains unresolved. In a front page article on December 12, 2011, Savage reports on the dilemma confronting the Obama administration on what to do with a detainee held by the American military in Iraq. Read Detainee Poses Dilemma For U.S. As It Exits Iraq.
Subsequent to the publication of the Savage article, the U.S. military turned the prisoner over to the Iraqi government.
Update on WikiLeaks Panel
Wall Street Journal Op/Ed by Floyd Abrams
Peter Vaira Publishes Review of New Book on Criminal Discovery
New Book Authored By Three Partners at Williams & Connolly

National Association of Former United States Attorneys (NAFUSA)
Richard A. Rossman
Executive Director
27 Oakland Park
Pleasant Ridge, Michigan 48069
Phone: 248-548-8289