The Road to Philadelphia
NBDPA event calendars are enhanced by
Local Leaders Keynote Regional HSCC,
IT Showcase and 35th Anniversary events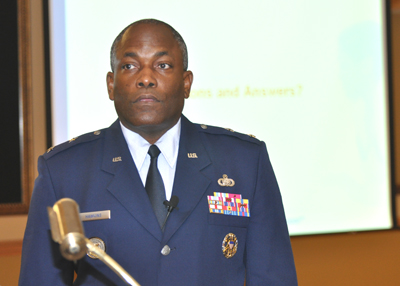 Washington, D.C. - Major General Ronnie D. Hawkins, Jr.,
Vice Director, Defense Information Systems Agency (DISA), fields questions from a diverse audience during BDPA's Community Awards Luncheon on Friday. DISA is one of several agencies relocating due to
BRAC
requirements. As one of the organizations moving to Ft. Meade, Maryland, General Hawkins outlined significant career opportunities for BDPA's professional and student members at DISA within the next several months. He also listed immediate Air Force Reserve Officer Training Corps (AFROTC) scholarships for qualified HSCC or BDPA student members participating in this year's
NBDPA Technology Conference
and interested in attending an AFROTC host institution this fall. Students should rank in the top 40% of their graduating high school class, have at least an SAT composite of 1100 or an ACT composite of 24 with a cumulative GPA of
3.0
or higher on a
4.0
scale.
---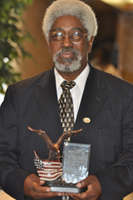 Dr. Jesse L. Bemley Receives Local Chapter's Lifetime Achievement Award During Awards Luncheon
Dr. Jesse Bemley, Joint Educational Facilities (JEF) founder, is this year's recipient of the Washington, D.C. Chapter's Lifetime Achievement Award for his selfless contributions to NBDPA, BDPA-DC, and his mentoring of hundreds of minority youth from traditionally underserved communities he enrolled in advanced CS-STEM programs within the national capital region (NCR) and throughout the country. Dr. Bemley's contributions to NBDPA include national high school computer competition (HSCC) programs, IT Showcase for high school and college students, and active participation for BDPA and JEF student members with TeraGrid and Super Computing events. Dr. Bemley has been a member of NBDPA for over 30 years and will retire from the U.S. government this fall.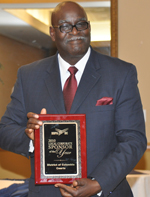 Mr. Louis Shack Receives Sponsor and Member of the Year Awards
Mr. Louis Shack, Technology Education Manager for DC Courts, combines his passion for computers with his passion to see youth reach their fullest potential. These passions have led him to volunteer with NBDPA and local BDPA Chapters for the past five years. As a mentor, teacher and coordinator in this program, Louis has coached youth to achieve second and third place consistently in the BDPA National HSCC competitions.

Through his efforts and the efforts of his co-volunteers they have seen the program expand from a hand full of interested applicants to thirty youths annually. For his selfless efforts and dedication to the Chapter's Mission, the BDPA Chapter of Washington, D.C. proudly presented this year's Chapter Member of the Year award to Mr. Louis Shack and Sponsor of the Year Award to the District of Columbia Court System.
2010 Local Chapter Corporate Award Recipients
Groupsite.com - 2010 Technical Sponsor of the Year
HBCU/MI Project Office - 2010 President's Award:
Mr. H. Harrison (Hank) Valentine
Microsoft - 2010 Community Outreach Champion | DigiGirlz:
Ms. Donna Woodall
Oracle Corporation - 2010 Education Sponsor of the Year
Tech Latino 2030

Legislative Forum
June 22 & 23 | Washington, D.C.
BDPA-DC's next major chapter event is the annual
Tech Latino 2030 Legislative Forum
on Capitol Hill. Hosted by LISTA (Latinos in Information Sciences and Technology Association), our industry partner leverages this powerful forum to help accomplish its mission. Latinos in Information Sciences and Technology Association is a national organization geared toward the advancement and development of Hispanics in the information sciences, technology, and the telecommunications industry. LISTA encourages technical professionals to achieve educational excellence, economic opportunity and social equity to empower communities through the use of technology to bridge the digital divide and help end poverty in less fortunate communities.
This event supercedes the Chapter's June 2010 Program Meeting
.
bdpatoday | Chapter news and daily serial publications continue with monthly or Summer 2010 coverage. Select your latest issue to
discover more
.
..
Missed one? In case we missed you, our newsletter archives are updated each month for members, new BDPA chapter interest groups (CIGs) and new BDPA sponsors.
Community Technology & Other Events Near You