JOIN OUR LIST

You can run a half marathon - and not all at once!!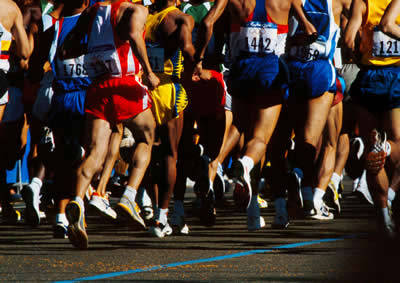 The Angel Fund has three major road races this year with mileage equalling a half marathon! Just sign up, run the three races, and raise $500! You can set up your fundraising by going to
firstgiving.com/angelfund
Mark
Your
Calendars
April 30th
Kick UR ALS
May 22nd
Harpoon 5 Miler
May 25th
Daly Family Comedy
June 11th
Squirrel Run
June 18th
Sharon Timlin Memorial Race
September 10th
Walk of Hope for ALS
October 15th
Annual Gala and Silent Auction
Shop at home and raise money for
The Angel Fund
Like to shop on eBay?
When you buy or sell on eBay, donate a portion of your selling/purchase price to The Angel Fund.
Just put in Angel Fund, Inc. when asked what charity you would like to make a donation to.
When shopping online you can have Goodshop.com donate a percentage to The Angel Fund. Start shopping now!
The Angel Fund
The Angel Fund is an independent 501 (c)(3)
nonprofit charity that benefits ALS (Lou Gehrig's Disease) research at the Cecil B. Day Laboratory for Neuromuscular Research at UMass Medical Center in Worcester
Dear Angel Fund Family :

Spring is finally here! It was a long winter here in New England, but we're moving on and gearing up for another busy year. As we all look forward to better weather, we're also looking forward to a busy schedule in 2011 - all to raise funds for ALS research.

We're getting ready for the soccer tournament, road races, golf tournaments, a comedy night, bike rides, the annual Walk of Hope and, of course, the annual Gala.

We hope that you join us at one or all of our events! If you would like to host an event for The Angel Fund just let us know! We can assist you.

Warm regards,

Ann Hadley

Chief Development Officer
Win 2 courtside Celtics tickets - ticket drawn April 1st
Call 781-245-7070 to pick a card!
Click here to sign up for a card
or click here for more information.
Soccer Tournament
April 30th
Join us on April 30th for Kick UR ALS soccer tournament.
The tournament will be held at the Boston Athletic Club (BAC) on Summer Street in Boston. Sixteen teams will compete for the title and trophy.
Join the fun! Gather friends and family to form a team, join a team or sponsor a team! Lou Merloni, the Honorary Chairperson for The Angel Fund will present the winning trophies!!
Sign up now! Download brochure
Daly Family Comedy Night
The Sixth Annual Daly Family Comedy Night to benefit The Angel Fund will be held on Wednesday, May 25th
from 7 p.m. to 11 p.m.
at the Vittori Rocci Post in Beverly
The event will feature a buffet dinner and the comedy of Paul D'Angelo and company, as well as raffles and a silent auction.
Tickets are $45 per person, and includes dinner. Tickets can be purchased by calling Margaret Crateau at 978-578-4553 or Kathy Bonaiuto at 508-527-3318, or online at The Angel Fund's website www.theangefund.org.
Donations are also appreciated and can be sent directly to Margaret Crateau at 148 Locust Street, Danvers, MA. Checks should be made payable to The Angel Fund.
For additional information, please call The Angel Fund at (781) 245-7070 or visit the website at www.theangelfund.org
Think Spring - It's Road Race time!!
Harpoon 5 Miler - May 22nd - New Day!
The 10th Annual Harpoon 5 Miler will be held on SUNDAY, May 22nd. The race will be held on a new day and a few weeks earlier than in the past. Registration will begin on Tuesday, March 29th and continue for one week.
This year, The 5 Miler will have a lottery system where the names of potential runners will be entered into a drawing in order to participate in the race. Harpoon will be providing 3500 race numbers this year thanks to the City of Boston. Click here for more details. Harpoon 5 Miler is on Facebook.
Squirrel Run - June 11th
The Jimmy Kennedy Memorial Race, aka The Squirrel Run, will be held on Saturday, June 11th in Quincy, MA. The 5 mile run and the 2.5 mile walk begins and ends at Pageant Field on Merrymount Parkway. Join the Kennedy family and friends for the 14th annual family fun day.
Sharon Timlin Memorial Road Race - June 18th
The Sharon Timlin Memorial Road Race will be held on Saturday, June 18th in Hopkinton. Sponsored by the Hopkinton Running Club, this event is held in memory of Sharon Timlin, mother of former Red Sox pitcher Mike Timlin. A 5k road race, children's races, games
and celebrities are just part of this great day.
Click here for more information. Click here to join the Angel Fundraising Challenge
Walk of Hope for ALS - Mark your calendars!
September 10th
Wakefield, MA
The Walk of Hope for ALS will be held on Saturday, September 10th in Wakefield. Start fund raising today by getting family and friends to donate and support your walk.