Dear ,
John Carlos (bottom right) signs books during a standing room only event organized by Teaching for Change at Busboys and Poets in October.
John Carlos, who is forever remembered alongside teammate Tommie Smith for raising his black-gloved fist in protest and solidarity at the 1968 Olympics, recently spoke at Occupy Wall Street in New York City. "I am here for you," he said in his raspy voice. "Why? Because I am you. We're here 43 years later because there's a fight still to be won

."
Nine days earlier, Carlos and co-author Dave Zirin launched their book, The John Carlos Story, at Busboys and Poets, in an event organized by Teaching for Change. Following the launch, we arranged for the authors to visit a Washington, D.C. high school.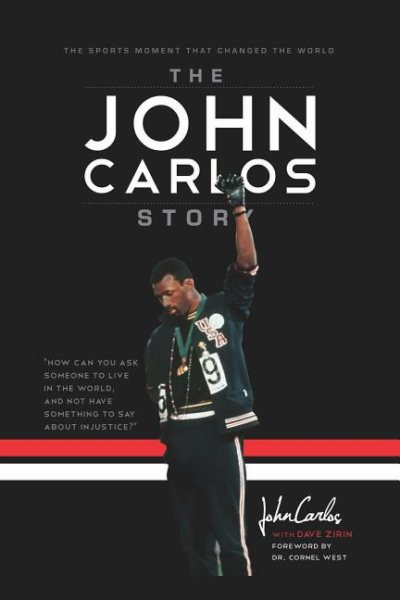 Carlos and Zirin spoke to over 100 students and teachers about that iconic moment in history, the limited explanations given in textbooks, and its continued significance.
Carlos pointed out that textbooks include the famous photo of Tommie Smith and himself with their fists in the air because those in power "cannot ignore the power of that picture, that demonstration. So they take it and they put it in the textbook for the students to see. But yet and still, they give you no more than two lines to explain what that picture's worth. ...So that's why it's imperative that you guys push yourselves to learn your history...."
At Teaching for Change, our mission is to bring resources like The John Carlos Story to the public and into the classroom.
We need your continued support to ensure that this vital work is sustained and grows. For a donation of $250 or more, your name can be displayed on a handcrafted plaque in our bookstore at Busboys and Poets (14th and V). Your donation to Teaching for Change supports programs that impact the lives of students, parents, and educators:
"John Carlos [center] was just so inspiring. After hearing him speak and his story, I want to be somebody better in life. ...I want to read his book, and capture all the important parts of it, and rethink myself, how I can be a better person, and how I can make a change." - Gwendolyn, 11th grade student, during a visit organized by Teaching for Change
$500

supports a session for high school students on how to collect and record oral histories in their community for ongoing use in history classes.

$250 helps distribute our well-respected selection of progressive, multicultural titles to a national audience through our webstore.
$100

introduces 25 teachers to free downloadable lessons for "teaching outside the textbook" at the

Zinn Education Project

website.

$50

provides training for parents from diverse backgrounds to work together for the quality education their children deserve.
Your donation puts critical materials into the hands of parents and teachers who influence a generation of young minds. Please click here or visit TeachingforChange.org to give today.
Sincerely,
Deborah Menkart
Executive Director, Teaching for Change

Board, staff, funders, and partners of Teaching for Change.
P.S. We urgently need your support. Teachers and parents depend on us to provide resources that challenge students to think critically about messages from politicians, corporations, and the media. Please make your donation today!