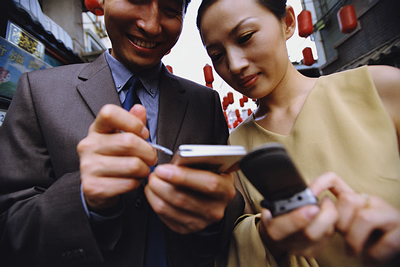 Chances are that if you bought a new smartphone in the past year (along with most of your colleagues and friends), you've noticed that something is amiss - your hip new cell phone is already old. Within a few short months, newer, faster, and more app-laden phones have made yours obsolete. How did this happen?
Enter Android's Law
The phenomenon is something CNNMoney.com has dubbed "Android's law." New smartphone manufacturers are now constantly trying to out-perform one another and are appearing online and in stores at an incredibly fast pace. The phenomenon was described by CNN like this:
"...if you picked up the Motorola (MMI) Droid when it went on sale in November 2009, you had the best Android device on the market. But then the twice-as-fast Nexus One went on sale in January 2010. Then the HTC Droid Incredible hit the market in April. Then in June, the Evo 4G put the Droid Incredible to shame. The Samsung Galaxy S came out later that month. Then the Nexus S... You get the point."
It used to be that a new phone had a lifespan of three years. According to HTC, one of the fastest-growing companies in the mobile sector, the lifespan of a new smartphone is now just six to nine months.
Will The Trend Continue?
Experts predict that the pace will eventually slow down. One major reason is that in the U.S., most people sign two-year contracts at the time they get a smartphone. This means that most customers are stuck in their contracts while several generations of phones pass by, since new models are now coming out six to nine months after the original's release date. Major U.S. carriers work hard to keep customers in their contracts (usually charging hefty fees for getting out early), so eventually the rate of change will start to slow.
Despite the fact that the pace will slow down, it's wise for consumers to take a close look at what features and functions are really important when making a phone purchase; if you're just trying to keep up with Joneses, you're going to be spending a lot of money on a regular basis!