Welcome to the second edition of Design News. The intent of Design News is to educate, inform, and assist by offering healthier greener alternatives. Our goal is to help you create healthy, beautiful projects, all while having some fun!
Over the next year, our six issues of Design News will cover these topics:
Interior Design Tips and Trade Secrets

Expert Color Advice
Remodeling Tips from the Pros

Healthier Green Alternatives for your Home
Design Trends
Feng Shui Tips

Design Trade Specials
We hope you enjoy our second edition of Design News!
Click this web-safe image link
to read the full article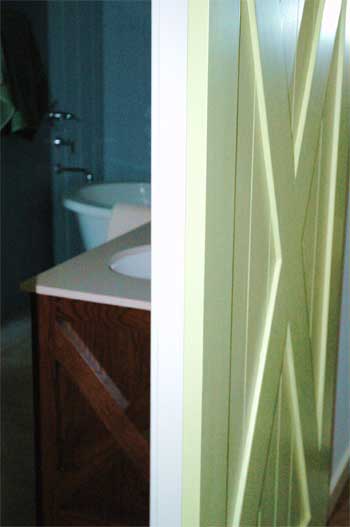 Farmhouse Makeover
with Signature Style


"

C

lean, classy and casually elegant. This quaint farm house in Northern California 's wine country transformed from nothing special to a fresh and happening showplace where the owners proudly bring world-class musicians and wine industry insiders".

Begin with a historical farm house in the heart of Sonoma County's Dry Creek Valley; add modern yet classic clean lines, with a bit of farm-implied whimsy. This fresh design approach is the signature design of Lorraine Alexander. Alexander's keen sense of scale, practical use of space, and attention to detail, makes this project shine.

It all began with an extremely awkward floor plan that brought arriving guests directly on top of the master bedroom, eliminating any hope of privacy for the owners of this home. To remedy this design challenge, the entry was expanded to create a unique art gallery wall, allowing for privacy while adding a striking entrance to the threshold of this new master bedroom suite. Upon entering this quaint retreat for two, one is pleasantly surprised by an oversize lime-green barn door dressed with authentic barn hardware which now sets the stage for this handsome wine country project.

Read more...

Click this web-safe image link to view the complete article
How to use an Interior
Design Professional

by Lorraine Alexander

Better understand the key role a designer plays in any project


Published in the Redwood Empire Remodeling Associations Building News



On any interior project, interior design is a key element that is often overlooked. A skilled designer is an essential resource that will bring your remodel or new construction project from ordinary to exceptional, by guiding you to the finest choices that reflect your personal style and budget. Unlike the role of an architect or contractor, interior designers look at the practical use and function of interior space, while creating a handsome aesthetic.

Whether a designer helps develop the floor plans or revises existing plans, a designer's recommendation will significantly improve your project. Their role in the planning phase is essential, as they skillfully assess furniture layout, function and the visual balance of the interior space.

Creating your design team...




Read more...
Vancouver Island, BC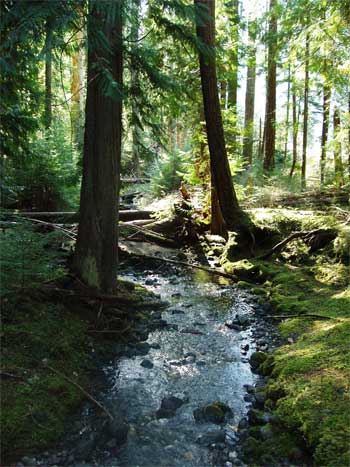 Think Green!
6 Principles of Green Design
The first rule of sustainability is to align with natural forces...or at least not try to defy them".

Paul Hawken



There are six widely accepted "fundamental principles" of green design. Together they provide a good overview of how we can create healthy living spaces for ourselves and for the planet.
1. Low-impact materials are the foundation of a green design. Choose non-toxic, sustainably produced or recycled materials which require little energy to process.

2. Energy efficiency is a corporate and individual social responsibility and must not be overlooked. Utilize materials that use energy-efficient methods in the manufacturing, installation and usage processes. Design the space for efficient use of lighting and heating/cooling.

3. Durability and longevity make for longer-lasting and better-functioning products; thus, they will have to be replaced less frequently, minimizing production time, efforts and costs.

4. Design for the reuse/recycling of the textiles and products. Use materials that can be recycled, composted or reused in their commercial "afterlife."

5. Enhance indoor environmental quality (IEQ) of the space. The IEQ of a building has significant impact on occupational health, comfort and productivity. Whenever possible, design to maximize daylight, have appropriate ventilation and moisture control, and avoid using materials with high volatile organic compound (VOC) emissions.

6. Protect and conserve water. A sustainable building should reduce, control or treat site runoff. Use water efficiently, and reuse or recycle water for on-site use when feasible.
Source: Lisa Adams, Closet Magazine
Home Savings Tip
Simple Flush

Create water savings instantly!
Eco-friendly dual flush upgrade.

Did you know that 40% of all household indoor water is used for the toilet? If your toilet has average water use, Simple Flush will save you 50% of your water use instantly with the push of a button, without replacing your existing toilet. Small and simple to install (do it yourself in 30 minutes). Dual flush advanced technology can be added to your existing toilet for under 120. Savings payback of 100. in 1.2 years.

For info go to: info@brondell.com 1-888-542-3522
http://www.brondell.com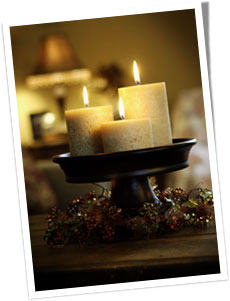 Next Issue of Design News, November... our Holiday Issue!


We appreciate your continued support and hope you find Design News interesting and informative.
Lorraine Alexander
Lorraine Alexander Interior Design


Copyright 2010 Lorraine Alexander Interior Design

Design by Lorraine Alexander
It's all in the details...click on this image to
visit our website
Click this image to view "Consumer Guide to Greener Remodeling"
We are a Build Local Sonoma County Business.
Help support your local community by spending your hard-earned dollars with a Build Local business.

Green Building Certified, she is committed to greener, healthier homes for her clients, and sustainable design and building practices.


As an interior designer, she specializes in residential remodeling and new construction.


Lorraine serves on the Santa Rosa Junior College Advisory Committee for the Interior Design Program.

She is a Board Member of the Redwood Empire Remodeling Association, and Adviser and Chair for the Green Building Committee.

As a chapter member
of the US Green Building Council, she serves the Steering Committee as Education Chair.
She holds a certificate with Sonoma State University in Green Building. Lorraine works and resides in Northern California, and British Columbia.


We support Green Education in the building trades




Solutions are in our nature!
Want to learn more about greener healthy choices for your home?
Sign up for our

mailing list!




Want to be sure your name is on our list?



Just click below to

add your name
to our mailing list.


Name duplications

are not made.



We provide an easy Safe-Unsubscribe link with each newsletter.




We value your privacy.

We do not share our list.

Thanks.




Like our tips?
Click below and forward to a friend
Rest assured the safe
"forward to a friend" link keeps emails confidential.
They will not be added
to our list.
Want to learn more
about Constant Contacts "refer a friend" program?
Click here to learn more!
Fergie and Beau

We want your feedback.
Please let us know the topics that interest you.

info@LorraineAlexander.com

707-836-9060